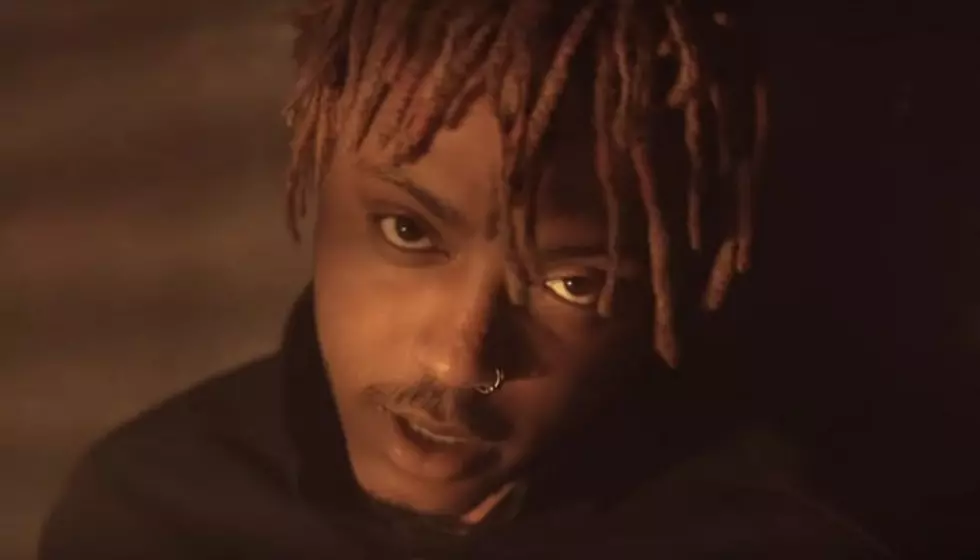 Producer sues Juice WRLD for allegedly ripping off track
[Photo by: Lyrical Lemonade/YouTube]
Juice WRLD can't seem to catch a break. Back in November, the rapper responded to Sting's alleged threat of a lawsuit over "Lucid Dreams"—a track Sting once referred to as a "beautiful interpretation" of his song, "Shape Of My Heart."
Now, the rapper (real name Jarad Higginns) is facing a lawsuit over one of his tracks allegedly ripping off a producer's, according to TMZ.
Producer Fly Jxy claims Juice WRLD's "Lean Wit Me" ripped off his beat, "Ice." The 16-year-old producer, whose real name is Jerome Willisch, and his parents filed suit against Higgins.
TMZ obtained court documents that show Willisch alleges the song copied his own beat without credit or without getting permission to use it.
Willisch also states he filed for copyright on his own beat this month but hasn't secured it at the time of filing. TMZ states he's requesting the judge pull the song from radio and that Juice WRLD pay him for damages.
Since the story surfaced, both Juice WRLD and his producer producer Nick Mira have responded to the allegations.
"Lean Wit Me" is taken from the rapper's recent release, Goodbye & Good Riddance, and it's unclear when Fly Jxy's "Ice" was released.
Check out both tracks for yourself below.
Juice WLRD – "Lean Wit Me"
Fly Jxy – "Ice" (per NME)
Juice WRLD and Sting
As mentioned, Juice WRLD responded to Sting's alleged threat of a lawsuit over "Lucid Dreams" in November. The Juice WRLD track comes from the rapper's recent release, Goodbye & Good Riddance, and uses samples of Sting's 1993 track, "Shape Of My Heart."
After previously telling Billboard the track was a "beautiful interpretation that is faithful to the original song's form," Sting seems to be changing his tune.
It all started when producer Nick Mira took to Twitter on Saturday to respond to the alleged lawsuit allegations. He didn't take it well.
"Fuck @OfficialSting and his WHOLE team. After taking 85% of Lucid Dreams (for interpolating Shape of My Heart, NOT EVEN sampling) he threatened to take us to court for trying to get any %. Sting ALSO flexed stealing our money and said it put his grandkids through college."
Mira deleted the tweets, including one where urged followers to start tweeting "Fuck off @officialsting."
Juice WRLD took it all in stride, however, taking to Twitter to post his opinion on the whole ordeal.
"Lost millions made millions... the song impacted to many ppl in a good way for me to be upset over it.. there's always more money to be made and I will make it so."
You can listen to Juice WRLD's "Lucid Dreams" track and Sting's "Shape Of My Heart" below.
[envira-gallery id="194356"]