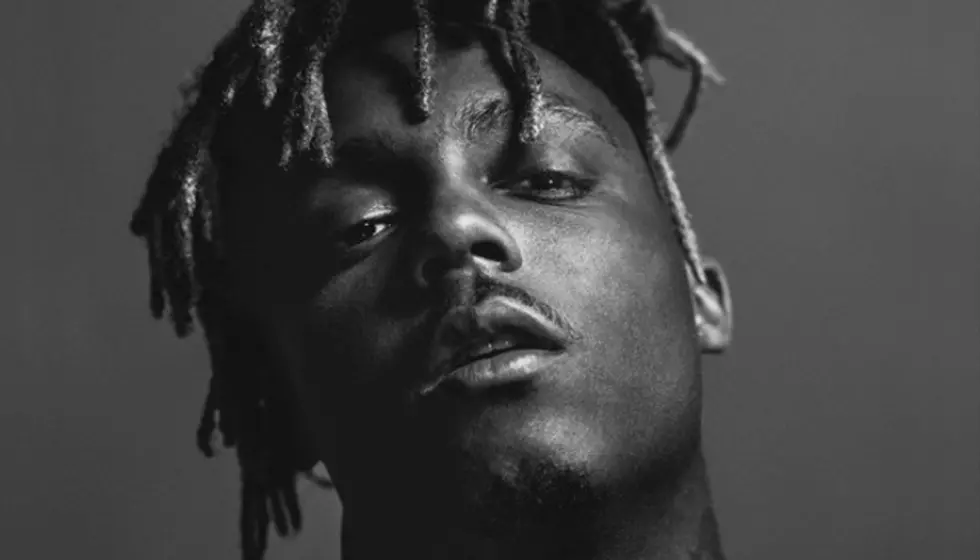 Juice WRLD shouts out Black Sabbath in previously unreleased freestyle
[Photo via Spotify]
Juice WRLD tragically passed away at the age of 21 earlier this month. Unfortunately, due to his untimely passing, he didn't leave behind a large catalog of music for his fans.
British DJ Charlie Sloth just released a previously unseen video of Juice WRLD freestyling back in February and it shows the kid definitely had talent. He also proves his rock and punk influences by referencing Black Sabbath, Ozzy Osbourne and Tony Hawk.
Juice WRLD had just two full LPs under his belt before his death. Now, Charlie Sloth released a nearly 15-minute video of Juice WRLD freestyling over different beats. Sloth says that this freestyle is one of the best ever on the Fire in the Booth segment. Watch a clip of the freestyle below.
This is a very special Fire In The Booth and its on YouTube now!! RIP Juice!!! The greatest freestyler I ever met!!! ?
If you're a fan of that and want to watch the whole video, check it out below.
The lyrics that reference the rock and skateboarding legends are over the first beat and are below.
I'm Tony Hawk and I feel like a Ali
But I'm on a beat like a damn Kamikaze
I'm a rockstar, Black Sabbath no Ozzy
More Juice WRLD
Following the news that Yellowcard are resuming their lawsuit against late emo rapper Juice WRLD for alleged copyright infringement, the group's lawyer issued a new statement.
The case was put on pause last week following the tragic death of Juice Wrld. Yellowcard claimed they were digesting the news. But then extended the response date of the defendants from Dec. 09, to Feb. 04.
Upon the initial paperwork filing to continue the lawsuit, no comment had been made. Previously they stated "We're digesting the news." Now, Yellowcard's lawyer Richard Busch's firm, King & Fallow made a statement to Billboard.
"First of all, we were as shocked and saddened by Juice WRLD's death as everyone else," King & Fallow state. "It is a tragic loss to his family, his fans, and to the music world at large, and we understand why people may be confused about the decision to continue with this lawsuit."
"My clients are certainly torn about proceeding, and understand the optics involved. But it is important to remember that this lawsuit was filed before this tragic event, and was filed because all of the defendants (and there are two other writers and several music publishers and record labels), profited off of what we believe was clear copying and infringement of Yellowcard's work." King & Fallow continue.
"So while they are absolutely aware of how this may be perceived, and truly have incredible mixed emotions, the question is whether it is fair that all of those many parties profited, and will continue to profit, off of what my client's believe strongly was their work."
Yellowcard is seeking $15 million in damages in the suit. They claim the rapper's 2018 hit "Lucid Dreams" was a knock off of their 2006 track "Holly Wood Died".
But, King & Fallow also state that the $15 million number attached to the lawsuit was falsely reported. They state that Yellowcard "are simply seeking what the law allows, and what parties in their position have sought in similar cases, which at this point is not determined."
Former Yellowcard members William Ryan Key, Sean Michael Wellman-Mackin, Peter Michael Mosely and Longineu Warren Parsons filed the complaint in late October in the U.S. District Court in California.
In the original complaint filed, Yellowcard alleges Juice WRLD and his collaborators ripped "melodic elements" from their track without permission.
"Defendants copied the Original Work without license or consent, and have exploited the subsequent Infringing Work and Infringing Sound Recording to their collective benefit without regard to Plaintiffs' rights and to Plaintiffs' detriment," the filed complaint reads.
"The Infringing Work and Infringing Sound Recording are not only substantially similar to the Original Work, but in some places virtually identical."
Juice WRLD's death occurred after Higgins deplaned from a private jet traveling from California to his hometown of Chicago. Once landing at Chicago Midway International Airport, witnesses reported he suffered a seizure while walking through the airport. TMZ reports he was "bleeding from the mouth" when paramedics arrived.
Yellowcard pushed back the response date for Juice WRLD's co-defendants. They are Taz Taylor, Nick Mira, and the two labels he is signed to. Those are Grade A Productions and Interscope Records. The defendants have until Feb. 04 to respond.
What do you think of the unreleased Juice WRLD freestyle? Leave a comment below.
[envira-gallery id="197439"]