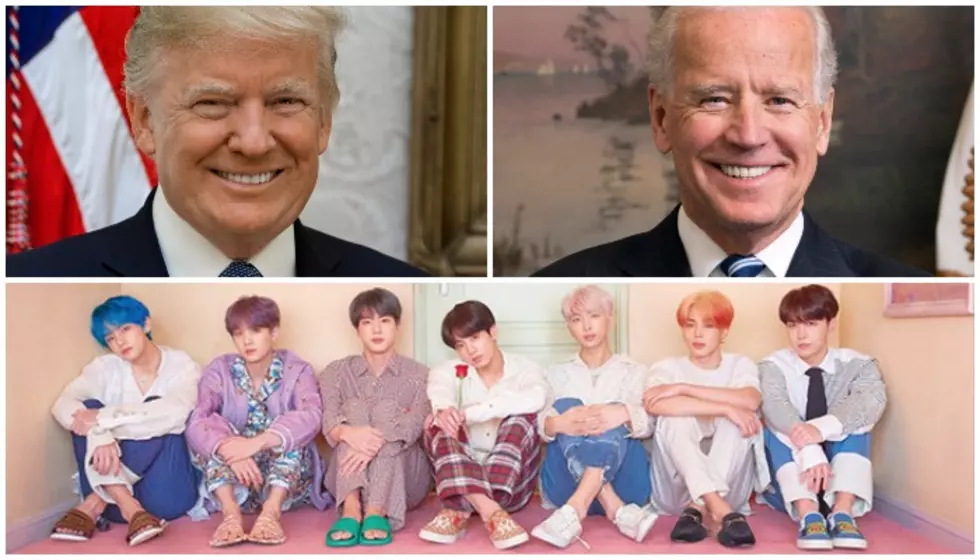 K-Pop fans took over this political hashtag started by Trump supporters
[Photos via Donald Trump/Shealah Craighead via Wikimedia Commons, Joe Biden/the White House via Wikimedia Commons, BTS/Spotify]
Last year, K-Pop fans famously took over the #WhiteLivesMatter hashtag on Twitter in an effort to stop racist rhetoric from spreading online. Now, it looks like the fandom is back at it again this week.
Following the inauguration of President Joe Biden, a conservative Representative filed articles for his impeachment. This soon sparked #ImpeachBidenNow to emerge on Twitter. However, K-pop fans weren't having it.
K-pop fans really put in a lot of work online last year. Back in June, they came together with TikTok users to reportedly tank one of Donald Trump's election rallies. Hundreds of them claimed seats for a rally and then didn't show up, ultimately causing the arena to be fairly empty when Trump arrived.
As well, when the Black Lives Matter protests began last spring, some individuals tried to get #WhiteLivesMatter trending on social media. However, fans hijacked the hashtag, flooding it with a slew of Korean pop content.
BTS
BLACKPINK
Joe Biden and Kamala Harris' inauguration this week sparked a lot of reactions online. The Simpsons fans noticed an eerie similarity between a 21-year-old episode and Harris' outfit. As well, the internet was flooded with memes of Lady Gaga, Bernie Sanders, Jennifer Lopez and even the Hunger Games.
In fact, the meme of Bernie Sanders became so popular that the Senator has decided to turn it into something good. This week, he launched a special merch item of the now-viral photo of him that is benefitting a Vermont charity.
As for Donald Trump, he is still facing impeachment. After being impeached for the second time by the House Of Representatives, the case is officially moving to the Senate on Monday. From there, the Senate will determine if the former President is guilty of inciting an insurrection stemming from the U.S. Capitol riots.
What are your reactions to K-pop fans taking over the #ImpeachBidenNow hashtag? Let us know in the comments below.