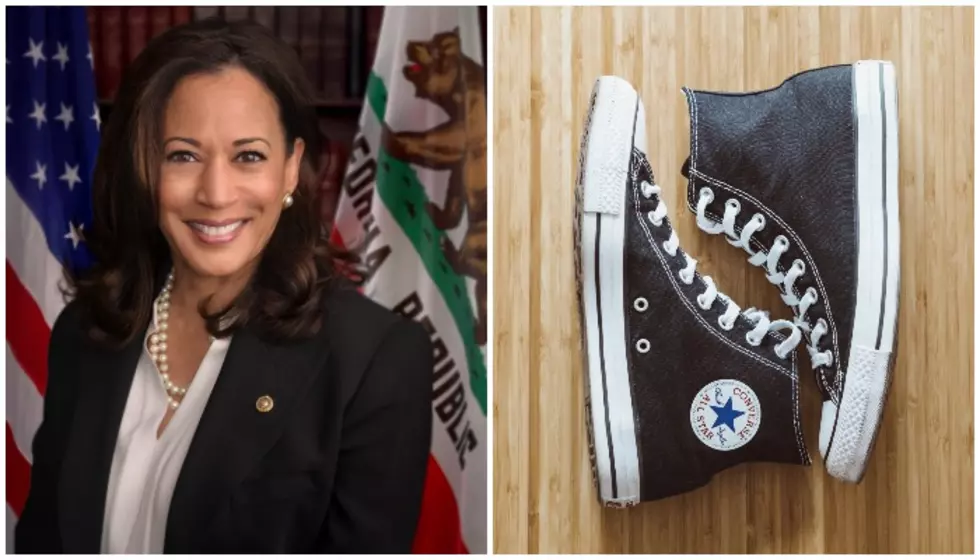 The internet reacts to Kamala Harris' Chuck Taylors on the campaign trail
[Photos via Kamala Harris/The Office of Kamala Harris on WikiMedia Commons, converse/Mitchel Lensink on Unsplash]
Joe Biden's running mate Kamala Harris was seen sporting some classic Converse this week.
Thanks to her latest fashion statement, Chuck Taylors is now trending on Twitter and onlookers are sharing their thoughts on the footwear.
In a recent interview, Harris revealed that she actually has a large collection of Converse. She has pairs for every weather condition and various different outfits including a good pantsuit.
"I run through airports in my Converse sneakers," Harris said. "I have a whole collection of Chuck Taylors: a black leather pair, a white pair, I have the kind that don't lace, the kind that do lace, the kind I wear in the hot weather, the kind I wear in the cold weather, and the platform kind for when I'm wearing a pantsuit."
Of course, the internet had some opinions on Harris' footwear choice. For many, they think its refreshing to see a female politician wear something other than high heels. As well, other onlookers think Harris' love for Chuck Taylors is "badass" and that she "rocks the ever living fuck out of" the classic shoes.
Harris is currently in Milwaukee to meet with Black business owners and union workers. Her latest campaign appearance comes just days after the Kamala-Biden campaign launched new merch on the Nintendo game Animal Crossing: New Horizons.
What are your thoughts on Kamala Harris wearing Chuck Taylors? Let us know your thoughts in the comments below.
Get more information on voting and upcoming elections from one of the below online resources:
HeadCount (Campaigning and registration information)
Vote.org (Absentee and early voting rules for each state)
Rock The Vote (A nonpartisan nonprofit making democratic participation more accessible)
Turbo Vote (Election reminders, voter registration and absentee ballot applications)