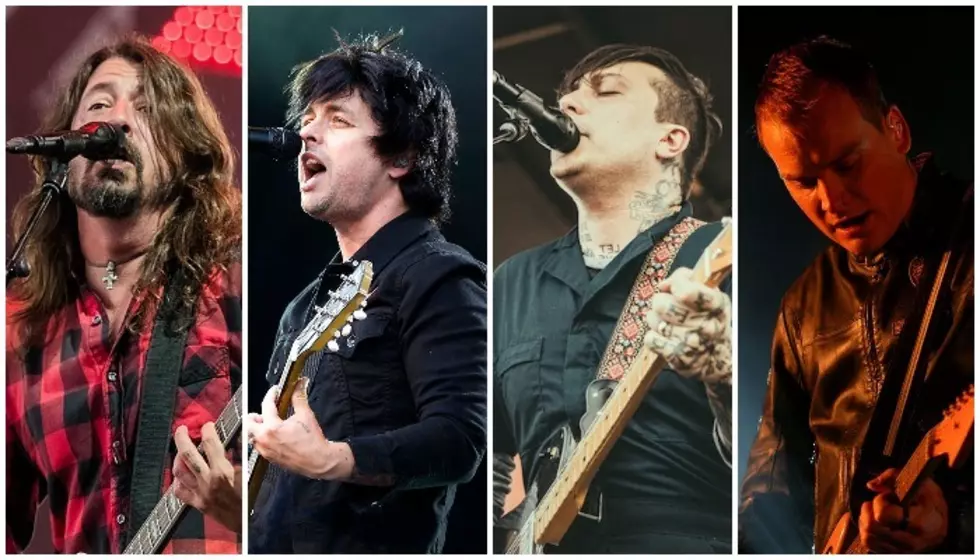 10 scene favorites Kat Von D has tattooed on 'LA Ink' and beyond
[Photos by: Dave Grohl/Andreas Lawen Fotandi, Billie Joe Armstrong/Sven-Sebastian Sajak, Frank Iero/Nick Prezioso, Matt Skiba/Antje Naumann]
Many Hollywood names, from A-list celebrities to scene stars, have gotten tattooed by Kat Von D, some even appearing on LA Ink.
While many people know Von D for her iconic makeup brand and music career, we can't forget what started it all—her amazing tattoo work on some of the most well-known celebrities. 
Many of her clients made appearances on LA Ink, so we rounded up 10 musicians and people in the scene who have been tattooed by Von D. You can check that out below. 
1. Jeffree Star
Before Jeffree Star was creating iconic makeup palettes and taking his self-driving Tesla through the Taco Bell drive-thru, he was in High Voltage Tattoo getting a tattoo of his pink Pomeranian. Star was a musician at the time and close friends with Von D, which isn't the case anymore. However, he has said he will "always respect her work and always be honored to be covered in her work." 
2. Matt Skiba
The Alkaline Trio frontman and Von D were close friends when he appeared on the show to get a Spinal Tap-inspired tattoo reading "Hello Cleveland." Matt Skiba talked about his music career and playing at Warped Tour. Years later, Von D named a glittery purple-hued eyeshadow after the musician for her True Love palette.
3. Frank Iero
Frank Iero of My Chemical Romance got a tattoo of his grandfather when he was on the show. He discussed how his grandfather introduced him to music, which is what inspired the ink. Their friendship has carried on for more than a decade with Von D checking out his solo shows and Iero returning to her shop as recent as 2017.
4. Nikki Sixx
Von D and the Mötley Crüe musician briefly dated, so he made a couple of appearances on the show. One time, Nikki Sixx got a tattoo of his fellow bandmate Mick Mars that ended up looking amazing. 
5. Bam Margera 
Bam Margera of Jackass made an appearance on LA Ink to get one of his many tattoos from Von D. The two were close friends, and when she attended Margera's wedding, his mom yelled at her for giving him so many tattoos. Margera recently got a Dr. Phil tribute tattoo on his neck by artist Mikey Carrasco at Von D's shop.
6. Dave Navarro
Dave Navarro of Jane's Addiction was on the show when he got a tattoo of his mom and shared a heartbreaking story about her death. Navarro told Inked magazine in 2011 that this is his second favorite tattoo after his mom's name on his lower back. Von D has said she feels they "became a lot closer after that tattoo."
7. Steve-O
Margera wasn't the only Jackass star to appear on LA Ink. Steve-O was on the show, too, and he got a portrait of himself as a baby on his arm. We wouldn't expect anything less. 
8. M. Shadows
Even though this session didn't appear on the show, M. Shadows of Avenged Sevenfold has been tatted by Von D. She did his Jimmy "The Rev" Sullivan deathbat tattoo that's on top of his hand in memory of the late drummer. 
9. Dave Grohl
Foo Fighters' Dave Grohl has collaborated on music with the tattoo artist and also got some ink as well. Von D is responsible for the feathers on Grohl's forearms. 
10. Billie Joe Armstrong
Not only did the Green Day frontman and Von D collaborate on a "Basket Case" eyeliner release, but Billie Joe Armstrong also had to get inked by her as well. 
Which tattoo is your favorite? Let us know in the comments below.