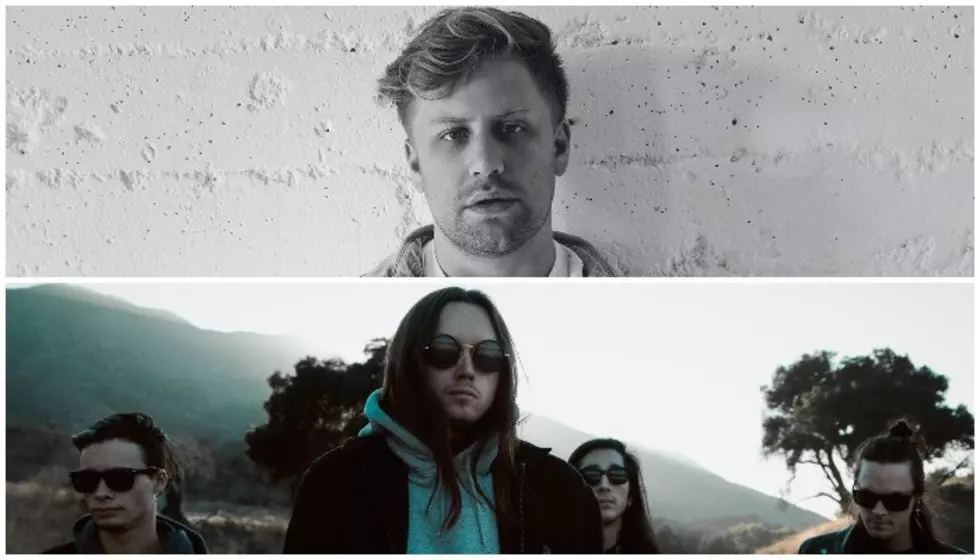 Kayzo recruits Bad Omens for electro-charged "Suffocate"—listen
Kayzo continues to dominate the EDM-alternative crossover space with another epic collab. Recruiting rock act Bad Omens, the scene's favorite DJ is teaming up exclusively with AltPress to premiere their new riff-fueled track, "Suffocate."
Bad Omens frontman Noah Sebastian and guitarist Joakim "Jolly" Karlsson join Kayzo's ever-expanding resume of collabs. Previous team-ups include All Time Low's Alex Gaskarth ("Up In Flames"),  Devin Oliver ("FOLLOW YOU"), Underoath ("WASTED SPACE"), blessthefall ("Before The Storm"), Sum 41's Frank Zummo ("The Less We Know") and late We Came As Romans vocalist Kyle Pavone ("LA Never Says Goodbye").
Many of these tracks appeared on Kayzo's sophomore album, Unleashed, which dropped last August. Not one to slow down, the producer has continued releasing music since then—including a My Chemical Romance "Helena" remix with Sullivan King and "Battle Drums" with Atreyu—making "Suffocate" his fourth single of 2020.
The Kayzo collab follows Bad Omens reissuing Finding God Before God Finds Me at the start of the year. The 2019 LP was repackaged with two new tracks—"Never Know" and "Limits"—as well as a cover of Duran Duran's "Come Undone."
With all eyes on what's next, Kayzo and Bad Omens' Sebastian opened up about "Suffocate," which you can check out below.
How did this collaboration come about? What led to teaming up for "Suffocate"? 
KAYZO: My team had me check out Bad Omens a while back, and [I] really resonated with their sound. From there, we tried to find a date to work, and when our schedules lined up, we made it happen.
Tell us about the writing process. How did it come together in the studio? What inspired it? 
KAYZO: I had [written] the production to "Suffocate" a while back. I wrote all the riffs and [came] to the studio with the track pretty much done. The guys and I decided to retrack the riffs and rewrite some riffs and patterns with Joakim instead to give it that authentic Bad Omens touch. Lyrically, Noah and Joakim took some time to write as we tidied up production. When they had a solid idea, we all just sat and looped it for a while and adjusted lyrics and cadences where necessary.
As a band, Bad Omens obviously collaborate together on your own music, but what was it like taking your ideas and bringing them together with another artist for their song?
NOAH SEBASTIAN: It felt just as organic as our usual writing process to be honest, only much easier because Kayzo is a great producer and had already laid down the majority of the groundwork for the entire track. Typically with our process, it's Jolly and I both writing and producing entire songs ourselves. But with Kayzo, we got to home in on our respective roles in the band for once and focus on just that, [with] me singing and Jolly playing guitar. 
How did Bad Omens elevate the track?
KAYZO: I think the guys made what was already a heavy track even heavier, and I really didn't think that was possible. It was a natural fit with the guys in this one.
Kayzo is well known for merging EDM and scene artists in his music. What was it like to work with him on this track?
SEBASTIAN: It was clear that Kayzo already had plenty of experience merging these genres, and the rock and metal influence was there to begin with. Despite us being from two very different worlds musically, the creative process didn't feel that way at all. Even down to the artwork he had presented for the song, we were on the same page with everything from start to finish. It was a blast, and we're eager to collaborate with him again in the future someday. 
You continue to bridge the gap between alternative and EDM with each release. Is this the path you always envisioned for yourself in music? 
KAYZO:
At first, I had no idea what my path would be. [In] my first couple of years as Kayzo, my writing style was definitely more suited to just EDM. One day while driving home, I was trying to get reinspired because, at the time, writing solely EDM-sounding songs wasn't resonating with me. I grew up listening to all styles of rock, alternative and metal and decided to go through my favorites artists like
Bring Me The Horizon
[and] Sum 41. The writing styles and melodies in the songs really resonated with me and actually had some familiarity to it with electronic writing. From there on out, I decided to be real with myself and write from the heart and with what has shaped me to this day: rock and electronic. Throughout the years, the songs have evolved [in] a way I would have never imagined collaborating with some of my greatest inspirations.
How do you help artists who have never collaborated or worked in EDM feel comfortable? Are there any tricks to help artists warm up to the genre?
KAYZO: Honestly, I try to go into these sessions as confident as possible and from the start take the reins. Aside from that, we take some time prior to actually getting down to writing and recording and just go through our history. Once the bands hear where I came from and what I'm inspired by, we find ourselves closer than we would have thought prior to talking, and these sessions just become so effortless and fun. All the bands I've worked with, Bad Omens included, work so hard, and that really resonated with me. We don't waste time in sessions. We [make] every second we have worthwhile, and I think that's why these [collabs] become so interesting and innovative.
What's it like to hear your music blended with EDM? As a band, did you ever envision working in other genres like this?
SEBASTIAN: From day one, we've always had aspirations to work with artists in genres outside of what the typical metal [or] rock fan would expect. With all of us having very eclectic music tastes, this didn't scare us at all. Working full time producing music beyond just Bad Omens, Jolly and I get to do this from time to time already, but this is our first time getting the chance to put Bad Omens in the mix. Beyond the obviously satisfying and rewarding part of just having a good time making a cool song with another talented artist, the idea that we can expose fans of our music to another genre they may not have known they had a taste for—and same with Kayzo and his fans with us—is just as exciting as the song itself.
Check out "Suffocate" below.
Kayzo will be hitting the road in March for the UNLEASHED tour with Machine Gun Kelly's drummer JP "Rook" Cappelletty and the Lights Out tour. Memphis May Fire, I See Stars, Sullivan King and more will appear on select dates across the run. Check out all the upcoming shows below, with support information and tickets here.
Bad Omens are currently on their headlining The Killed And Born Again tour with support from Oh, Sleeper, Thousand Below and Bloodline. Tickets are available here, with dates below.
Kayzo dates:
03/20 – New Orleans, LA @ BUKU Music + Art Project
03/27 – Denver, CO @ Fillmore Auditorium *
03/28 – Salt Lake City, UT @ The Great Saltair *
03/30 – Lincoln, NE @ Bourbon Theatre ^
03/31 – Lawrence, KS @ Granada Theater ^
04/03 – Albuquerque, NM @ El Rey Theater ^
04/09 – Oklahoma City, OK @ Farmers Market *
04/10 – Austin, TX @ Stubbs Waller Creek Amphitheater *
04/11 – Dallas, TX @ South Side Ballroom *
04/14 – Cincinnati, OH @ Bogarts ^
04/15 – Indianapolis, IN @ Deluxe ^
04/16 – Nashville, TN @ Exit In ^
04/17 – Columbus, OH @ The Bluestone ^
04/18 – Atlanta, GA @ Tabernacle *
04/21 – Charleston, SC @ Music Farm ^
04/22 – Richmond, VA @ Jefferson Theater ^
04/23 – Virginia Beach, VA @ Peabodys ^
04/24 – New York, NY @ Great Hall at Avant Gardner *
04/25 – Pittsburgh, PA @ Stage AE *
04/29 – Grand Rapids, MI @ Intersection Lounge ^
05/01 – St. Paul/Minneapolis, MN @ Myth Live *
05/02 – Milwaukee, WI @ The Rave / Eagles Club *
05/06 – Boise, ID @ Knitting Factory ^
05/07 – Spokane, WA @ Knitting Factory ^
05/08 – Vancouver, BC @ Harbour Convention Centre *
05/09 – Seattle, WA @ WAMU Theater *
* UNLEASHED tour
^ Lights Out tour
Bad Omens dates:
02/25 – Atlanta, GA @ The Masquerade
02/27 – Orlando, FL @ Soundbar
02/28 – Lake Worth, FL @ Propaganda
02/29 – Tampa, FL @ Pegasus Lounge
03/01 – West Columbia, SC @ New Brookland Tavern
03/02 – Fayetteville, NC @ The Drunk Horse Pub
03/03 – Baltimore, MD @ Baltimore Soundstage
03/04 – Philadelphia, PA @ Voltage Lounge
03/05 – Richmond, VA @ Canal Club
03/06 – Brooklyn, NY @ Kingsland Bar & Gril
03/07 – Hartford, CT @ The Webster Underground
03/08 – Boston, MA @ Brighton Music Hall
03/09 – Syracuse, NY @ Westcott Theatre
03/11 – Pittsburgh, PA @ The Crafthouse Stage & Grill
03/12 – Cleveland, OH @ House of Blues
03/13 – Cincinnati, OH @ Riverfront Live
03/14 – Chicago, IL @ Beat Kitchen
03/15 – Cudahy, WI @ X-Ray Arcade
03/16 – St. Paul, MN @ Amsterdam Bar And Hall
03/17 – Kansas City, MO @ The Riot Room
03/18 – Lincoln, NE @ The Bourbon Theatre
03/20 – Denver, CO @ Marquis Theater
03/21 – Salt Lake City, UT @ Kilby Court
03/23 – Spokane, WA @ The Pin
03/24 – Portland, OR @ Lola's Room
03/25 – Seattle, WA @ El Corazon
03/27 – Sacramento, CA @ Holy Diver
03/28 – Anaheim, CA @ Chain Reaction