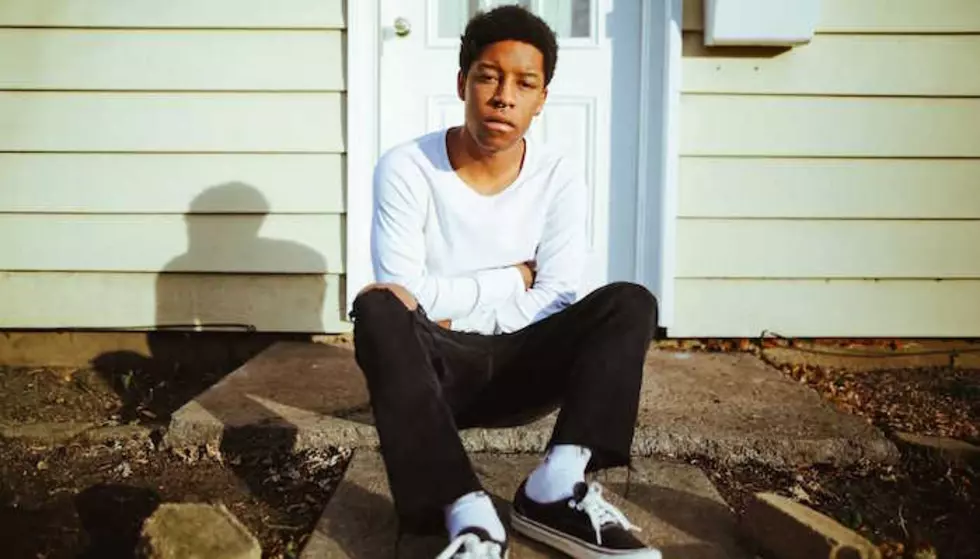 KennyHoopla and Travis Barker shine on 'SURVIVORS GUILT: THE MIXTAPE//'
Throughout his career, KennyHoopla has teamed up with many other artists in the alternative music scene, including nothing,nowhere., JUDGE and the Neighbourhood's Jesse Rutherford. Not to mention he collabed with blink-182's Travis Barker on his songs "estella//" and "hollywood sucks//." But with the release of his newest project, SURVIVORS GUILT: THE MIXTAPE//, Kenny puts himself and his art at the forefront.
Rising to popularity in part due to his unique yet nostalgic endeavors in pop punk, Kenny emphasizes that his greatest skill lies in making rock music in its purest form. From the gritty sounds of "inside of heaven's mouth, there is a sweet tooth//" to the mellow opening of "9-5 (love me)//," the eight-track project further solidifies Kenny's well-deserved place in alternative music. 
"silence is also an answer//" opens the mixtape with a creepy, airy instrumental before kicking into a head-banging beat, which Kenny has become somewhat synonymous with. With a quip about Ferris Bueller, the song highlights Kenny's soaring vocals. The track abruptly slows down, teasing that it could be the end before drumstick taps pull us back into the hard guitar riffs of the chorus. Then the track finally ends with an echoey element similar to the beginning.
Next comes "estella//," a track initially released last November that spent a thrilling 24 weeks on Billboard's Alternative Airplay chart. That alone justifies why this explosive, punk-rock-influenced song should be on all of your playlists. The sharp sound in "estella//" puts a new spin on the pop-punk and rock genres while instilling just enough old-school familiarity, making it as addicting to listen to as all those classic 2000s alternative songs.
Following the project's lead single is "turn back time//." It sees Kenny questioning what would happen if he could go back into the past and confront things that he didn't the first time ("One day I'll be so famous, I'll show them"). Starting off mellow with softer vocals in the verses, the song quickly elevates into Kenny's signature sound in the chorus. The presence of shimmery keys gives parts of the song a more dreamy feel than the harder guitar rock riff sections. As Kenny worked with Barker on the creation of the mixtape, it's no surprise that you can hear the influence of blink-182's sound in many of the songs, including "turn back time//." 
Placed in the middle of the tracklist, the titular "survivors guilt" brings together the first and second halves of the project. It shows yet another rock side of Kenny's artistry that involves screaming and soft-talking on top of an intense beat. The scratchy vocals paired with the head-banging instrumentals are a welcome but short addition to the mixtape. Indeed, the song only clocks in at just over two minutes—though most of the songs on the project are under or around two-and-a-half minutes.
"hollywood sucks//" is another single that was released earlier this year. A commentary on toxic Los Angeles culture, "hollywood sucks//" is one of the more lighthearted songs on the mixtape. At its core, it's a carefree track mirroring Kenny's view on life: just have fun and don't take things too seriously. In contrast, the next song, "inside of heaven's mouth, there is a sweet tooth//," is much heavier and filled to the brim with raw emotion. The instrumentals, while still important, take a major backseat to Kenny's passionate vocals, which shine through in every regard.
Rounding out the mixtape is "smoke break//" and "9-5 (love me)//." With more nostalgic pop-punk influences, "smoke break//" showcases a smoother side of Kenny's sound, with soaring vocals. If you listen closely, you can also hear a reference to the COVID-19 pandemic ("I wear a mask not 'cause the virus/Just don't like what is behind it"). 
Closing the album is "9-5," which is only two-and-a-half minutes long. Regardless, it spends the first minute slowly building up. Kenny sings lines such as "So don't say you're in love, so put your money where your mouth is" as the track starts sonically like a ballad. Then, right at the minute mark, it kicks into his signature sound, with rock guitar riffs and fervent drumming. After that, it reverts into another slow section before building up again. This time you can hear the presence of strings. That new layer adds more depth to the song and continues to showcase Kenny's dynamic rock capabilities, something the mixtape as a whole emphasizes throughout.