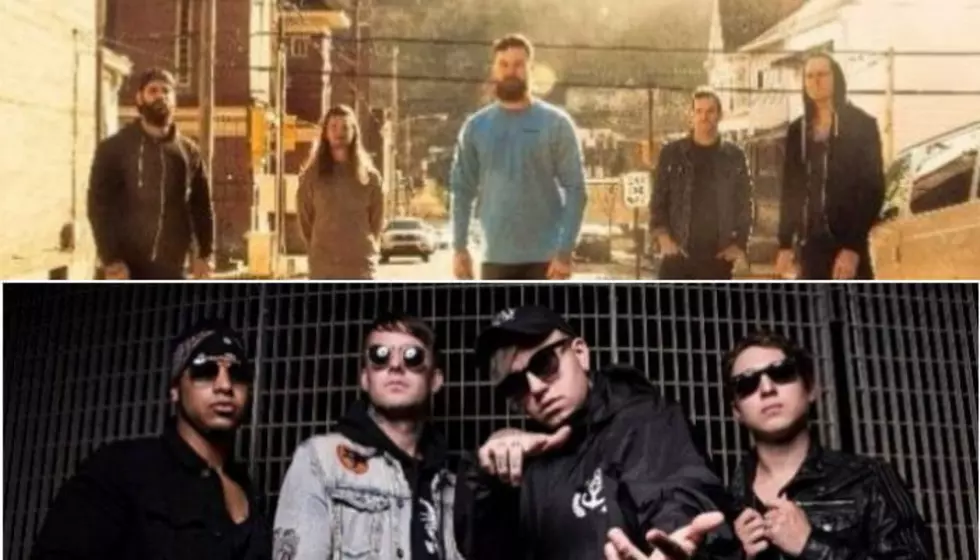 Kevin Lyman weighs in on Attila, Senses Fail resurfaced Warped Tour beef
Yesterday, Senses Fail dug back into their old Warped Tour beef with Attila. The exchange played out after a Twitter user seemingly associated with the latter band reignited the feud sparked by apparent homophobic comments that Attilla frontman Chris "Fronz" Fronzak made onstage during the summer 2015 run of the traveling tour.
Soon after, Fronz responded to the resurfacing feud and offered up his side. Now, Warped Tour founder Kevin Lyman and other artists and crew members on that year's tour are weighing in on the continuing back-and-forth.
On Wednesday, someone under the handle @Whisk3y_John brought up the matter on the social networking service. (While it's currently unclear exactly how they're attached to Attila—the person presumably works with the band as they mention they'll be traveling on their U.S. tour with All That Remains and Escape The Fate.)
From there, Senses Fail vocalist Buddy Nielsen was quick to address the comment. Asking if Attila is "even a band anymore" the group stated they had only accused Attila of using homophobic slurs.
Fronz caught wind of the reply and delivered a response, stating "the real question is how is Senses Fail still a band" and elaborating on how they "had a great conversation and hugged."
"I loved senses fail growing up. I listened to them a shitload when I was 12. Then we toured together. Buddy was upset about my lyrics and wanted to meet me which I gladly did. We had a great conversation and hugged. Then he started talking shit about me on stage for a whole tour."
The Warped Tour community reacts
YouTuber Jarrod Alonge was on Warped Tour in 2015 as Fearless Records' video correspondent. The comedian also has a parody track featuring Attila guitarist Chris Linck, so he was quick to defend the band.
"How daft and artistically-inattentive do you need to be to not understand that the use of "faggot" in that Attila song is a reference to getting bullied? I mean, with that logic - YOU just used the word. Also Attila's album sales have sat waaaaaaaaay above yours for years, lmao."
Lyman chimed in shortly after, revealing big plans for the upcoming 25-year anniversary Warped Tour shows as well as clarifying the outcome after the original 2015 exchange.
"It is our 25th anniversary and I am bringing back wrestling. Maybe a cage match with @JarrodAlonge & @SensesFail? Plus it was so long ago, I sat under a tent with both Buddy & Fronz and we had a long discussion on this & walked away agreeing to not agree but respect each other."
Senses Fail fired back asking, "Who's @JarrodAlonge lol, is he like Emo [Weird Al Yankovic]?" to which the comedian delivered yet another zinger:
"Are you the guys from , my favorite game from 8th grade?"
Handguns
"If it's a fight you want they aren't riders. Same year 2015, we witnessed one of them pour a beer out on the head of a woman. We tried to fist fight their entire team. They weren't bout that smoke. So it diffused. The next day he apologized profusely to all involved parties."
Handguns then joked they'd be down for a dance-of and shared footage of vocalist Taylor Eby and bassist Nate Bobb killing it on the dance floor:
"Do any bands even wanna TRY and have a dance off? Do y'all even love each other as much as Taylor and Nate love each other?"
"Fighting is for dumb dumbs any way. I think the only real way to decide who is "right" or 'wrong' is by a series of seriously judged competitive dance competitions. Best out 10 wins 20,000 scene points."
The original Attila and Senses Fail beef
This isn't the first time Neilsen has called out Attila for their offensive language. Before the Warped Tour incident, the singer took to Twitter in late 2014 to chide the band for harboring material that would "insult the LGBTQ community."
And appearing on AP's Cautionary Tales podcast last year, the Senses Fail frontman again discussed Fronzak's choices in vernacular on the Warped stage, restating how he took umbrage with the frontman's apparent slurs during the tour.
"I don't feel like the music scene came out to support me," Nielsen said. "There was a lot of, 'Shut up, shut the fuck up, play your songs and be glad that you're here. You got everything you wanted.' I was talking about a lot of these issues in the music scene three years ago, and people were like, 'Way to go, social justice warrior.'"
He continued, "Nobody had my back with that Attila dude. That dude is one of the dudes who needs punched in the face. I am not a violent person. But if you are a person who is queer and you get called 'faggot,' you have every fuckin' right to knock that person in the face. I am for standing in your fuckin' space and taking it."
Senses Fail are currently out in support of their latest, If There Is Light, It Will Find You, with tickets available here. Attila's upcoming Villain drops Feb. 22 with preorders available here.
What do you think about this reevaluation of the past comments made by both Senses Fail and Attila? Did you attend the Vans Warped Tour back in 2015? Sound off in the comments section, below, with your thoughts on the matter.
[envira-gallery id="194728"]