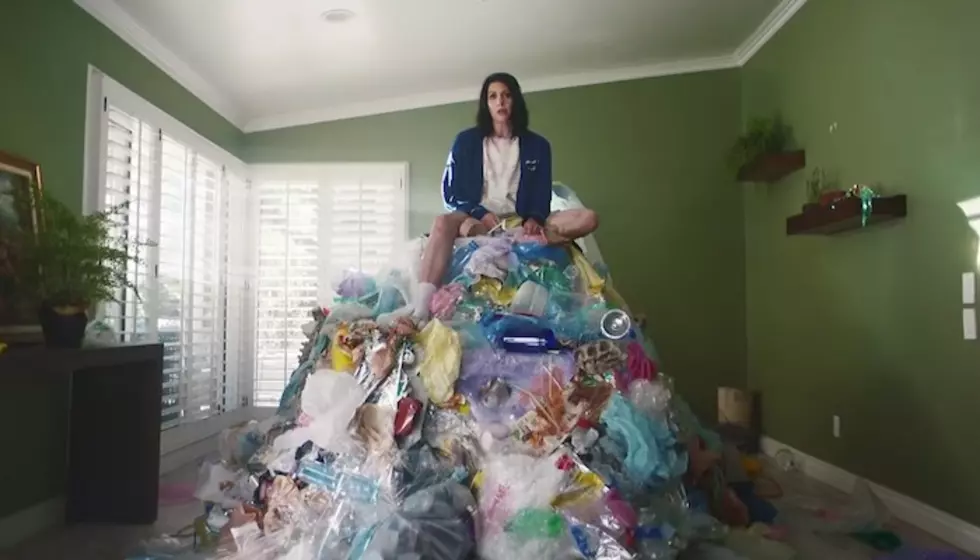 K.Flay is over climate change inaction in "Not In California" video
[Photo via YouTube]
K.Flay has been releasing vibrant videos for singles from her third album, Solutions, over the past few months. Now, she's tying it all together with the third installment, "Not In California."
Released the same day the United Nations Climate Action Summit kicks off in New York City, the vocalist used the clip to shine a light on climate change inaction.
"Our collective inaction on climate change and the sense of disbelief that I think so many of us feel," K.Flay begins. "We're looking out at a world that is getting hotter and scarier by the day and still nothing seems to compel the government to take action. The video imagines a trash universe in which social isolation and littering and bad policing are the status quo—a universe that doesn't feel so different from ours now."
K.Flay has been very active in taking a stand on different social issues. Last month, she joined Billie Eilish, Nine Inch Nails, Halsey, the 1975, Foo Fighters, Vic Mensa and many more in supporting Planned Parenthood in the fight for abortion rights.
The vocalist also joined Mensa alongside Tom Morello at the American Civil Liberties Union's 100th anniversary in Los Angeles back in March. Both K.Flay and Mensa collaborated with Morello on his first solo album, The Atlas Underground, which they performed songs from at the show.
Check out the new video from K.Flay below.
The new clip serves as the prequel to previously released "Bad Vibes" (Part 2) and "Sister" (Part 3). You can check out both of those below.
All three tracks are taken from her latest Solutions, which is out now. K.Flay is currently out on the North American dates of her Solutions tour with dates below. Tickets for all of her upcoming dates—including Europe and the U.K.—are available here.
Dates:
09/24 – Brooklyn, NY @ Brooklyn Steel
09/25 – Boston, MA @ Royale
09/26 – Philadelphia, PA @ TLA
09/29 – Washington, DC @ 930 Club
09/30 – Charlotte, NC @ The Fillmore
10/02 – Nashville, TN @ Marathon
10/04 – Austin, TX @ Austin City Limits
10/11 – Austin, TX @ Austin City Limits
10/12 – Denver, CO @ The Fillmore
11/23 – Fort Lauderdale, FL @ Riptide Music Festival
11/29 – Tulsa, OK @ The Edge's Black Friday
K.Flay also appears in one of our latest issues, AP #371, with cover stars the Driver Era. The singer explains that if her previous album was a leather jacket, her new music is a denim one: different vibe, still cool. Grab your own copy here or below.