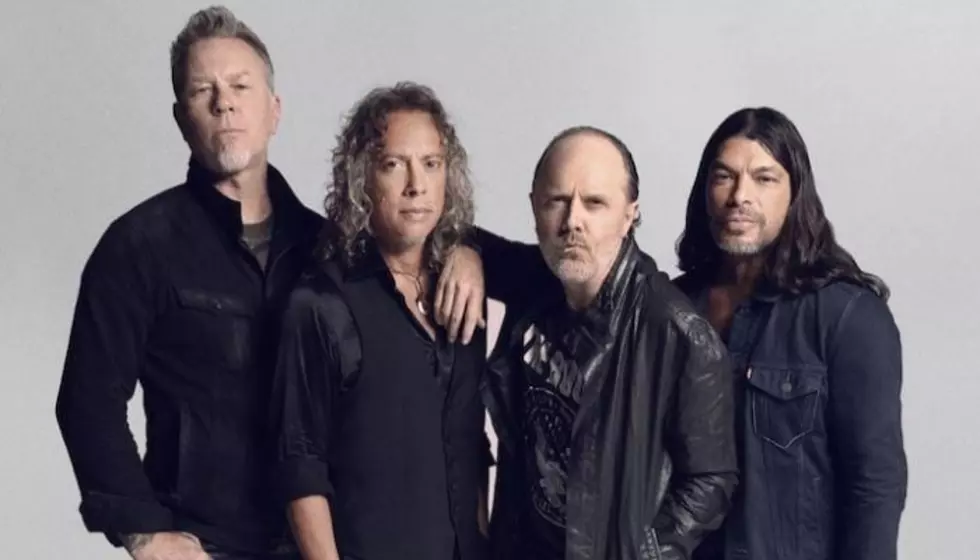 Kirk Hammett has "a lot of kick ass material" ready for Metallica album
[All photos via Spotify]
Metallica typically takes quite a while to put out new records but Kirk Hammett says he's put together quite a bit of material so far.
The guitarist spoke with Cosmo Music when he showed up for a special cover band set back in the summer where he discussed the new material.
"I have a lot of stuff written that I've put aside for the band — a lot of stuff," says Hammett.
"Because last album, I didn't have any stuff, 'cause I lost most of my ideas when I lost my phone — over 500 musical ideas… It took me a long time to recover from that. And I got it into my head I had to produce twice as much — basically, I overcompensated. So, as it stands, as we speak, I have a lot of material — really kick-ass, great material — that I just can't wait to show the other guys and turn into some music, record, get the album out and have more kick-ass metal."
In case you forgot or didn't know, Hammett ended up losing his iPhone holding hundreds of riffs he had for their last album. Due to the lost phone, his writing was pretty sparse across the record.
You can watch the entire new clip below.
The legendary thrash band just announced they will exclusively headline all five of the Danny Wimmer Presents hard rock festivals in 2020.
These five festivals are Epicenter, Welcome To Rockville, Sonic Temple Art + Music Festival, Louder Than Life and Aftershock. Metallica will be performing two unique setlists at each event.
This is an unprecedented collaboration that has never occurred for a promoter or band. The five festival dates and locations are below.
Epicenter (May 1-3) at its new location at the Charlotte Motor Speedway in Charlotte, NC
Welcome To Rockville (May 8-10) at its new location at the Daytona International Speedway in Daytona Beach, FL
Sonic Temple Art + Music Festival (May 15-17) at MAPFRE Stadium in Columbus, OH
Louder Than Life (Sep. 18-20) at Highland Festival Grounds at KY Expo Center in Louisville, KY
Aftershock (Oct. 9-11) at Discovery Park in Sacramento, CA
These are the only festivals Metallica is performing at in the United States in 2020. Thee two unique setlists at each festival will be entirely different than the other festivals.
Are you excited about what material Kirk Hammett has ready for the next Metallica album? Let us know your thoughts in the comments below.
[envira-gallery id="199143"]