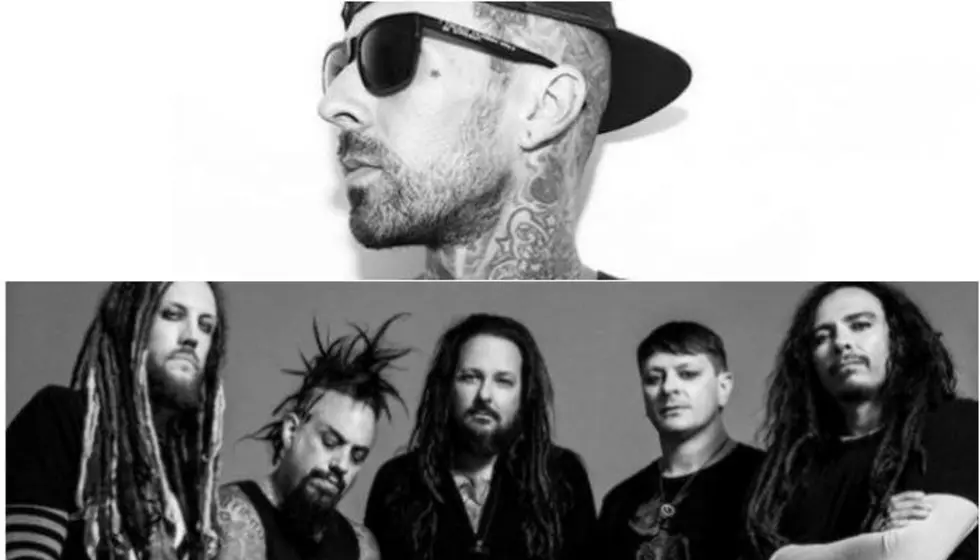 Korn working with blink-182's Travis Barker on new music
[Photo by: Korn/ Jimmy Fontaine]
Korn fans have been eagerly awaiting for the group to release their 13th album, and it appears that they've enlisted the help of some pretty big names to write some songs.
In a new interview, the band's guitarist Brian "Head" Welch shared that the band has worked with Goldfinger's John Feldmann and blink-182's drummer Travis Barker on some new material.
According to a new interview with Revolver, Welch has shared that Korn have been working on some new songs with both Feldmann and Barker.
"We're doing it all over. We've been to Nashville a few times, we've done a lot in L.A. We actually wrote with John Feldmann, too, for the demos. Travis Barker laid the temporary drums for some, and that was cool. We've known John Feldmann since '87 — he was in Electric Love Hogs. So we're writing with different people. We grabbed [producer] Nick Raskulinecz, and he's very hands-on and such a fan of music. It's not a job or a gig to him."
While it's not certain on what exactly Feldmann and Barker helped the band out with, it does appear that we have an idea on when the band's forthcoming record should be out.
During the interview, Welch revealed that the band's highly anticipated release should be coming out by fall of next year (!!)
"The Korn album should be out by next fall. We have to get it out, because we want to get back to the fans next year and do our thing. We're working hard," Welch said. "We've been through a lot. Now it's time to get all those emotions and turn them into a positive with music. Jonathan is really good at that."
Korn's new album, what we know so far: 
Korn's frontman Jonathon Davis sat with DOMkast back in November, where he talked about the band's forthcoming album.
"It's going great. We're recording in Nashville, and I'm gonna start working on some stuff when I get home. And when it's done, it's done," Davis said. "It's not like records in the past. We're taking our time on this one. And the stuff that I've heard that we're recording is very groove-oriented, it's very intense. It's gonna be a good record. I'm really excited to get home and start singing on it."
Davis revealed the information in a new interview with Metal Hammer, where the vocalist said that he's listened to a lot of the material already, sharing that the next step is putting his vocals on the recorded tracks.
"I've listened to a bunch of stuff. There's been really good ideas, really cool grooves. It really doesn't start taking place until I get there and glue all the shit together with the arrangements and put my vocals on it.
"But they're working with different producers and we're gonna do the record and we'll see – I'm really excited for it. It doesn't suck, I know that. I'm not going, 'Go back, please.' I'm more impressed on these than I was with Serenity Of Suffering, so…"
When asked what fans can expect from the new album, whether that be a continuation of Korn's sound or something different, Davis shared that the answer to that will come later:
"We'll see. Sometimes they write it and then I start fucking with shit and it turns into something different. That's when I come in and they get all pissed off or they just get scared. I'm, like, 'See that feeling right there? That's progress. When you're feeling comfortable, no. I want you to be scared.'"
See more: 16 memorable band photos
[envira-gallery id="186668"]