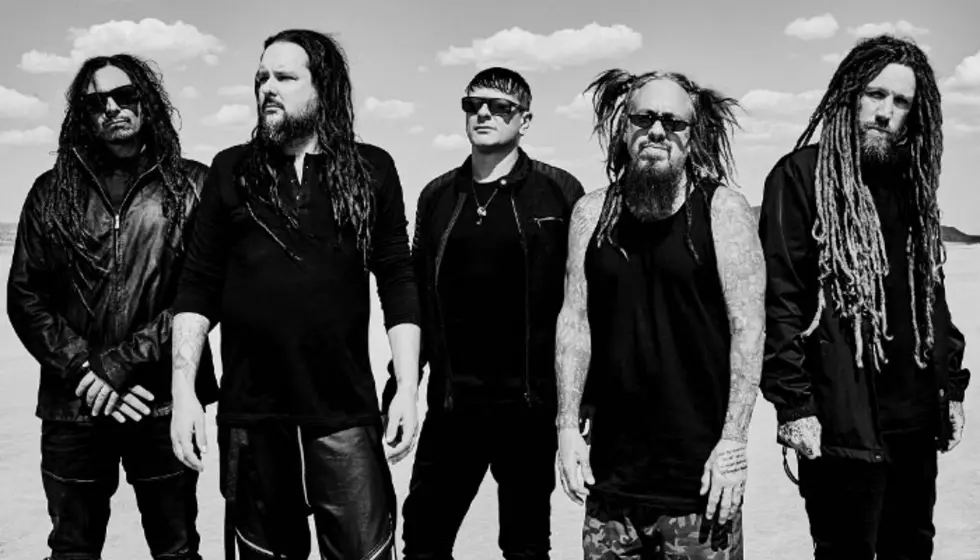 Jonathan Davis opens up about drug use during Korn's early years
Korn's Jonathan Davis recently sat down for an episode of Steve-O's Wide Ride! podcast.
During the interview, Davis details his past meth use during Korn's early years and reveals why 2019's The Nothing was so hard for him to make.
Last year, Korn debuted their 13th full-length album The Nothing. Following its release, Davis opened up about how the album helped him grieve following the sudden loss of his wife.
"The whole record is just this grieving process of all of the things I went through," Davis said. "It's not necessarily textbook how I was grieving like denial and anger and all of this. I went through all kinds of different stuff. I went to a really dark place and I think I brought back something dark with me ever since I lost her."
Now, Davis has further opened up about that time in his life on Steve-O's Wild Ride! podcast. During the interview, he says The Nothing was hard for him to make because of the grief he felt.
"Unfortunately, my wife died of an overdose so I had to go through that," he says. "It was hard you know, [with] addiction and mental health issues and all these things going on. So I dealt with making that record, [it] was hard. But, you know I got through it and I am good now, everything is great."
Despite this, he says The Nothing is an "amazing record" and helped him get through those dark times.
"It's an amazing record, it was a hard record for me to make. [I] got through it, I've always used music to [help with] how I deal with things and I got it done."
Davis also details his past meth use during Korn's early years in the interview. He tells the Jackass star that he recently celebrated his 22nd year of sobriety. However, it was a long road to recovery.
"Tomorrow is my 22nd fucking year. It's insane," he says. "...I started doing meth when I moved to Huntington. There's a lot of meth there from Bakersfield and I got hooked up with someone that was giving me tons of it there."
He also reveals that Korn's 1994 track "Helmet In The Bush" is actually about his meth use during those years.
Shortly after the completion of 1998's Follow The Leader, however, Jonathan got sober and stopped using meth. He shares that touring is part of the reason he decided to get clean.
"I got sober right after we did the third record," he continues. "So I stopped meth when we started touring because I couldn't function. There's no way I could be up for two days and tour and keep it together, and I had to stop. So the day we took off on tour, the first tour with House Of Pain and Biohazard, we got in our trailer and we built bunks, and I just got on that bunk and I slept for five fucking days, got up and played a show, and that's when I kicked it."
Along with all of this, Davis also details his enjoyment of watching mosh pits during Korn's performances, why he quit smoking cigarettes, how he's handling quarantine and more.
Jonathan Davis' full interview on Steve-O Wild Ride podcast can be streamed below.
Is The Nothing your favorite Korn album? Let us know in the comments below.