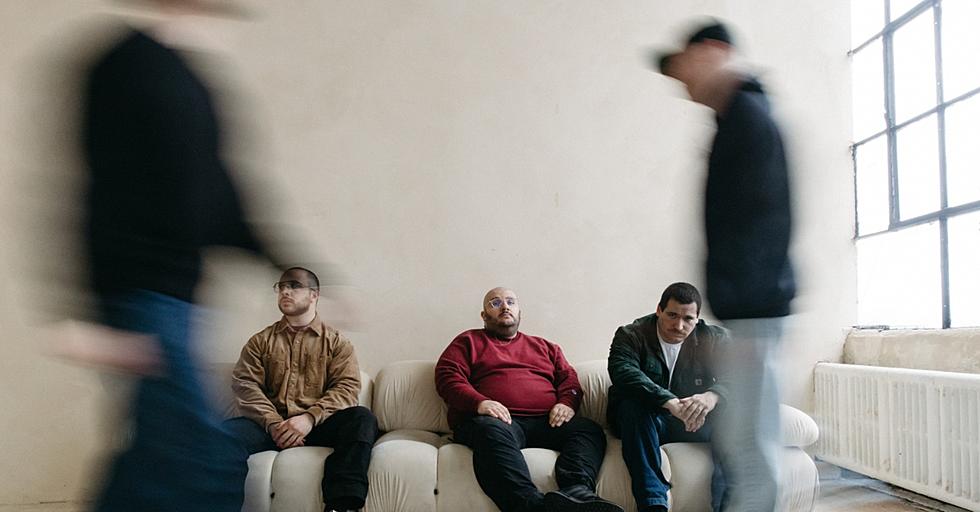 See Frank Iero play a judge in Koyo's "You're On The List (Minus One)" music video
[Photo by Rebecca Lader]
Alternative Press teamed up with Koyo for exclusive vinyl, limited to 250 copies. Head to the AP Shop to snag yours.
Long Island hardcore crew Koyo just announced their debut album, Would You Miss It?, which is arriving Sept. 29 via Pure Noise Records.
Along with a new record on the way, the band dropped lead single "You're On The List (Minus One)." Their blend of emo, punk, and hardcore is anthemic as ever, with the group clearly pulling from the Long Island music scene's rich past. In its accompanying music video, Koyo participate in a singing contest in a pasta shop, featuring Frank Iero, photographer Michael Dubin, and producer Jon Markson as judges. But toward the middle, members of fellow Long Island outfit Regulate shove the band aside and take over the song. Things get heated, but you'll have to watch the video to see how it all plays out. 
Read more: 15 best modern hardcore bands for day one fans
Koyo also launch their North American tour today in New York City, featuring shows with No Pressure, Fleshwater, I Am The Avalanche, and Bayside. You can grab tickets here. 
See the exclusive vinyl, video for "You're On The List (Minus One)," and the album tracklisting below.
Would You Miss It? tracklisting
1. "51st State"
2. "You're On The List (Minus One)"
3. "Life's A Pill"
4. "I Might Not"
5. "Flatline Afternoon" (feat. Anthony DiDio)
6. "Anthem"
7. "Sayonara Motel"
8. "Message Like A Bomb" (feat. Daryl Palumbo)
9. "What's Left To Say" (feat. Vinnie Caruana)
10. "Postcards"
11. "Crushed"