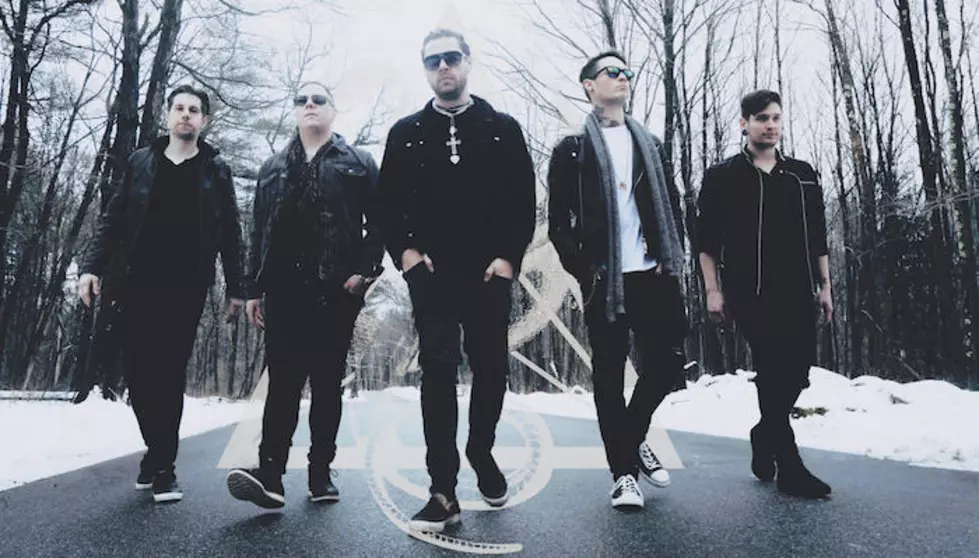 Lakeshore tries to find inner-self in new single "Mountain View"
[Photo by: Mackenzie Baker/Shadow Pine Media]
It's never easy to stay on top of the new music that bands are constantly releasing and debuting. Thankfully, we've got you covered. Hailing from New Fairfield, Connecticut, hard-rockers Lakeshore are teaming up with AltPress to exclusively share their next single and music video, "Mountain View."
Lakeshore features vocalist Jesse Doran, guitarist Ben Lionetti, drummer Joe Lionetti, bassist Chris Segovia, and lead guitarist Mitch LoBuglio. The Lionetti brothers should sound familiar as they were founding members of metalcore band Emmure.
It seems Lakeshore have found what works, and Ben and Joe may be taking a slice of influence from Emmure. However, it's only subtle nods as Lakeshore ensures that they're an entirely new and different band. The band have cut themselves a clear path to success with this new single and video. Heavy riffs are hammered in, yet complemented with clean, smooth vocals thanks to Doran.
"Mountain View" incorporates everything needed for a strong, solid single for a new, up-and-coming band. Whether it's trying to fit in or be comfortable in your own skin, the music video explores the need to find true happiness within ourselves and the world around us. Ben Lionetti elaborates more on the single and the future of Lakeshore.
What was the writing process like for "Mountain View?"
"Mountain View" was one of those songs that came together pretty quickly. We felt good about the demo when writing it, but when we took it into the studio with Sahaj Ticotin (Mötley Crüe, Starset) not only did it really come to life, but Sahaj was able to take it to the next level. Not only is he an amazing producer, but he's an amazing writer as well. I think the collaboration and team effort to make the vision come to light shows on this one.
How does the writing process for Lakeshore differ from the writing process you had with Emmure?
With Emmure, It was more of everyone in the room at once. Myself, along with my brother Joe and Jesse Ketive would take the reigns. Once we had everything in a good place, Frank [Palmeri] would add his final touch. With this project, it's almost the same. Jesse, our singer, is an extremely talented writer, guitarist, drummer, and producer, along with being able to sing his ass off.
We sit down, write songs [and] then Joe comes in [and] puts his flare on the drums. Then, 9 times out of 10, we bring that demo to a producer to get an outside opinion on certain things. From there, it's just polishing up and actually tracking the takes. 
What was the inspiration behind the music video for "Mountain View?" What was the inspiration behind the track?
The song is really about finding an inner-self or place of happiness. So much of this world is told that some sort of material object leads to happiness. I do tons of meditation and things like that. I think once you can be self-reflective and find true happiness you start realizing how prominent that ugly side is in today's world. The video reflects just that. If it is real, the world will feel. Don't try to be something you're not.
Lakeshore has big plans coming up for the remainder of 2020. Aside from embarking on a tour later this year, they are continuing to write and produce songs. In the meantime, check out their newest music video below!
Make sure to catch Lakeshore at one of their shows on the OK, Psychopath tour. Tickets can be found here and keep an eye out for their EP, OK Psychopath dropping later this year.
Dates:
04/29 – Chicago, IL
04/30 – Kansas City, MO
05/01 – Fort Worth, TX
05/02 – Austin, TX
05/03 – Houston, TX
05/04 – New Orleans, LA
05/05 – Tampa, FL
05/06 – Miami, FL
05/07 – Orlando, FL
05/09 – Atlanta, GA
05/10 – Charlotte, NC