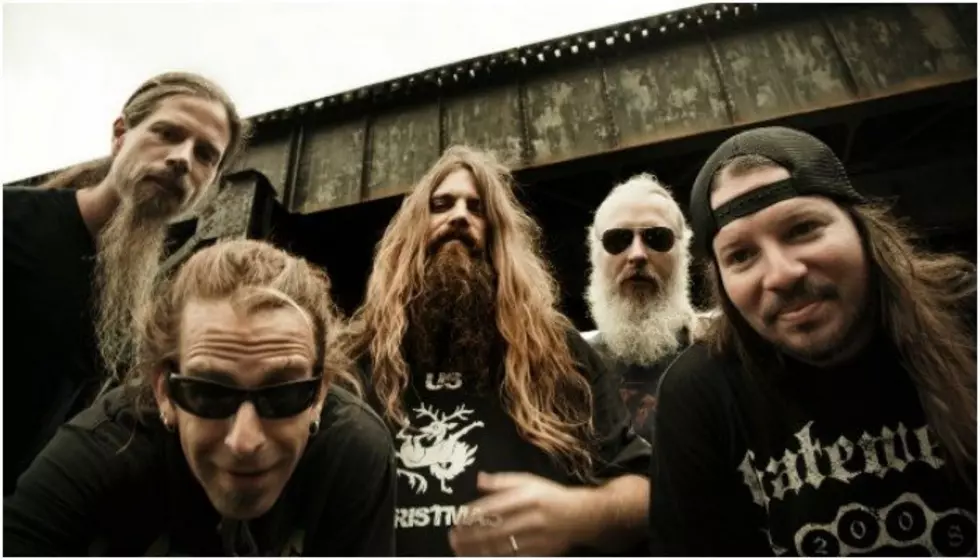 Lamb Of God frontman explains details about fall during gig
Lamb Of God vocalist Randy Blythe had an unfortunate fall at a show in Camden, NJ on Friday night that definitely probably left a bruise.
The musician posted on his Instagram some photos of the show, and a detailed description of how the fall went down.
"I'm well known as an energetic front man. I'm constantly moving, jumping off shit, climbing on top of stuff, just generally running around like a rabid chicken w/his head cut off," his caption begins. "This has always been my way, & this is what my favorite frontmen always did- you see, I came up seeing bands like Bad Brains & The Jesus Lizard- HR & David Yow WENT OFF on stage. So I give 110% EACH NIGHT, EVERY NIGHT  If you aren't doing that, get off the stage, you damn weakling."
"I'm also 48 years old. That means that I've played hundreds & hundreds of shows," he continues. "That means... shit happens. Let's take last night in Camden NJ for example- last song of the set. I'm feeling good. The band, we are a' rawking. I've been running around for 50 minutes, screaming my head off, jumping, kicking, throwing down. It's near the very end of the last song. Time for one more high kick before the audience sings the last chorus. I approach the two foot tall welded metal ego box. I plant my left foot, balancing on the edge of the ego riser, & swing my right leg up."

"EXHIBIT A, PHOTO # 1: YEAH, RANDY, YEAH! FUCK YEAH! Just look at that kick! Damn dude- you're looking GOOD! What grace! What poise! What POWER! That kick would take someone's head clean off! Freddy Madball would be proud. WAIT! Uh-oh... the ego riser is slick. Something crappy is about to happen."
"EXHIBIT B, PHOTO # 2: NO, RANDY, NO! TOO MUCH POWER IN THE KICK ON A WET SURFACE! Shit! Left foot slides out from underneath you! This sucks!" the captain keeps reading. "Mid-air, you realize: RANDY, YOU ARE NOT LOOKING SO GOOD, YOU GODDAMNED IDIOT. SHIT! FUCK! CURL INTO A BALL LIKE WHEN YOU SLAM SKATEBOARDING! HERE IT COMES! BLAM! & you slam into the ego box on your side- OUCH!"
"1st thought: please don't let my ribs be broken. 2nd thought: PLEASE let @kevinwilsonnyc have caught that! Roll off ego riser, jump to feet in a split second, finish the song & the set," he says. "EXHIBIT C, PHOTO # 3- walk off stage. Tell horrified looking friends that you are not dead, & that nothing is broken. Notice imprint of metal box on back stamped into your flesh. Go ice down back. Wake up sore next day for last day of tour. Remind yourself that you are pushing 50. Walk it off, son."
Speaking of Randy Blythe and high-energy sets, the Lamb Of God frontman just went to his first-ever FEVER 333 and was impressed by the energy of the group.
FEVER 333 had a very intense set, as their live performances usually are. They were running into the crowd, jumping into equipment and pretty much giving the audience a hardcore show.
Even the group themselves said their set was just "one of those MOMENTS" in a tweet and shared a video of the day.
Blythe took his own (amazing) shots of the band in action, and posted them to Instagram with a very genuine caption.
"The other day at @sonictemplefestival I woke up & immediately started doing a lot of stuff- press, business meetings, catching up with friends, etc. Finally I cruised over to our stage to see what was poppin' & THIS band, @fever333, were playing. I watched one song and immediately got my camera," the caption begins.
"These dudes were straight WILDING OUT," he continues. "Normally, you watch a dynamic live act, even the most energetic hardcore band, & you think 'They have a lot of energy, & the front man is insane.' With Fever 333, all three of them were GOING THE FUCK OFF. The goddamn DRUMMER was jumping off shit in between songs. The stage carpet got ripped up, their singer dumped a huge trashcan over his head (there was garbage everywhere), the guitar player was going nuts jumping over shit, the drummer somehow found a giant piece of plastic sidestage and was flying through the air looking like he was in Dragon Ball Z or some shit- it was ILL."
"I had never heard a single note of their music before & I was getting so pumped up I literally had to restrain myself from running onstage & starting to fuck shit up with them, haha. For me, that's the sign of a good band- they make me lose my mind from the start. Just incredible energy, & it made me pumped up to go play later myself."
You can see the entire post below.
Lamb Of God are currently on tour with Slayer, Amon Amarth and Cannibal Corpse. Tickets and a full list of dates are available here.
What do you think of Blythe's fall? Sound off in the comments below!
[envira-gallery id="194356"]