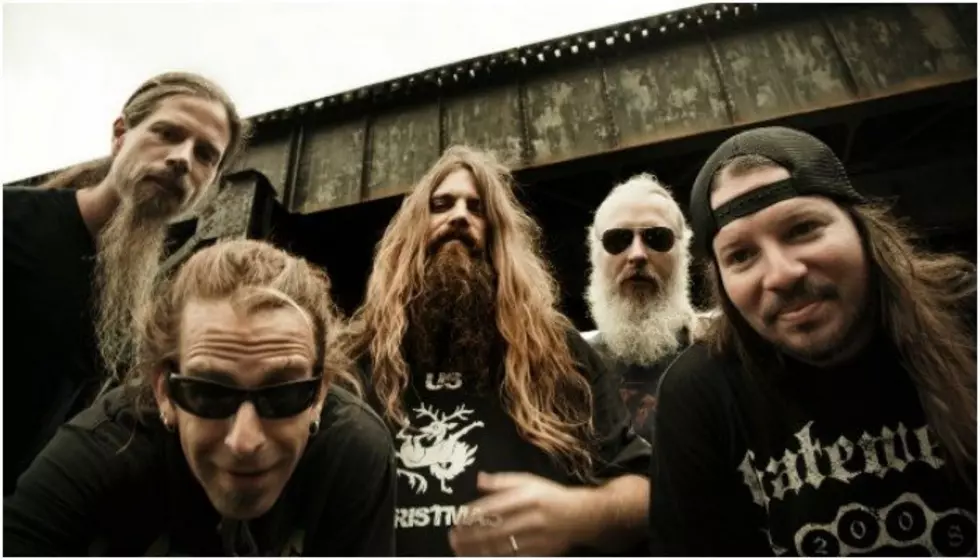 Lamb Of God's stolen guitar appears on marketplace app
Lamb Of God were victims of theft after two instruments ended up missing during a show at Ak-Chin Pavilion in Phoenix last week. However, it appears one of the guitars showed up for sale online.
It was previously reported that the band were blaming the venue for the theft. Guitarist Willie Adler's "main beloved Warbird" guitar and a hand-painted Jay Ceerva bass are nowhere to be found.
"The pieces of shit that did this are suspected to be employed by @akchin.pavilion, local hands that were working Wednesday, our tour production day," he posted to Instagram. "Apparently, they waited around for all to leave, and made their way into the back of our semi to commit this felony. AGAIN..under the watch of @akchin.pavilion and their security. Karma is a fuckin bitch.."
Now it appears someone tried selling the Warbird. According to Phoenix New Times, Phoenix police confirmed that someone with the username "Clash With" tried selling the guitar on OfferUp.com on Saturday, just three days after the post-show theft. They're urging the public to call Silent Witness if they have any information, and there's a possible reward of $1,000.
"We have yet to name a suspect or recover either guitar," Phoenix Police Sgt. Vince Lewis says. "Our investigators are actively working this case. The more we release, the harder it becomes to catch up with a suspect or locate these items before [they] either go underground or into the wind."
Facebook user Jay Thrash saw the ad for the guitar online and contacted Adler via Instagram to confirm that it was his. Thrash had intended on buying the guitar to return to Adler, but he was unsuccessful in locking down a meeting with the seller.
Other Lamb Of God news
In March, footage from Lamb Of God frontman Randy Blythe's "counter-party" surfaced online. In the footage, Blythe and co. successfully defeat the Westboro Baptist Church using nothing but the sheer power of love and noise makers.
As previously reported, Blythe intended to fight back against the Westboro Baptist Church's agenda using kazoos and a costume contest.
"So let them come with their signs and nonsense—as long as everyone remains cool, ignores these mental cripples and plays ripping kazoo tunes, then all the Westboro Baptists will have accomplished is burning some of the funds in their travel bank account," Blythe says in a story with Style Weekly. "I'm not interested in arguing with these morons, getting upset, yelling at them—I'm interested in having a good time at their expense. That's why this is a counter-party, not a counter-protest."
Both sides decided to gather at the Virginia State Capitol at 9 a.m. March 11. However, according to Metal Injection, Blythe's counter-party drew in numbers four times the size of the Westboro Baptist Church's.
Check out some footage of the counter-party below.
The day prior, Blythe posted a video of himself promoting the counter-party.
Lamb Of God are currently on tour with Slayer, Amon Amarth and Cannibal Corpse. Tickets and a full list of dates are available here.
[envira-gallery id="197607"]