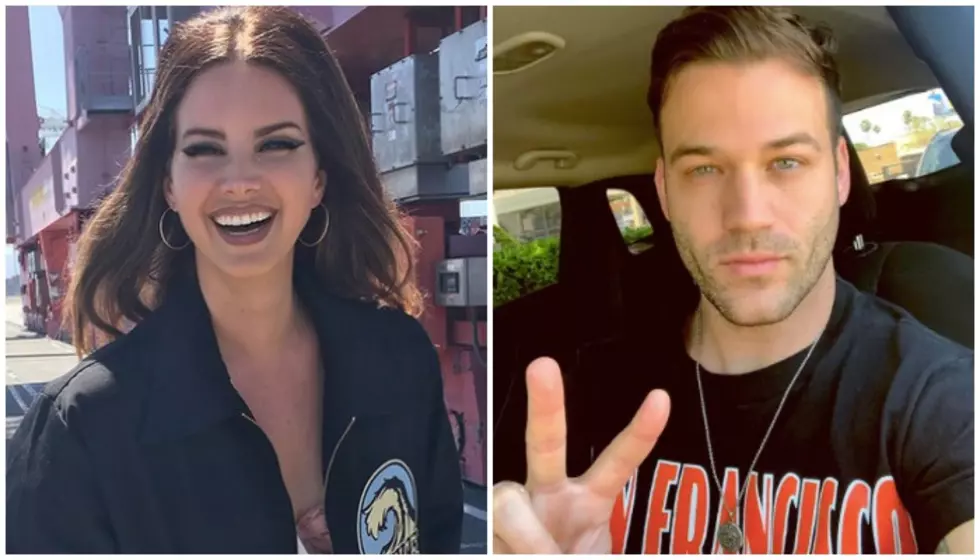 Lana Del Rey and Stereo Skyline's Clayton Johnson are reportedly engaged
[Photos via Lana Del Rey/Spotify, Clayton Johnson/@claywatch on Instagram]
Lana Del Rey and Stereo Skyline guitarist Clayton Johnson are reportedly engaged.
Speculation emerged this week after Lana Del Rey was seen wearing a ring on that finger during a Tonight Show appearance.
On Monday, Lana Del Rey performed "Let Me Love You Like A Woman" on The Tonight Show With Jimmy Fallon. Although she gave a strong performance, a lot of fans were distracted by some new bling on her finger. This led to speculation that Lana Del Rey is engaged to boyfriend Clayton Johnson.
According to People, a source has now confirmed that the two are engaged. However, neither Del Rey nor Johnson have officially confirmed the news. Rumors about their relationship first merged back in August when they began following each other on Instagram. Since then, fans have spotted the Paradise singer on his social media numerous times.
The Wizard Of Oz
Back in November, Johnson also shared a photo that was seemingly taken by Del Rey.
 

View this post on Instagram

 
Johnson has forged a career in music over the years. Some may recognize him as the guitarist from Stereo Skyline. In 2010, they released their full-length album Stuck On Repeat which includes the tracks "Heartbeat" and "Tongue Tied." Throughout the band's career, they toured with the likes of Hey Monday, Good Charlotte, Third Eye Blind and Boys Like Girls.
More recently, Johnson was the vocalist and guitarist of The Johnsons, a band he formed with his brothers. The trio released their latest song "Call Whenever" in June 2017 on SoundCloud. Since then, however, their social media pages haven't been updated.
The news of Lana Del Rey's engagement arrives just months after she split from police officer Sean "Sticks" Larkin. In a March profile with The New York Times, Larkin says the two were always "just friends."
Earlier this year, Lana Del Rey released her new single "Let Me Love You Like A Woman." The track follows up her Grammy-nominated album Norman Fucking Rockwell! which was released in 2019.
Lana Del Rey's The Tonight Show performance is available to watch below.
What are your reactions to Lana Del Rey and Clayton Johnson's reported engagement? Let us know in the comments below.