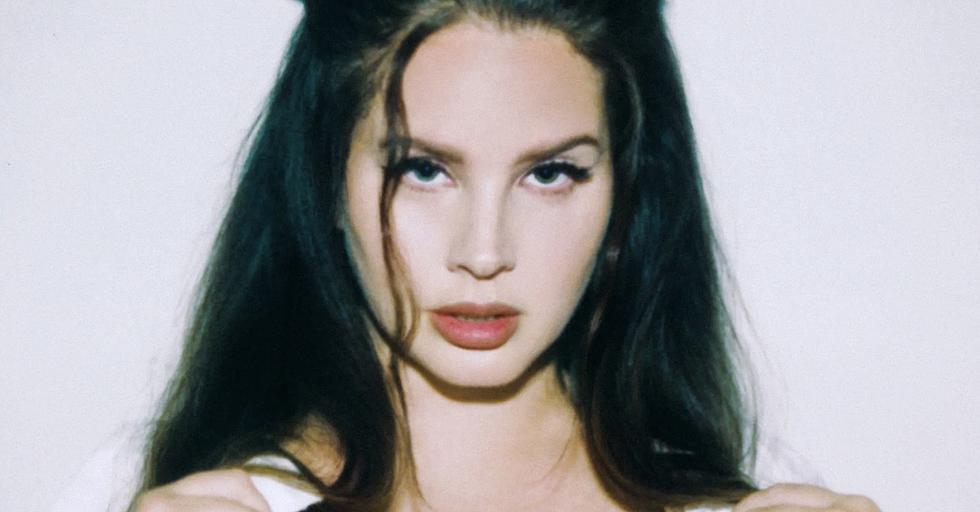 Lana Del Rey stuns and asks big questions on Did you know there's a tunnel under Ocean Blvd
[Photo by Neil Krug]
Lana Del Rey has always written about her fascination with Americana. The open road, pop culture icons, romance and tragedy, and holding out optimism for the American dream. The alternative-pop icon has conquered singing about everywhere from Brooklyn to California, and the Plains in between. It only makes sense then that she would turn to writing about another great, complicated American institution: family.
Lana Del Rey's ninth studio album Did you know there's a tunnel under Ocean Blvd, which comes as she's arguably at the height of stardom and influence of her career, is a stunning, deeply personal album about family and domesticity, and all of her questions surrounding them. How is it that there are so many synchronicities within her familial lineage? Will she find the one? Is she suited for motherhood? Del Rey's been at the top of her songwriting game for years, reaching another level with her 2019 magnum opus Norman Fucking Rockwell!, and Ocean Blvd continues to cement her as a master of Americana storytelling.
Read more: The evolution of Daisy Jones & the Six: how the cast and crew made a fake band real
The singer, born Elizabeth Grant, has been vocal about how this album is centered on her most intimate relationships, telling Billboard, the "overall theme" is "family of origin." 2021's Blue Banisters was her first record to do so extensively, with songs like "Sweet Carolina" dedicated to her beloved sister Chuck and "Wildflower Wildfire" about her seldom-discussed, distant relationship with her mother — and that was an album she recently said that she didn't want anyone "to listen to" because of how confessional it is. Despite telling Billboard she "was so uncomfortable" about diving into her family history on Ocean Blvd, Del Rey added that she "felt completely unburdened" when she finally mined it.
She is unburdened when she's musing about the Grants' history and her own domestic life. Most of the tracks are co-piloted by frequent collaborator Jack Antonoff, as well as her ex-boyfriend Mike Hermosa, and they're largely sparse, mystical sounding, piano ballads — save for several trip-hop stand-outs. It allows her affecting prose to land like she's flipping through old photo albums of sepia-toned images that may be frayed around the edges, but capture versions of her loved ones she wishes she could hold onto forever. Album opener "The Grants" sets this tone. Later, songs like "Grandfather please stand on the shoulders of my father while he's deep-sea fishing" and "Kintsugi," explore how she sees the way her relatives lived like a form of poetry. She feels as if she can only be so lucky to "let the light shine in" and do the same.
While she may have a Rockwellian vision, she's always been quick to recognize the melodrama beneath it. At the center of this is the delirious "Judah Smith Interlude," which features preachings about lust and upholding love from the celebrity pastor — an eerie snapshot of American value that LDR is on the track giggling at. Her captivating hit single "A&W" expertly details the toxic sagas her past; while "Candy Necklace" incorporates Lana-isms ("Rockefella," suicidal tendencies) as she equates the drama of relationships to soap operas. "Fishtail" builds on this theme as she indicts a partner for "wanting [her] sadder." Here, the patron saint of sad girl alt-pop herself admits she no longer wants to be a magnet for melancholy as her voice bleeds into the watery production. Most arresting, though, is "Fingertips," in which her mezzo soprano is so high, it's almost difficult to decipher the tragedies she spews in a stream of consciousness (her reliance on her father and siblings, the traumas from her estranged mother, a wayward youth). Just as she flips through family flashbacks across the album, it's also as if she  dissects a Super 8 of her own path to decipher just exactly how she came to be. 
What she discovers, thanks to her family (blood and chosen), is certainty in what she wants, both existentially and in love. Even if she's not quite sure when it'll arrive, she warms her legion of hopeless romantics on "Margaret," the Bleachers-featured track about Antonoff and his partner Margaret Qualley, chanting, "When you know you know," before ultimately delivering the caveat, "So if you don't know/Don't give up/Because you never know what the new day might bring."
While Ocean Blvd is admittedly sonically similar to her recent records, it gives the self-mythologizing, one-liners, and dense lyricism their ground. It also makes the several tracks that mark her trip-hop return all the more welcomed, like "Fishtail," "Peppers," which samples rapper Tommy Genesis' "Angelina," and "Taco Truck x VB." Like her boyfriend's addicting candy necklace she can't help but keep biting off, they're delicious entries that maintain her intrinsic camp and sex appeal in her recent home-minded lens. Especially as album closer "Taco Truck x VB" interpolates her own "Venice Bitch," she sends off Ocean Blvd looking at how her past led her here and where it's taking her. A quiet life, the simple luxury of being barefoot in the yard, a love that feels undying, her poetry being the next great entry into the Grants' lineage, and perhaps a baby one day — she's holding out hope and looking forward to it all.