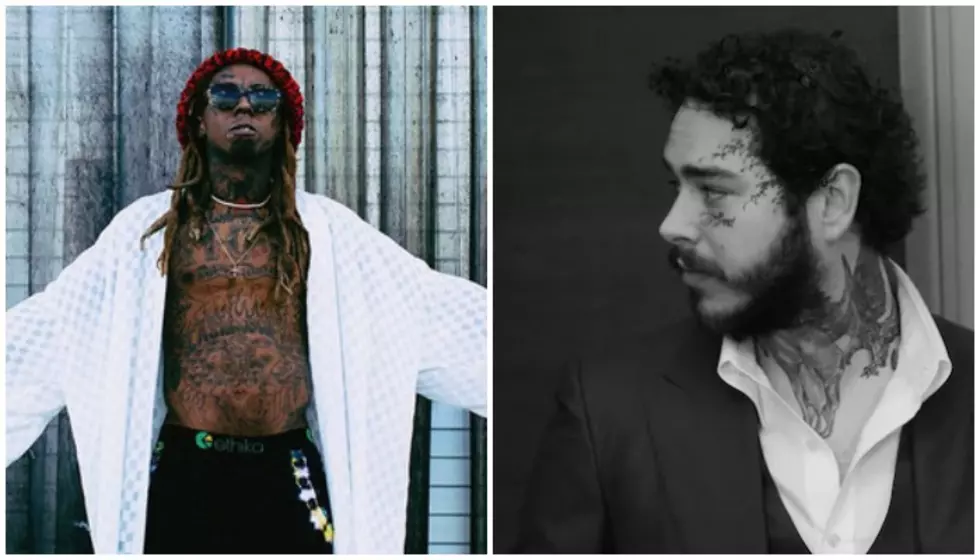 Lil Wayne drops 'Tha Carter V' deluxe edition with Post Malone and more
[Photos via Lil Wayne/Spotify, Post Malone/Adam Degross]
Lil Wayne has released an extended version of his 2018 album Tha Carter V.
The deluxe edition includes collaborations with Post Malone, 2 Chainz, Gucci Mane and more.
The Tha Carter V deluxe edition has a staggering 33 songs. Along with the original tracks from the 2018 release, Lil Wayne has teamed up with various artists for a number of collaborations. Gucci Mane appears on the track "In This House," Raekwon is on "More To The Story" and 2 Chainz teamed up with Lil Wayne for "Siri."
As well, Posty joins Lil Wayne on a new version of "What About Me" which was released prior to the deluxe edition of Tha Carter V. The song originally featured Sosamann on the 2018 release.
Now, this isn't the first time Lil Wayne has dropped a deluxe edition of an album. Earlier this year, he released a deluxe version of 2020's Funeral which includes collabs with Doja Cat, Lil Uzi Vert and Jessie Reyez. It also features eight new tracks.
Outside of the deluxe LPs, Lil Wayne has also teamed up with 2 Chainz for "Money Maker" and appears on A$AP Ferg's "No Ceilings."
As for Posty, it looks like he has been hanging out with Diplo. Diplo recently shared a photo of the pair dressed in matching plaid shirts.
"I need to find a girl that looks at me the way post does."
Posty is also celebrating a historic 16 nominations at the 2020 Billboard Music Awards. He is nominated in 15 separate categories including Top Artist and Top Male Artist.
Lil Wayne's full Tha Carter V deluxe edition and his collab with Post Malone are available to stream below.
What is your favorite song on Lil Wayne's deluxe release? Let us know in the comments below.