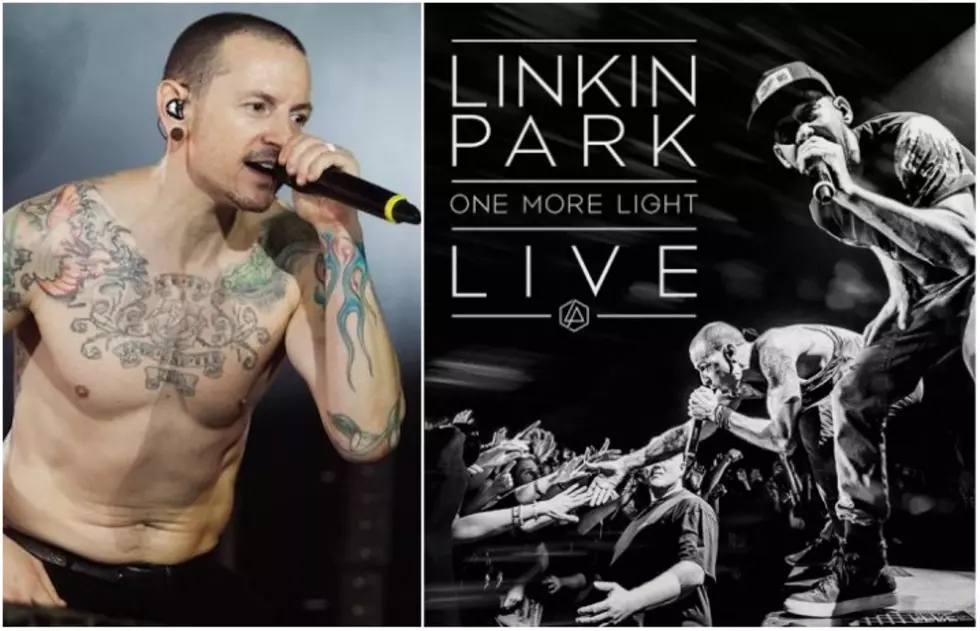 Linkin Park announce 'One More Light Live' album
[Photos by: Ricky Swift/WENN, Warner Bros. Records]
Linkin Park have announced the release of a new live album, One More Light Live. The collection, which will feature performances from the band's One More Light World Tour 2017, is due out Dec. 15. Read more info below.
Read more: LP's Mike Shinoda on Chester Bennington's humble talent
As reported by Rolling Stone, One More Light Live will serve as a document of the group's final tour with vocalist Chester Bennington, who unexpectedly died on July 20 at the age of 41. In revealing the new live set, the band recall Bennington's determined artistry when recording their latest studio album.
"We dedicate this live album to our brother Chester," the band say, "who poured his heart and soul into One More Light. After we finished recording the album, we joked with Chester that—since he had delivered so many stunning performances in the studio—he had set the bar extra high to produce that alchemy on stage each night. Not surprisingly, He welcomed the challenge."
One More Light Live is now available for CD and digital album pre-orders here; check out the track listing below. Fans who pre-order the set will receive an instant download of One More Light Live's version of "Crawling."
"The shows we played together during the early summer... were extraordinary," the band say. "Chester shared with us that he felt this was the best tour we had ever done. The camaraderie and joy we experienced on stage reflected our deep connection with each other, with our fans, and with the music."
One More Light Live track list:

1. "Talking To Myself"

2. "Burn It Down"

3. "Battle Symphony"

4. "New Divide"

5. "Invisible"

6. "Nobody Can Save Me"

7. "One More Light"

8. "Crawling"

9. "Leave Out All The Rest"

10. "Good Goodbye" (feat. Stormzy)

11. "What I've Done"

12. "In the End"

13. "Sharp Edges"

14. "Numb"

15. "Heavy"

16. "Bleed It Out"
Watch more: Frank Zummo's drum tribute to Chester Bennington