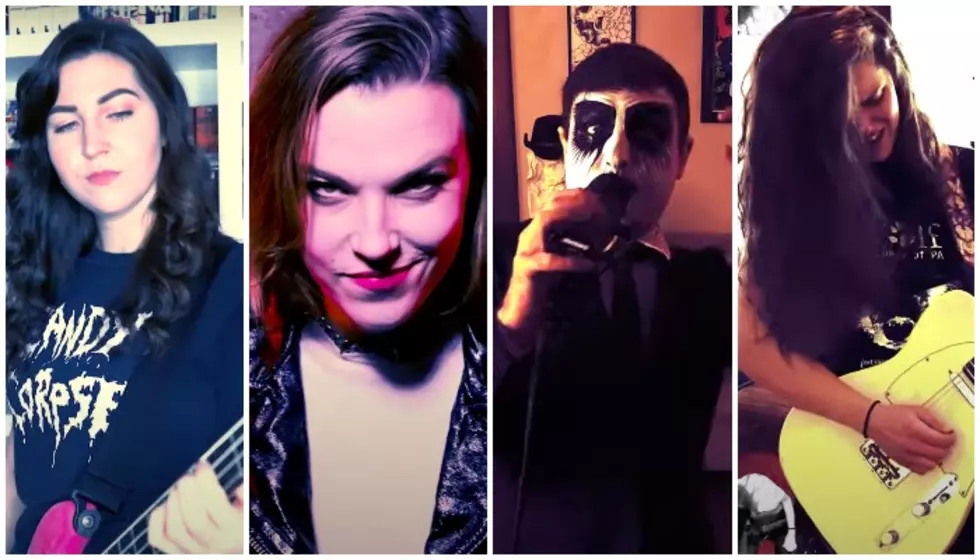 Lzzy Hale, Code Orange's Reba Meyers and more unleash Pantera cover
[Photos via YouTube]
It's a new day which means there's another new cover somewhere on the internet to discover. This time around, a Pantera classic is getting a heavy metal refresh with the help of members of Halestorm, Code Orange and Baroness among others.
Together, the talented musicians have teamed up with Two Minutes To Late Night for an electrifying new cover of Pantera's "Mouth For War."
Over the past year, Jordan Olds has rounded up a lot of familiar faces for some legendary Two Minutes To Late Night covers. Back in August, Frank Iero, Jamey Jasta and The Dillinger Escape Plan's Ben Weinman teamed up for an iconic Misfits cover. As well, members of Rise Against, MxPx and My Chemical Romance covered another Misfits classic just in time for Halloween.
Now, Two Minutes To Late Night has unleashed another stacked heavy metal cover. This time around, Halestorm's Lzzy Hale, Code Orange's Reba Meyers, Year of the Knife's Madi Watkins, Baroness' Gina Gleason and Converge's Ben Koller are covering the Pantera classic "Mouth For War."
The electrifying new video shows each member performing their parts from the safety of their own homes. To help bring the 1992 Vulgar Display Of Power classic to life, Hale takes control of lead vocals while Watkins rocks out on a purple and pink bass.
Meanwhile, Gleason, Meyers and Jordan Olds bring the headbanging madness with their rhythmic electric guitars. Finally, Koller helps bring the entire cover together with an intensely captivating performance on drums.
Ultimately, the cover gives Pantera's classic a 2021 refresh that is entertaining and highlights each musician's signature sound and artistry. As it turns out, the Pantera cover was completely Gina Gleason's idea.
"Gina wanted to cover Pantera so we covered the crap out of Pantera," the video's caption says.
As well, all of the artists involved with the powerful cover are donating their payments to the Dallas Hope Charities Transitional Living Center. The organization provides shelter and resources to at-risk and homeless LGBTQ+ youth in the Dallas area.
What are your reactions to the new Pantera cover? Do you want to see these musicians do more collaborations together? Let us know in the comments below.