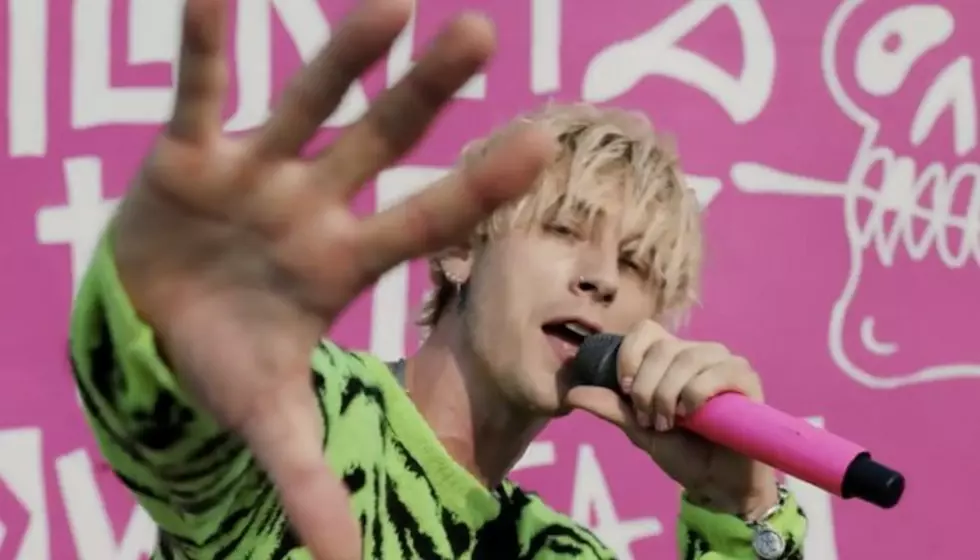 See MGK and blackbear give "my ex's best friend" its TV debut
[Photo via MTV/Twitter]
Machine Gun Kelly and blackbear hit the 2020 MTV Video Music Awards Pre-Show to give "my ex's best friend" its live debut. MGK also played through "bloody valentine" with Travis Barker as part of the medley performance.
They joined Chloe x Halle, Jack Harlow, Lewis Capaldi and Tate McRae for live performances ahead of the big show beginning at 8 p.m. ET. Black Eyed Peas, BTS, CNCO, DaBaby, Doja Cat, Maluma, Miley Cyrus, the Weeknd, Ariana Grande and Lady Gaga will perform during the main show.
Released in early August, "my ex's best friend" is taken from MGK's upcoming Barker-produced pop-punk album, Tickets To My Downfall. It joins previous singles "concert for aliens" and "bloody valentine," the latter of which was nominated for and won the Moon Person for Best Alternative.
Both MGK and Barker hit the red carpet ahead of tonight's performance premiere and win, which you can see below.
The "bloody valentine" music video, which co-stars Megan Fox, went up against the 1975 ("If You're Too Shy (Let Me Know)"), All Time Low ("Some Kind Of Disaster"), FINNEAS ("Let's Fall in Love for the Night"), Lana Del Rey ("Doin' Time") and twenty one pilots ("Level of Concern") for Best Alternative.
This is the first time the category has been included in the VMAs since 1998 where Green Day's "Good Riddance (Time of Your Life)" beat Ben Folds Five, Garbage, Radiohead and the Verve. Check out Travis Mills presenting the award to MGK below.
MGK took to Twitter after his win to thank fans.
"THIS IS THE BEST TWEET IVE EVER GOT!!!! where are the fans at, i'm coming to your fuckn living rooms right now to hug everybody !!," he tweeted.
"they didn't play my acceptance speech on TV but i saw someone posted the whole thing online if u wanna see ***i was nervous and shocked anyways BUT...***," he continued.
You can see a fan-uploaded clip of his acceptance speech below where he thanks Fox and Mod Sun, the latter of whom helped co-write the track.
While "bloody valentine" has been topping charts itself, MGK and blackbear's latest collab is also gaining traction. Earlier this month, "my ex's best friend" dethroned TOP's "Level Of Concern" on Billboard's Rock Streaming Songs chart. The band's quarantine single had held the top spot since shortly after its release in April.
Ahead of tonight's TV debut, MGK and blackbear teamed up for an action-packed music video, which you can check out here. Tickets To My Downfall is dropping Sept. 25 and is available for preorder now here.
Check out the performance below and follow along with the rest of the 2020 VMAs winners here.
Following the performance, MGK took to social media to further celebrate the win.
"Cleveland was on MTV tonight, and we won a VMA," he tweeted.
"Pretty much waited my entire life just to say: WE WON A FUCKING VMA!!!! ????," MGK posted on Instagram, "I was flying in to pick up my father's ashes when I got the news that we were nominated, so it was bittersweet. Then, I found out that it was a fan-voted award and from the first day y'all were like, 'We got this" and you really did it. I'm honored to share this moment with you. Thank you. Thank you. What the fucking fuck?"