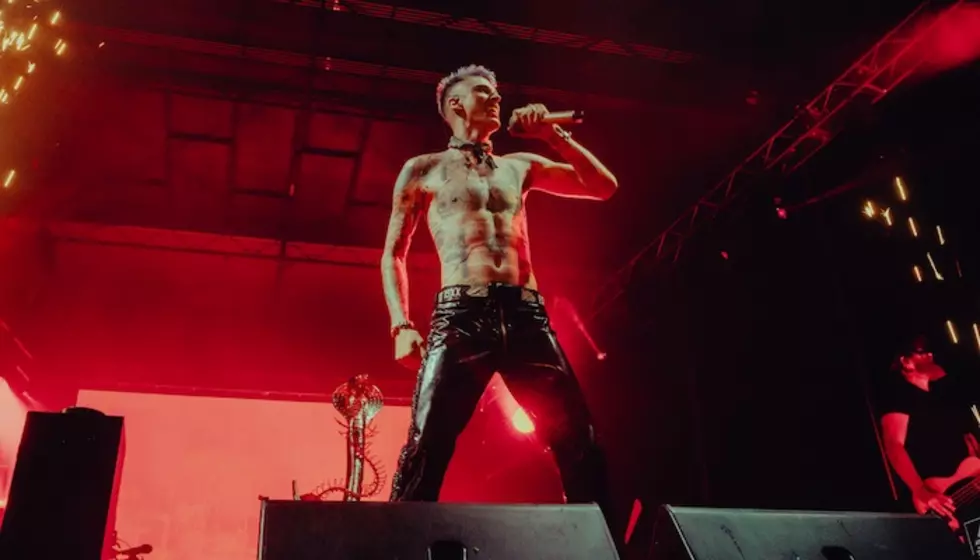 Machine Gun Kelly built EST Fest on a movement much bigger than its lineup
[Photo by: Chris Goody]
There are two things Machine Gun Kelly makes perfectly clear. First, he'll never be held within the confines of any one box. From a genre-melding music career captured in peak fashion on his latest Hotel Diablo to hopping from stage to screen for an ever-evolving acting resume, the musician/actor is constantly making moves.
Second, MGK isn't just backed by his band and crew. Standing by their sides is EST, or Everyone Stands Together, a fanbase that's more like a family in the way they embrace loyalty and support. The rallying cry has rung true throughout the rapper's rise, solidifying a die-hard movement. Physically projected through everything from the ink on MGK's chest to black bandanas sported by both him and fans, EST gives the outcasts, the misfits and the underdogs a place to call home.
While MGK and his band are excited to finally be able to bring Hotel Diablo to life onstage in full, EST Fest is so much bigger than its stellar lineup. Pinpointing his loyal fanbase, MGK explains, "We could throw that festival without one person performing, and everyone would still come."
After revealing that the festival is "like a vacation for [him]," the rapper elaborates, explaining it's one of the few chances where he gets to hang out with his fans and not worry about being asked for photos all day.
"It means something," he says. "It's become a tradition. There's a feel out there. There is no cellphone service. Everyone's just stuck together. [It's] like this speakeasy amongst this downtown of festivals. Some of the craziest stories of my life are at that festival."
Between that die-hard fanbase and his ability to crush the confines of expectations placed upon him, the origin of his now sixth EST Fest should come as no surprise. Festival organizer Andre Cisco has been working with the rapper as his tour manager since 2011. As his career progressed, Kells expressed a desire to get booked at music festivals. With bookings failing to fall into place, the rapper, along with his band and team, continued to break down walls.
"We always wanted to be on huge festivals, and he was like, 'Man, I'm not really getting booked for stuff,'" Cisco explains. "At the time, and we still have a crazy live show, but I think promoters were standoffish. It was hard for us to get insured as a company. We were just like, 'Man, let's just throw our own festival.'"
The result was the inaugural EST Fest in 2013, which was billed as Machine Gun Kelly & Friends Live. Held just outside of his hometown of Cleveland at Nelson Ledges, the first run featured local acts supporting the rapper. It sold out thanks to his legion of loyal supporters, leading the team to continue to build it up from there.
Throughout the years, the lineup has boasted the ultimate crossovers, recruiting from alternative (We Came As Romans, Asking Alexandria and Sleeping With Sirens) and hip-hop (Nipsey Hussle, Gucci Mane, 2 Chainz) for what Cisco refers to as a "no-genre festival." 
Their method of choosing acts based on what fits the festival's vibe is how Suicide Silence secured a slot in 2017 after meeting on the road in Europe.
"They were just cool, [and] they had this crazy live show," Cisco explains. "Then, later on, I think we met them in June, and they ended up performing at our festival in August. Anybody that we're rocking with or that we like or that we feel [are] on the cusp, that's it. We try to get them on and get them out to the woods. [The lineup is] really just whoever we're vibing that year though. We're all together on tour, just every day, and we all bring our individual tastes in music together and figure out who we want to perform."
[Photo by: Chris Goody][/caption] 
The festival has continued to grow, literally, with more and more fans coming out each year. MGK revealed they have had to continue to put a cap on the attendance "because the forest does not grow with [them]." Despite the cap, the crew are aiming to break a fan-reliant record this year by hosting the biggest pool party ever.
"Every year, we're just trying to make it more of an experience and do different things that you might not expect at a festival," Cisco explains. "We have a huge pool party that we want to expand this year and bring talent [and] have some of our local homies DJ. We'll all get together and just be by the pool. We're trying to go for the Guinness World Record for the biggest pool party ever. I don't know what the current record is, but we hit up the Guinness Book Of Records.
"It's really just more everything. We're trying to increase the vibe, so you know, it's everything that we've done in the past plus a lot more. We really put a lot of effort into this year to really create a memorable experience."
The record-breaking pool party isn't the only goal added the fest this year as they'll be introducing trap yoga to kick off the mornings. While the concept may strike some as odd at first, the aim with the new activity was to offer those who abstain from drugs and alcohol something else to embrace.
"We wanted to offer some dry/sober activities as well," Cisco explains. "You're there for two days, and we have fans that are sober or have had problems with addiction. One of my focus points is to offer things for fans that don't drink and aren't necessarily partying but still want to come out to camp, watch the concert and have a great time."
[Photo by: Chris Goody][/caption] 
While pool parties and trap yoga are good ways to pass the time in the forest, Machine Gun Kelly and his band are the main attraction. Luckily for fans, they have planned quite the show. Originally organized under a Hollywood theme (one that makes sense given MGK's screen time over the past year with well-received Netflix films Bird Box and the Mötley Crüe biopic The Dirt), the crew had a last-minute change of heart.
After ditching the material for his fourth album in December, MGK went back to work on a batch of new tracks. "Hollywood Whore" marked the first taste of the then-unnamed album in mid-May followed by "el Diablo" at the end of the month. The same day the latter track hit streaming services, Kells headed to Bunbury where he debuted his YUNGBLUD/Travis Barker collab, "I Think I'm Okay." They officially kicked off the Hotel Diablo tour the following night, playing the three tracks and another unreleased one, "Candy" featuring Trippie Redd.
The tour wrapped up its U.S. run days before Hotel Diablo dropped. While the band had a solid four tracks off the album to play (and were teasing many of the others throughout the set), they still had the urge to do more. The result was dropping the Hollywood-themed EST Fest in favor of a Hotel Diablo one where they'll be performing the album in full, front to back.
"When the album didn't come out before the Hotel Diablo tour happened, obviously the entire time we were on that tour, we just wanted to perform the album," Machine Gun Kelly shares. "We wanted to perform songs from it. We couldn't release any songs. There was just this urge that none of us got to satisfy.
[Photo by: Casey McPerry][/caption] 
"Then, all of a sudden, the album comes out, and it gets this amazing reaction—the kind of reaction we've always been waiting for—and we realize that the tour's over, so now we're like, 'Fuck.' They want us to perform the album, [and] we want to perform the album, so we were just like, 'Let's turn EST Fest into Hotel Diablo since it's our festival, and we can do whatever the fuck we want.' The fans in America want that chance to experience Hotel Diablo, so we're gonna do that, and that'll be our send-off before Europe."
As for the festival differing and being founded on a level of mutual respect, Kells points to its grassroots organization.
"We built that playground—it's ours," he says. "They know it's like coming into our house. That's why people stay and clean up too. People know that we were young kids when we started that. We took this giant responsibility and experienced some losses doing it for years but pushed through it still to create this place that everyone wanted to keep coming back to."
EST Fest kicks off at Ohio Dreams in Butler, Ohio, Aug. 2-3 with Machine Gun Kelly, 21 Savage YUNGBLUD, Emo Nite LA, Mod Sun and more. Tickets are on sale now here, and you can check out the full lineup below.