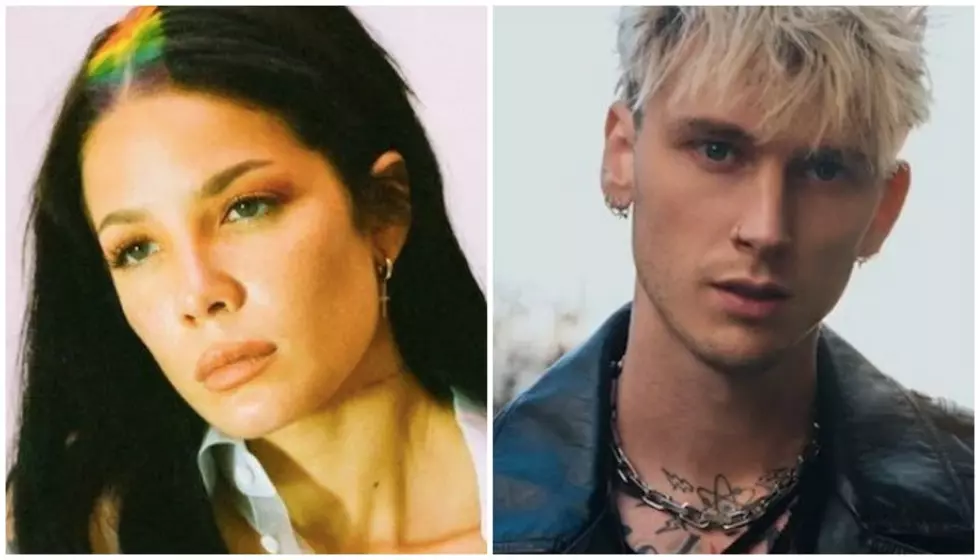 It looks like a video for MGK and Halsey's "forget me too" is on the way
[Photo via Machine Gun Kelly/Alexandre Faraci]
Last week, Machine Gun Kelly released his new album Tickets To My Downfall. The LP includes collaborations with blackbear, iann dior, Trippie Redd and Halsey.
Now, Machine Gun Kelly has confirmed that a video for "forget me too," his collab with Halsey, is officially happening.
Earlier this month, MGK sent fans on a scavenger hunt to uncover the tracklisting for Tickets To My Downfall. Eventually, it was confirmed that a collaboration with Halsey is on the LP after months of speculation.
Since the album's release, "forget me too" has become one of the most popular tracks on Tickets To My Downfall. The song is about to reach 6 million streams on Spotify and is currently one of MGK's top songs on the streaming platform.
blink-182's Travis Barker, who produced the album, and Machine Gun Kelly were recently interviewed by Zane Lowe for Apple Music. During the interview, MGK reveals that it only took Halsey "minutes" to write her verse in "forget me too."
"It took her five minutes to write that verse, I could tell you that much," he says. "She was in it. That was the quickest feature session I've ever had in my life."
As well, MGK shares that it was almost by chance that Halsey ended up on "forget me too."
"Bro, I almost felt like she was randomly passing your studio when I called her," MGK says. "Because remember, she pulled up in 30 seconds. She was there in 30 seconds. So I think we were really lucky, man."
Now, it looks like MGK and Halsey have even more plans for their latest song. On Monday, Machine Gun Kelly confirmed that a video for the collab is on the way while wishing Halsey a happy birthday. The Manic singer turns 26 on Sept. 29.
Tickets To My Downfall
As well, Machine Gun Kelly could have his biggest chart debut yet with Tickets To My Downfall. Early reports are predicting that the album could debut at No.1 on the Billboard 200. Last year, Hotel Diablo debuted at No.5 with 39,000 equivalent units sold. Prior to this, he reached his highest chart position – No.4 – with both Lace Up and General Admission.
Tickets To My Downfall
"forget me too" is available to stream below.
What do you think the "forget me too" video will look like? Let us know in the comments below.