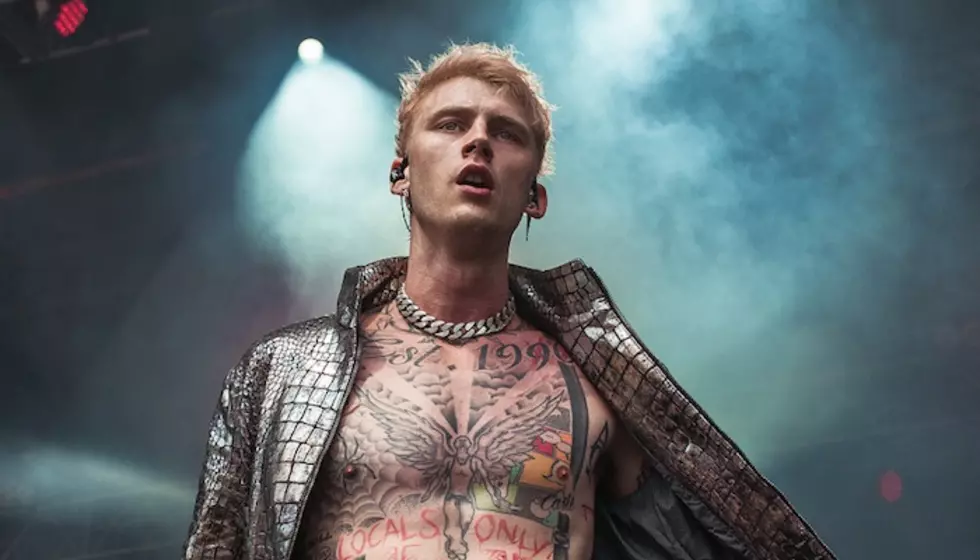 See MGK tease a new 'Tickets To My Downfall' song on 'GMA' – UPDATED
[Photo by: Jordan Wozy]
Machine Gun Kelly is teasing more new music off of his forthcoming album Tickets To My Downfall. During his Good Morning America performance this week, MGK teamed up with blink-182's Travis Barker to perform a clip of a new song.
Tickets To My Downfall is due out sometime this year.
It's been nearly seven months since fans learned that MGK's forthcoming pop-punk album is called Tickets To My Downfall. Since then, the performer has been in the studio with artists including blackbear, Goody Grace, Mod Sun and more.
The forthcoming album is produced by Barker who has also been teaming up with MGK for a number of performances. Recently, the two performed MGK's latest single "Bloody Valentine" on The Late Late Show With James Corden.
Now, the duo has teamed up again for another television performance. Along with his performance of "Bloody Valentine," Machine Gun Kelly used his time on Good Morning America to tease a new song.
In the mere 30-second clip, fans get a taste of what's to come on Tickets To My Downfall with a new untitled song. In the video, Barker is seen playing drums while MGK adds guitar and vocals.
From the lyrical content and the use of a little green alien in the performance, some fans are calling the untitled track "World Is Over."
No official release date for Tickets To My Downfall has been shared yet. However, MGK has shared in the past that the album will be out sometime in 2020.
After its debut back in May, "Bloody Valentine" debuted at No. 1 on the Rock Digital Song Chart. Since then, MGK has shared both the official video featuring Megan Fox as well as an acoustic video of the new single.
MGK has also been keeping rather busy outside of music. The trailer for his upcoming Netflix film Project Power was recently released. He stars alongside Jamie Foxx and Joseph Gordon-Levitt for the sci-fi thriller that is due out in August.
Both of MGK's Good Morning America performances are available to watch below.
UPDATE: July 20, 5:12 P.M. EST
Machine Gun Kelly is giving fans an update on the new song he performed on Good Morning America this week. MGK took to social media to share that his new song is called "Concert For Aliens." The track will appear on his forthcoming album Tickets To My Downfall and will be released on Aug 5.
Are you excited to hear Tickets To My Downfall? Let us know your thoughts in the comments below.