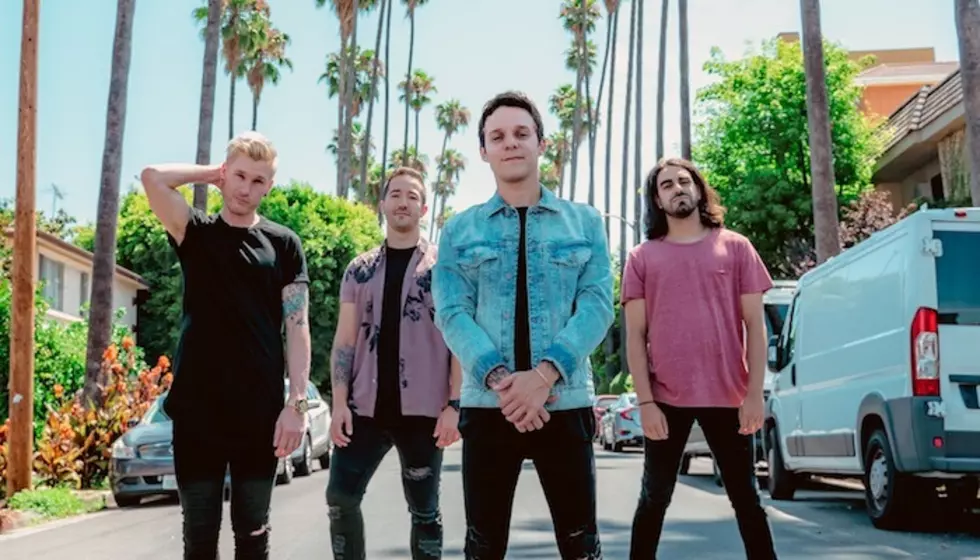 Makeout return: New singer, former Sleep On It bassist and no "Secrets"
[Photo by: Niles Gregory Gibbs]
If you go to the Wikipedia page dedicated to pop-punk unit Makeout, it's a total buzzkill. You get all the deets about their accomplishments—a 2017 debut record produced by John Feldmann and a perfunctory tour history—but then it ends on an ominous note: "Remaining members Tyler Young and Scott Eckel are currently unsure of the band's future."
Some rabid fan can go in there and rewrite that page after reading this story, because Makeout's core of guitarist Young and drummer Eckel are back at it. American Idol contestant Kyle Dee is replacing Sam Boxold and AJ Khah, from Chicago pop-punk team Sleep On It is assuming bass duties after leaving his former band earlier this year. 
Read more: Sleep On It work with big-time producer for upcoming album—watch
"I had been in the band with Sam for five years, and I saw him go from being excited to go on tour to being burnt out on the whole thing," Young says. "Warped Tour is the best summer ever, but it was very clear that he was no longer having a good time being on the road. It was during our tour with Cute Is What We Aim For that Sam told us he didn't want to do the band anymore. We didn't have a full-time bassist at the time, so that left Scott and I in the position of wondering if we should find new members or call it quits and hang it up. We decided we loved doing it too much—and here we are."
Dee was already a big fan of Makeout and saw the band on their final tour. He knew they didn't have a full-time bassist but was completely unaware of what was going on in the camp.
"So I'm standing in the crowd thinking, 'I wonder if they need a new bassist. I'm going to message Tyler after the show,'" he says. "So I texted him saying that if they were looking for a new bassist, I'd love to audition. Tyler responded thanking me but [said] he didn't know what was going to happen with the band at this point. 
"Two weeks later, I'm on vacation in a hotel room in Florida," Dee continues. "I wake up, and the first thing I see when I check my phone is that Sam quit the band. My initial thought was, 'Well, I'm not going to be Makeout's bassist.' Twenty minutes go by, and I'm thinking, 'Am I going to be Makeout's singer?' [Laughs.] I had this gut instinct that something was steering me toward Makeout."
Around March of this year, Young and Eckel held public auditions for potential singers, and Dee cinched the deal. Khah compares Dee's enlistment to Mark Wahlberg's role in the 2001 movie Rock Star where a talented superfan gets to join his favorite band. "I knew all [of] their songs; the sound was right up my alley," Dee says. "All the pieces lined up, and I sent my audition over."
Young is quick to reveal that Dee's audition featured difficult songs from their catalog to perform. "A lot of people opted to do the easier songs to sing for their audition," he points out. "Kyle picked 'Childish,' which is the hardest one to perform vocally. Scott and I were like, 'Wow, he's totally not fucking around.'"
Khah's enlistment came via a series of coincidences that perfectly lined up personally. The bassist got to know the band when Makeout and Sleep On It were on Warped Tour: Both bands used the same bus company, so when one of the bands' vehicle broke down, their drivers would work together to fix problems. Khah became buds with Young after some serious gatherings playing Werewolf: The Apocalypse. Young knew Khah was having some tribulations in SOI, and according to Khah, "The closer we got, Tyler and Scott would joke, 'Yo, you know, we don't have a real bassist, and if you ever need a new band…' [Laughs.] It was very tongue in cheek, but after [SOI] toured with With Confidence, I realized my time with them was ending.
"I was proud of the work I put into this recent album, and I really wanted to see it through," Khah says about the end of his tenure in SOI. "I didn't want there to be any ill will toward anyone for personal reasons."   
Khah resigned from SOI mere hours before his buds in WithCon texted him that the rest of his band was at their show, and they were looking for him. Khah did meet with them separately to discuss what had happened, and WithCon drummer Josh Brozzesi strongly encouraged Khah to join Makeout. "I walked home from the show and ended up calling Tyler that night," he recalls. "It felt for the three hours after I had left Sleep On It, I had joined Makeout.
"I'm in this for the fans," Khah says. "They are the most important things for me. Growing up, I remember the musicians that got me through my toughest times. If someone like Pete Wentz, Rivers Cuomo and Dave Grohl could have dealt with the crap I was going through as a teenager, maybe I could do that, too. That's why I wanted to be a musician. 
"Tyler, Scott and Kyle have allowed me to spread my creative wings. We've been writing a lot more, and it's really been refreshing. I'm not just writing bass parts; I've been writing lyrics now. Sleep On It has been an amazing part of my past. There were a lot of cooks in the kitchen, so we agreed to keep our friendships safe." 
Young says the influx of new blood in Makeout will be felt on many levels. "I think [the next record] is going to be similar to what we were going for before on The Good Life, but I think it'll be a little more rock 'n' roll than pop punk, per se. We're still trying to keep the element of keeping it fun—we'll still be high energy live—and just evolve the sound. The new members will help evolve that. We want to push each other to new heights."
What won't be around is some of the more unpleasant aspects that have dogged the band in the past. To that end, their fan-favorite song "Secrets," a lightning rod for criticism for its blatant emo misogyny, will be retired from the band's set. Without throwing anybody under the bus, Young acknowledges both the fan-favorite aspects and the criticism of the song.
"We're moving forward, and we will retire that song," he says. "There will be fans that will be upset about it, but we think it is for the greater good. The people that were involved in the writing and releasing of that song are no longer part of our team. We want people to focus on what we are bringing to the table now. It's a new band, and we want people to focus on that."
And they are positively stoked to put Makeout 2.0 into the world. Right now the members are spread all over the planet, with Young in L.A., Eckel in Australia and Dee and Khah in Chicago. ("In 2019, having a phone with FaceTime, email and texting has made being in a band much easier," Young says.) But with the announcement of shows happening later in Boston this December, the quartet will convene in L.A. for writing and recording for a new album, slated to be released in the first quarter of next year. 
"I think a lot of people have preconceived notions about both me and Makeout," Khah opines. He pauses for effect. "And I'm excited to ruin those notions."