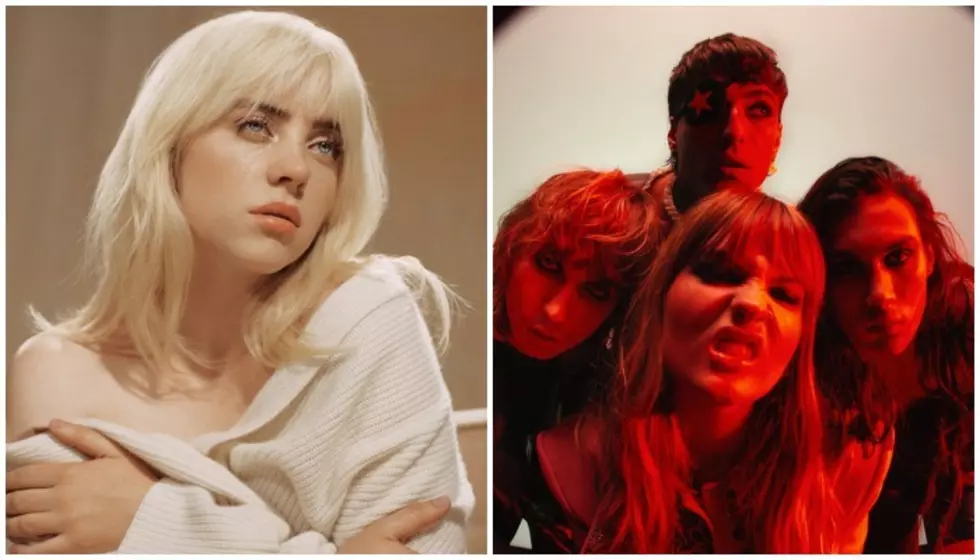 Måneskin cover Billie Eilish's "bury a friend" during live set—watch
[Photos via Spotify]
Italian rock band Måneskin have covered Billie Eilish's hit song "bury a friend" and turned it into their signature brand of rock 'n' roll.
During their set last weekend at Ronquières Festival in Belgium, the group performed the cover for an enthusiastic crowd of festival-goers.
"OK, guys, now we have a little surprise for you," lead singer Damiano David told the crowd. "We're going to play a song from a great, great artist. So, Billie, if you're watching call us." 
The band then launched into their own take on "bury a friend," which perfectly matched the anthemic rock sound for which they are known.
Måneskin catapulted to fame after winning the Eurovision Song Contest earlier this year. Various European countries submit an entirely original song to be performed on live television for the competition. From there, every country gets to vote for the winning country and song.
Fifty-two countries have participated in Eurovision at least once, with the record for most wins held by Ireland at seven total wins.
This year, Italy, represented by Måneskin, took home the win for their original song "ZITTI E BUONI." David told Eurovision presenters that the song is about "being yourself and not caring what other people are saying to you."
Alongside David, Måneskin is composed of bassist Victoria De Angelis, guitarist Thomas Raggi and drummer Ethan Torchio.
You can watch their performance of "bury a friend" below. Let us know your thoughts on their reimagining in the comments!
Måneskin tour dates:
08/19 – Gdynia, PL @ Kolibki Park
09/03 – Schijndel, NL @ Paaspop
09/11 – Wiener Neustadt, AT @ Nova Rock Encore
12/14 – Rome, IT @ Palazzo dello Sport
12/15 – Rome, IT @ Palazzo dello Sport
12/18 – Assago, IT @ Mediolanum Forum
12/19 – Assago, IT @ Mediolanum Forum
03/20/2022 – Bologna, IT @ Unipol Arena
03/22/2022 – Assago, IT Mediolanum Forum
03/26/2022 – Naples, IT @ Palapartenope