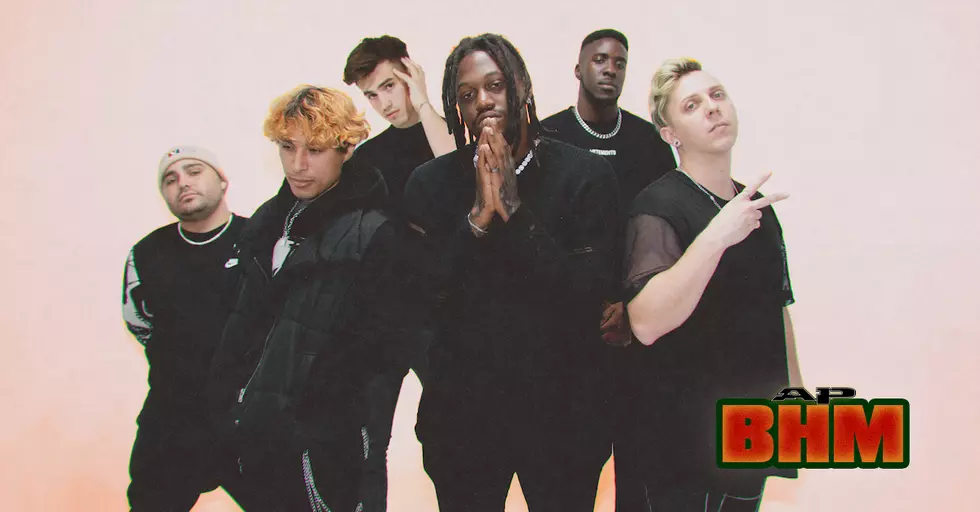 Listen to Joshua Roberts of Magnolia Park's Black History Month playlist
[Photo by Jessica Griffith]
This Black History Month, AltPress is passing the mic to some of our favorite artists so they can highlight the Black artists and Black-fronted bands they're listening to right now.
Magnolia Park have been among the leaders of the next generation of pop-punk acts ever since the Orlando-based band debuted in 2019. Fronted by Joshua Roberts, the six-piece band has been pushing the genre forward with their inspirational anthems that fuses everything from traditional punk and '00s pop-punk to hip-hop.
Roberts curated a playlist for AltPress that includes genre contemporaries like DE'WAYNE and KennyHoopla, rap stars like Kendrick, and more, and shared his thoughts on a handful of selects. Below, see what the singer-songwriter had to say about some of his selections, check out the full playlist, and give it a listen to celebrate BHM.
"Humble" - Kendrick Lamar
When I listen to "Humble" by Kendrick, I feel like I'm at a place of resolve and it's kind of a reminder that, even though I'm at a status of popularity, I need to stay grounded and real. That's a revolving theme from this song that I get.
"LORD FORGIVE ME" - Tobe Nwigwe (feat. FAT, Pharrell, Olu of EARTHGANG)
Man, when I listen to this song, it makes me hyped. I feel like he's rapping about all the struggles and hardships he's been through to get to the point of stardom. Makes me happy someone has gone through a major turn around for the better.
"Icon" - Jaden
"What you call an icon living'" — that line hits for me because Jaden kind of started paving a way for, not only Black creators, but for males in general to be true to themselves and to be open to fluidity.
"Mount Everest" - Labrinth
I listen to this when I'm feeling down because it's like a mantra for me. It's so easy to listen to, and the baseline hits heavy to the point of making you want to move and conquer whatever you set your mind to.