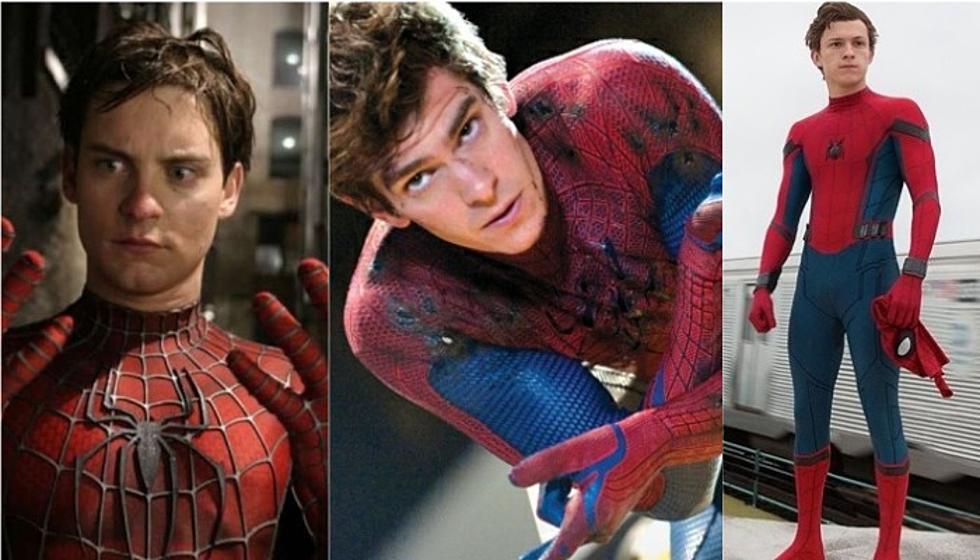 Marvel has finally addressed that Peter Parker 'Spider-Man 3′ theory
[Photos via YouTube]
It looks like it's another eventful week in the Marvel world. MCU head Kevin Feige just spilled some major secrets about Deadpool 3, Spider-Man 3 and Marvel Phase 4.
Not only is Feige finally acknowledging that three Peter Parkers theory for Spider-Man 3, but he also confirmed Ryan Reynolds' Deadpool is officially part of the MCU. As well, it looks like we won't know where Marvel Phase 4 ends anytime soon.
Let's start things off with Spider-Man 3. Currently, rumors are swirling that Andrew Garfield and Tobey Maguire are set to appear alongside Tom Holland in the upcoming film.
Despite Marvel Studios' efforts to keep some Spider-Man 3 secrets locked up, a lot of information has already been revealed. Earlier last year, we learned that Jamie Foxx's Electro is back for the new film. The villain originally appeared in Marc Webb's 2014 The Amazing Spider-Man 2 alongside Andrew Garfield.
As well, Benedict Cumberbatch is officially reprising his Doctor Strange role for Spider-Man 3. Doctor Strange is set to become Peter Parker's new mentor following the tragic death of Tony Stark in Avengers: Endgame.
More recently, reports emerged that Alfred Molina is reprising his role as Doctor Octopus in the upcoming Marvel film. Molina originally starred as the villainous character in Sam Raimi's 2004 Spider-Man 2 with Tobey Maguire. This recent casting seemingly supports the theories that characters from past films are making a return in Spider-Man 3.
Sony first addressed these Garfield and Maguire casting rumors back in October. In a brief statement to ET Canada, the company said that these castings "are not confirmed." However, months later, Sony found themselves in some hot water when a teaser seemingly confirming the three Peter Parker theory was shared online. The marketing video was swiftly taken down by Sony shortly after it was posted.
Now, Feige has finally addressed that three Peter Parker theory. During an interview with Comic Book, the MCU head acknowledges the theory, but remains coy about whether or not it is true. Ultimately, Feige says some of the things he reads online might be true.
"I've read some things," he says. "I'm not sure I've read all things. The fun thing about online speculation when it comes to our stuff is how sometimes it couldn't be more off the mark and sometimes it's shockingly close, and that's held true for the last few years. But saying which is which would take all the fun out of everything."

Feige also remained cryptic while talking about Marvel Phase 4. According to Cinema Blend, he was asked if he could comment on what the final project for Phase 4 might be. However, he replied with a simple, "no."

Currently, WandaVision is set to kick off Phase 4. The Disney+ series arrives on Friday, Jan. 15 and will be joined by plenty of other Marvel content this year.

Despite all of Feige's cryptic responses, he has confirmed Deadpool 3 is officially part of the MCU. Back in December 2019, it was reported the film was in talks to join Marvel after Disney acquired 20th Century Fox. Now, it looks like it's happening after all.

Keige tells Collider that filming for Deadpool 3 is not happening in 2021. However, the film will keep its R rating.

"It will be rated R and we are working on a script right now, and Ryan's overseeing a script right now," he says. "It will not be [filming] this year. Ryan is a very busy, very successful actor. We've got a number of things we've already announced that we now have to make, but it's exciting for it to have begun. Again, a very different type of character in the MCU, and Ryan is a force of nature, which is just awesome to see him bring that character to life."

He further shares that Lizzie Molyneux-Loeglin and Wendy Molyneux are currently working on the film's script that Reynolds is overseeing. For now, filming for Deadpool 3 won't start until 2022 at the very earliest.

What are your reactions to the Deadpool 3 and Spider-Man 3 updates? Are you ready for Marvel Phase 4 to begin? Let us know in the comments below.