10 rock musicians who should be on 'The Masked Singer'
[Photos by: Frank Iero/Jonathan Weiner, Awsten Knight/Jawn Rocha, Andy Black/Josh Shultz, Hayley Williams]
Fox's reality show The Masked Singer is only in its third season in the U.S., but it's sweeping the nation as a family-favorite singing competition. The show, hosted by Nick Cannon, showcases famous artists who perform for an audience in outlandish costumes. Judges Ken Jeong, Jenny McCarthy, Nicole Scherzinger and Robin Thicke all try to guess which singer lies behind the mask. Another contestant is eliminated every week.
In the past, rapper T-Pain and comedian Wayne Brady slayed the competition and came out on top. As the show wraps up its third season, fans are left dying to know who the final singer truly is.
While these mainstream artists on the show are amazing, it would be even more incredible to see well-known performers from the alternative realm of music and entertainment. Here are 10 people we would love to see grace The Masked Singer stage and shake it up with some scene vibes. 
1. Gerard Way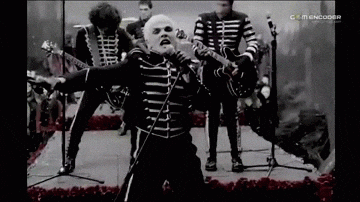 My Chemical Romance's Gerard Way was theorized to be a part of the show as the punk-rock turtle with the studded leather jacket in season 3. However, both the judges and fans also had the suspicion it might be pop singer Jesse McCartney. Regardless, Way is a multitalented artist who would blow the judge's away with his range and undeniable stage presence. Even a mask couldn't hide that. If he were the turtle, he would rock it. However, a skeleton costume is most fitting for this artist. It might be too on the nose to add a marching band uniform, but hey, that is The Black Parade aesthetic after all. 
2. Brendon Urie
Panic! At The Disco frontman and Broadway extraordinaire Brendon Urie was rumored to be the leopard in season 2 until audiences discovered it was "Kiss From A Rose" singer Seal. Urie knows how to put a show on, even if he has to wear high-heeled red boots. If he appeared on the series, he would inevitably be a gargoyle, similar to his character in the "Emperor's New Clothes" music video. If you were to throw a top hat on him, it would reflect past and present eras of P!ATD. Surely, the judges wouldn't understand all that nuance from the scene community. 
3. Andy Biersack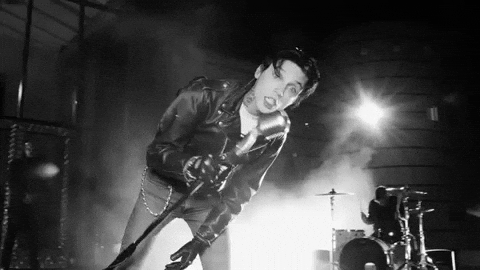 Andy Biersack of Black Veil Brides would be a fascinating candidate who would be able to offer a dark twist on the poppy covers performed on the show. Bright and cheery is certainly not a vibe for this singer who loves wearing head to toe black. Therefore, it's fitting that as the Cincinnati-born "Ghost Of Ohio," Biersack would don a spooky hooded phantom costume with (kid-friendly) Grim Reaper vibes for this network television hit. 
4. Pete Wentz
Fall Out Boy's bassist Pete Wentz has started doing his own vocals most recently with Cheap Cuts for "Check Your Phone," and he plans to release more music soon. Few judges would suspect that this particular rock star would take on a singing challenge. His costume should definitely be something just as outgoing and courageous as Wentz. His demeanor could be described similar to a grizzly bear, which just so happens to grace the cover of FOB's Folie À Deux. It's a perfect match, and surely Wentz also wishes he could hibernate for a couple of weeks after a hectic tour. 
5. Frank Iero
Frank Iero wears many hats in the music world and is best known for his work in My Chemical Romance, Leathermouth and various solo projects. The dynamic musician can carry a tune with his signature gruff voice and can rock out on the guitar as well. No doubt about it, Iero could delightfully package punk rock and hardcore for both viewers at home and judges on the show. Many fans know that he's a huge dog lover who's had many canines in his life and currently shares cute pictures of his big pup Lois. It's only fitting that his costume resembles his best friends.
6. Alex Gaskarth
Alex Gaskarth of All Time Low and Simple Creature is one of the quintessential scene singers who we wish would appear on this series. His momentous performances and sense of humor would make for a great show no matter what. Though he's sung about monsters and wolves, the best fit for Gaskarth is definitely a goat costume. He now owns several of the cute farm animals with his wife Lisa Gaskarth and shares their social and energetic personality.
7. Hayley Williams
Paramore's Hayley Williams is an eclectic, empowering singer who's inspired several young women to pursue music. Beyond her company Good Dye Young, her personality and stage presence is brimming with color. It only makes sense that an artist like this would deserve a badass butterfly costume with vibrant neon hues. The costume could also serve as a nod to their album brand new eyes featuring the melancholy hit "The Only Exception." 
8. Travis Clark
We The Kings frontman Travis Clark is a goofy, fun-loving singer who shaped many lives with songs such as "Check Yes, Juliet" and "Skyway Avenue." He and his bandmates are also proud Floridians who have even incorporated it into past merch items and named one of their albums Sunshine State Of Mind. This artist would work The Masked Singer stage well in a brightly colored gator costume. 
9. Keith Buckley
 >
Every Time I Die are passionate about their hometown of Buffalo, New York. In fact, the city even declared Dec. 15 as "Every Time I Die Day." Keith Buckley is one hell of a rock singer who can also scream for days. His hardcore vocals would definitely make him stand out in any mainstream competition. Also, few other competitors could match an artist who has his own day. Undoubtedly, Buckley would be the best metal buffalo-costumed singer the show has ever seen. 
10. Awsten Knight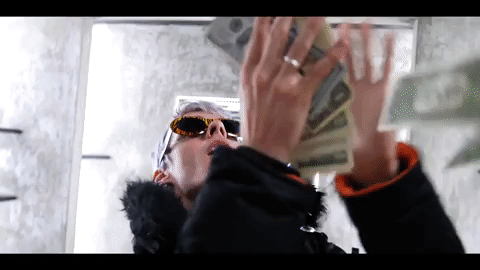 Awsten Knight, lead singer of Waterparks, has a quirky yet regal personality. His vocals and fashion style command attention, and this is fitting for the man who brought you a song such as "Royal." Knight may say he's not royal, but the scene certainly views him as a king. He would pull off a lion costume for sure. However, that costume better come with a lime green mane or else he's sending it back.