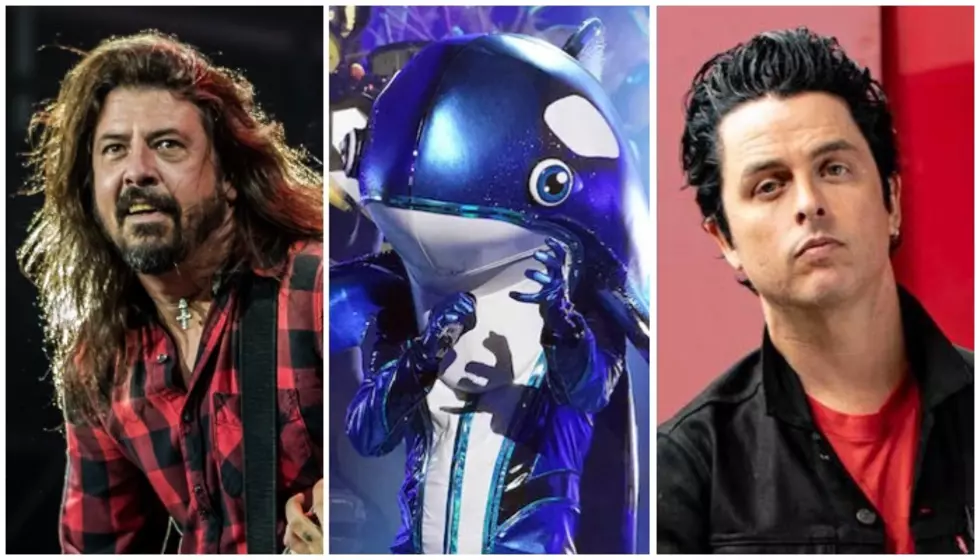 'Masked Singer' panel guessed Dave Grohl or Billie Joe Armstrong for Orca
[Photos via Dave Grohl/Andreas Lawen Fotandi via Wikimedia Commons, The Masked Singer/Fox, Billie Joe Armstrong/Spotify]
After weeks of wondering, the true identity of Orca was finally revealed on The Masked Singer. Following a series of cryptic clues and extravagant performances, season 5's wildcard contestant truly stumped the judges. The panel, which includes Nicole Scherzinger, Ken Jeong, Jenny McCarthy Wahlberg and Robin Thicke, had varying guesses on who was behind the mask. 
Green Day frontman Billie Joe Armstrong, Foo Fighters vocalist Dave Grohl and pro surfer Kelly Slater were among the final guesses. However, The Masked Singer soon learned that the man behind the mask was actually Sugar Ray singer Mark McGrath.
Orca joined season 5 of The Masked Singer as a wildcard contestant, which has been introduced this year. The secretive group of wildcard performers are taking the place of the third group of competitors and will be going up against the remaining contestants in Groups A and B. So far, four wildcard performers have been introduced into The Masked Singer's main group of contestants. 
During week three, Orca first performed Twisted Sister's power anthem "We're Not Gonna Take It." This week, for episode five, Orca went on to perform Poison's "Every Rose Has Its Thorn," which he dedicated to his late father. However, the emotional set wasn't enough to keep the sea creature from being voted off the show April 14.
For his first clue package, Orca kept things very pizza-related with a "today's specials" sign that featured lemon pizza ($9), orange pizza ($4) and pumpkin pizza ($9). The masked contestant went on to say that when he was 24, he was "closer to becoming a punchline" than his goal of being a major rock star. 
As well, the Orca also revealed that he once hid audition tapes in pizza boxes and "delivered them all around the town." He even made some ocean references when he said that his dad told him if he didn't "make waves" by 25, he needed to move on from his dreams. Additionally, the clue package also included a cryptic clock that read 2:59. 
Meanwhile, Orca's second clue package was related to his late father. During the video, Orca said that he felt hopeless in an "ocean of tears" after his dad passed away. As well, he revealed that his dad's final words to him were that he was proud of him "for being a dad above all else." The final moment in the clue package showed Orca walking with his two kids.
Based on all of these clues, The Masked Singer judges had quite a few different guesses. During week 3, the show's guest judge Joel McHale thought the masked contestant could be Smashing Pumpkins frontman Billy Corgan. This was based on the fact that the clues package included the unusual pumpkin pizza 
Due to Orca's narrative about losing his dad and being a father of two, both Thicke and Jeong guessed that Armstrong was behind the mask. As for McCarthy Wahlberg, she originally thought Orca could be Jon Bon Jovi. However, the water imagery and anecdotes about the ocean eventually convinced her Slater was Orca. 
Finally, Scherzinger stuck to her original guess that Orca was Grohl who also lost his father. As well, Orca's rock-heavy vocals throughout the competition also led her to believe the Foo Fighters frontman was behind the sea creature. In the end, however, all of the guesses were incorrect and McGrath was the rock performer behind the mask.
McGrath's reveal on The Masked Singer is available to watch below.
As it turns out, some The Masked Singer viewers caught on early that Orca's true identity was McGrath. As mentioned before, in the first clue package, Orca revealed that he once put audition tapes in pizza boxes and sent them out across town. This story has actually already been publicly told before. 
Back in 2014, director and producer McG (Supernatural, The O.C.), who is a childhood friend of McGrath's, recalled putting one of Sugar Ray's music videos into a pizza box. Then, they sent it to the head of a record label where the band eventually signed a record deal.
"We made a music video and snuck it into a pizza box and sent it to the head of the record company," McG said on Chelsea Lately. And they got a record deal."
Of course, all of the other hints and cryptic facts in the clue packages led back to McGrath and Sugar Ray. The price of pizzas in the first montage relates back to Orange County, California's area code "949" which is where McGrath resides. As well, the pumpkin pizza is a subtle reference to Smashing Pumpkins' 2018 video for "Silvery Sometimes" which features McGrath. As for the clock which read 2:59, when converted to military time it's 14:59, which is the title of Sugar Ray's 1999 album.
Over the years, numerous talented musicians and performers have made appearances on both The Masked Singer and The Masked Dancer. Last year, Poison frontman Bret Michaels was unmasked as Banana on The Masked Singer. Soon after his elimination, he dropped some banana-themed merch in honor of his character on the hit TV show. 
Meanwhile, Body Count's Ice-T managed to stump the judges' panel during his time as Disco Ball on The Masked Dancer. After the judges guessed the person behind the mask was LL Cool J, Smokey Robinson, Paula Adbul or Lionel Richie, Ice-T was eventually unmasked in a truly surprising reveal.
In honor of McGrath's surprise reveal on The Masked Singer, Sugar Ray's classic "Fly" is available to stream below.
What are your reactions to Mark McGrath's reveal on The Masked Singer? Let us know in the comments below.