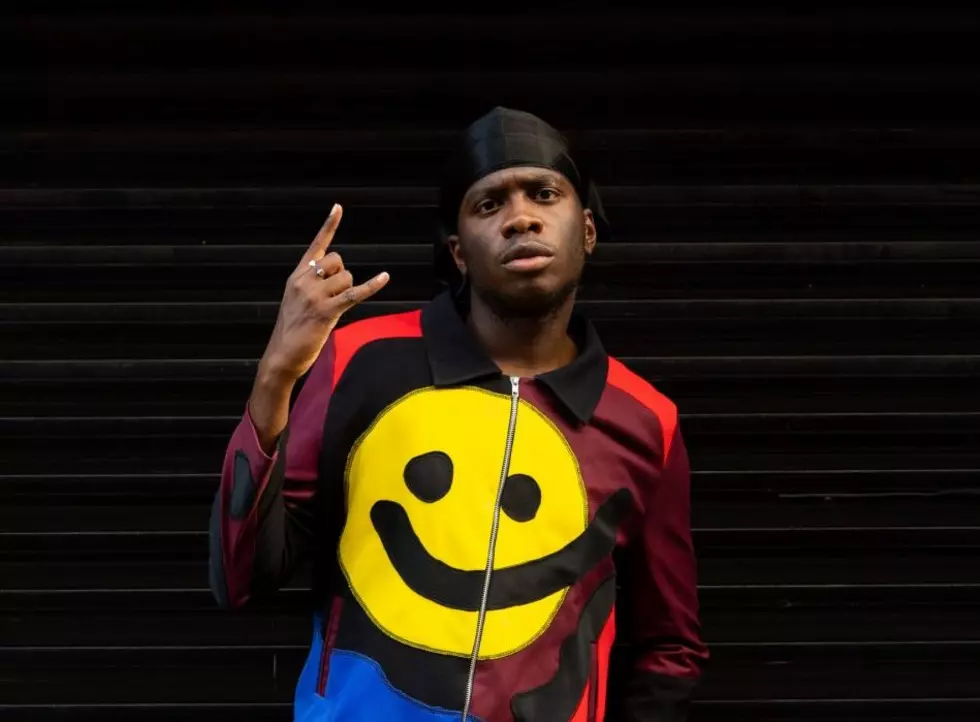 Master Peace went from rapping in a small crew to striking out on his own
[Photo by Sahra Zadat]
What happens when you mix McBusted, Skepta, Lightspeed Champion and Arctic Monkeys? The result is none other than the U.K.-based singer-songwriter Master Peace. As far as up-and-coming British artists go, Master Peace is undeniably one of the most versatile. Fusing everything from alternative rock, grime and sticky pop elements, it's safe to say that the 20-year-old artist will become a household name in no time.
We caught up with Master Peace as he was gearing up for a string of high-profile performances, including the Reading and Leeds Festival. In this interview, we discuss everything from his humble beginnings as a member of a small rap crew to trading in the complacency of being in the background for the confidence to carve his own path and become the leader of his own future. 
Obviously, you are super young. How did you start making music? Did it start in your room? What made you realize you had to make some songs?
I only started making music two years ago. I used to be in a crew called Ammi Boyz, and when you're in a group with your friends and whatnot, you obviously have the main guy, and then you have the other people in the crew. When people used to watch me perform with them, they would always say, "You should go solo and do your own thing." I would usually brush it off and say, "Nah, I want to be in a crew." I was never really confident to go on my own and actually make things pop. I was always hiding behind being in the group, but I finally got the balls to do it, and now I'm really going for it. I'm just owning it. 
I hear so many different influences, so walk me through the beginning. How did it start with the early influences, and what got you to the point where you are now making music with a more melodic sensibility?
It definitely started with grime, Skepta, a lot of Odd Future, Dipset and loads of old-school rap crews. For the more melodic stuff, I would say Bloc Party, McBusted, McFly and, of course, the 1975. I was also into Dev Hynes' previous project Lightspeed Champion. 
OK, so you're rapping, you're in a crew, there's a bunch of friends and then what happened? Did you make a more chill R&B song one day, and from there, was it just a different vibe? Or more or less, simply time for a change?
We would always go to the studio to make these songs but would never end up putting them out. We wouldn't mix them. We wouldn't master them. We would simply make tunes and put them on SoundCloud. There was this one song, and my boy was like, "Just sing on it," and I was like, "Bro, I've never really sung before," but then I just started singing. It sounded really awful, really bad, but the way my Auto-Tune was set and the way it was pitched, I sounded fucked, but it was also so sick because it was almost accidental.
After that, I was singing on the side, trying to practice as much as I could. Eventually, I was like, "I have to sing." Obviously, there were a lot of egos in the group. I wouldn't say that we fell out, but it was just a situation where everybody wanted to do their own thing at that point. I was ready to do my own thing as well. I left the group, and I was like, "OK, I'm going to make this Master Peace thing pop."
Right now, you're just releasing singles, and already your videos are truly incredible. Tell me more about the process behind making your videos. 
They are all shot by my creative director, Sahra Zadat. She has the same vision as me. She knows what the video is before we even make it. I see her as Master Peace. She knows it all like the back of her hand. 
Do you have plans for a full album? Any tours or shows lined up? What can we expect in the future? 
I'm making a mixtape right now, but for the remainder of this year, it's going to be loads of singles. In the new year, I'm going to be dropping more singles from the mixtape. The focus right now is to make sure that the mixtape sounds really good. I'm playing Reading and Leeds this Friday, Saturday and Sunday. I have a tour scheduled for March 2022, and after that, I am supporting a band called KOALA. I'm also launching my own clothing line in September.
Any plans to come to the States? 
I want to ASAP! I want to work with several artists there as well. 
How was the show with KennyHoopla?
That was lit. We had the crowd going wild. Kenny is my bro. I really like that guy. 
What does a typical day look like for Master Peace right now?
I feel like I am just trying to do life a little bit so then I will have things to write about. I was so hooked on going to the studio every day that it started to affect my mental health a little bit.
It's interesting that you say that because your energy is so positive and truly inspiring. Where does that come from?
I just think it's the people that I'm around. I feel like I'm surrounded by people that are very kind and want to see me do well. I just feel like everybody in their own way helped to make things pop for me, which in turn makes me feel good about myself. 
What would be your No. 1 dream collaboration?
Oh, that's a mad question! I'll have to choose a top three in that case. I'd say Trippie Redd, Kurt Cobain and Michael Jackson. 
Is there anything else you want to promote/shout out? We touched on your clothing line a bit. Does it have a name?
My clothing line is called Tree Pollen, and then I have my next single "Shakedown" coming out [soon]. It's going to be massive!
FOR FANS OF: McBusted, Lightspeed Champion, Arctic Monkeys
SONG RECOMMENDATION: "Boyfriend" (feat. Mae Muller)
This interview appeared in issue 398, available here.