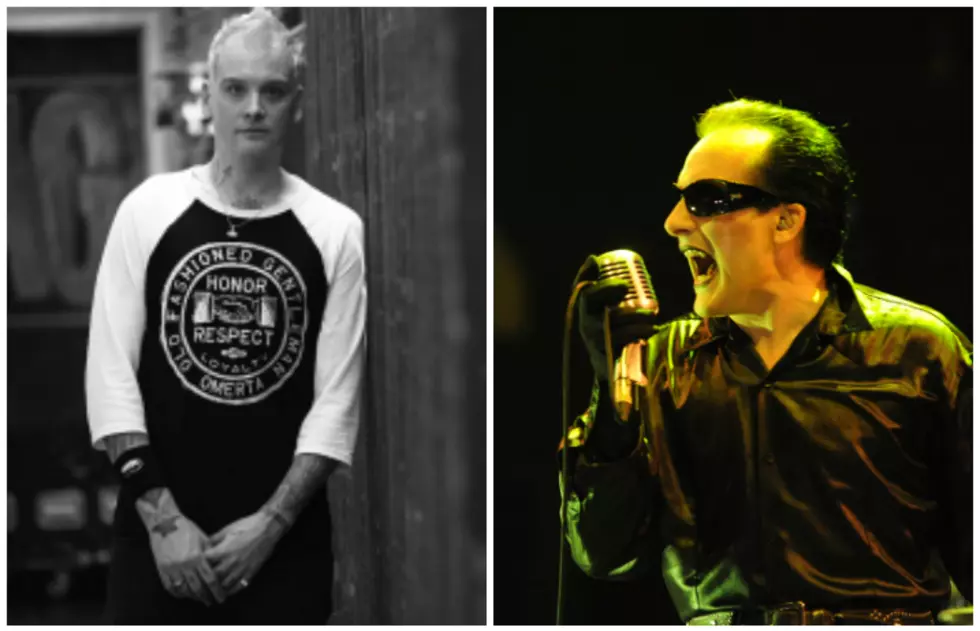 Alkaline Trio/Blink-182's Matt Skiba interviews the Damned's Dave Vanian
[Photo credit: Willie Toledo (Matt Skiba), Dod Morrison (Dave Vanian)]

Alkaline Trio founder/Blink-182 guitarist Matt Skiba has one sticker on his car, a logo of original groundbreaking British punk band the Damned. He also has the phrase "Love Song," the title of a crucial track from said band's essential third album, Machine Gun Etiquette, tattooed on his hands. So who better to chat up Dave Vanian, the cool AF frontman (and only constant) in the British punk institution as they begin an extensive American tour celebrating the reissue of their 1977 debut album, Damned Damned Damned?


[Photo credit: Kat Von D]
In the classic 1977 British punk scene, the Sex Pistols got the glory and the Clash acquired the accolades. But history has been very good to the Damned, as their scope of influence has been felt by bands as diverse as Japanese thrashers Melt-Banana, My Chemical Romance (who covered "Neat Neat Neat" on their Danger Days tour) and Alkaline Trio, who have covered the band's track "Wait For The Blackout" for years. Mixing furious '70s American garage rock (cf. the Stooges, the MC5) with a great amphetamine sensibility and then spending the next three decades branching off into directions as varied as psychedelic amp-worship and stately pop, unintentionally becoming gothic-rock initiators and having a brief flirtation with the British record charts in the late '80s, the Damned are important by virtue of their sheer bloody-mindedness and dizzying diversity. If you're just getting on the ground floor, start with the recently reissued Damned Damned Damned and then run headfirst into their wide-ranging discography to discover new intersections of punk, goth, psychedelia, pop and anything else that was ricocheting in their minds.
In between breaks on the set of the next Blink video, Skiba called Vanian while he was relaxing in his Vancouver hotel room hours before taking the stage. And although Canadian cell reception made this AP editor cringe more than a dozen times (thanks for repeating your responses, Dave!), both the A3 frontman-cum-lifer and the punk avatar had a good time.
MATT SKIBA: Thanks for doing this, Dave. What are you doing? Do you have a day off? Are you playing tonight?
DAVE VANIAN: I'm in a hotel room in Vancouver. We're playing tonight at the Commodore Ballroom, so we just walk over to the gig from here.
AP asked me if I wanted the opportunity to interview you and asked if I was a fan. I told them I had "Love Song" tattooed on my knuckles, and that my band have been covering "Wait For The Blackout" for as long as I can remember.
Ohhhh. So that's where all of our money's coming from, is it? [Laughs.]
[Laughs.] Maybe. Happy 40th anniversary to Damned, Damned, Damned. The Damned were the first U.K. punk band to put out a single, then an album and the first to tour the U.S. What was that first U.S. tour like? What sticks out in your mind about it?
It varied from the East Coast to the West Coast. People on the East Coast were trying to check us out in a real "cool" way. It went well, though. California was just the opposite: They went crazy. People were eating pizza while we were doing our stuff. So we put a table onstage and ate pizza in front of the audience. They didn't like it, so they threw ice cubes at us. [Laughs.] But generally it was really good. In most respects, the gigs we did in the major cities were attended by a lot of bands just forming, similar to what happened when the Ramones came [to London]: The first three rows were all members of potential groups—Adam And The Ants, Billy Idol, all those people. The Ramones worked as a catalyst over there and we worked as a catalyst over here and it became a big pile of great noise.
What is your earliest memory of being in the Damned? When the band started, when you came up with the name, anything…
The earliest memory was probably going to the audition. There was another singer considered for the job, so I turned up half an hour earlier to see who it was and check him out. There was another guy who didn't turn up—that was Sid Vicious. There was also a rumor that [original Damned guitarist] Brian James had the name, but [Sex Pistols manager] Malcolm McLaren wanted it. Brian had it first though, so the Sex Pistols might have been called the Damned—which is quite weird.
Wow! That's interesting.
Yeah. I don't know how true that is, but that's what I've heard.
We'll make it true. That's amazing. Over the years, which Damned record are you the most proud of and why?
I really couldn't pick one. You enjoy records for different reasons. What we did on The Black Album led the way to what we did on later albums. When we released Grave Disorder, I felt it was an obvious follow-through with what we were doing on Machine Gun Etiquette and The Black Album. For us, it's not a case of what got more successful, but the level of experimentation. Today, I might like one album; tomorrow, a completely different one. I think I like the ones that don't get played a lot, the ones that are a bit more obscure.
As a Damned fan, if someone were to ask me my favorite, I couldn't tell ya. I love them all for different reasons.
They all reflect different things. That probably has helped our longevity because we haven't stayed the same. Because the band is so multifaceted, and the people who are in it, everybody brings something to a session and [songs] grow into whatever way they grow into. We're working on a new album now, which I'm very excited about, probably more than anything because when we finish this American tour, we go straight into production to put it together. We're looking to explore our psychedelic/garage roots more on this one, and push a few envelopes here and there, you know?
What was the first album you ever bought?
Let me think… I think the first two records I ever bought… One was a single by a group called Blue Mink. Thing is, I had a fair amount of records in the house already, so I started buying things a little later than I would've done normally.