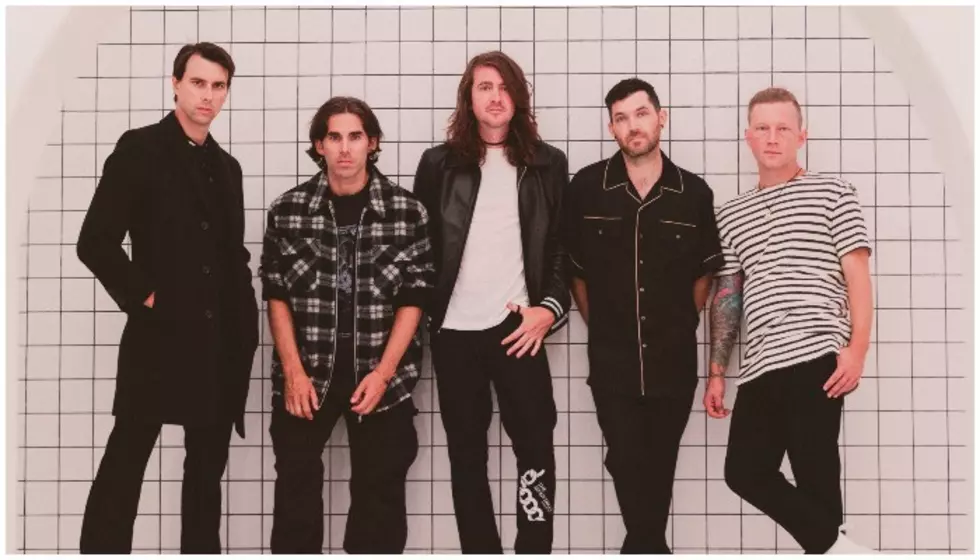 Mayday Parade offer exclusive behind-the-scenes look at "Bad At Love"
[Photo by Jordan Knight]
Mayday Parade are navigating love and heartbreak in their latest single, "Bad At Love," via Rise Records.
Alongside the new song and accompanying video, the band shared exclusive behind-the-scenes photos with Alternative Press.
[Photo by Alex Bemis][/caption]The visual mirrors the same heartbroken sentimentality as the song, showing a couple's progression through a turning point in their relationship. As the video goes on, emotional scenes from their relationship appear on a television in their empty house. These moody shots also match the melancholic tone of the track.
Set in California, the visual was one of three videos shot and directed in the same week by Katharine White.
[Photo by Alex Bemis][/caption]"We filmed the video for 'Bad At Love' in a little home located outside of Glendale, California," bassist Jeremy Lenzo exclusively tells Alternative Press. "The director Katharine White wanted the shots inside the home to feel empty to match the mood of the song.
"The video shows our two actors at different moments in their life together, ending with the return of a wedding ring and the realization [that] they're better off separated," he continues.
"Bad At Love" is a starkly different tune than the band's previous single "Kids Of Summer," which was an ode to their time on Vans Warped Tour. Where "Bad At Love" is an emotional ballad about lost love, "Kids Of Summer" nostalgically looks back on the past with appreciation.
[Photo by Alex Bemis][/caption]You can watch the video for "Bad At Love" and see more exclusive shots below.
Mayday Parade tour dates:
09/07 – Gainesville, FL @ High Dive
09/08 – Gainesville, FL @ High Dive
09/10 – Ft. Lauderdale, FL @ Culture Room
09/12 – Charleston, SC @ Charleston Music Hall
09/14 – Athens, GA @ Georgia Theatre
09/15 – Charlotte, NC @ Amos' Southend
09/17 – Pittsburgh, PA @ Four Chord Music Festival
09/18 – Chicago, IL @ Riot Fest
09/21 – Indianapolis, IN @ Deluxe
09/22 – Louisville, KY @ Mercury Ballroom
09/23 – Columbia, MO @ Blue Note
09/25 – Birmingham, AL @ Furnace Fest
09/26 – Destin, FL @ Club LA
[Photo by Alex Bemis][/caption]
[Photo by Alex Bemis][/caption]
[Photo by Alex Bemis][/caption]
[Photo by Alex Bemis][/caption]