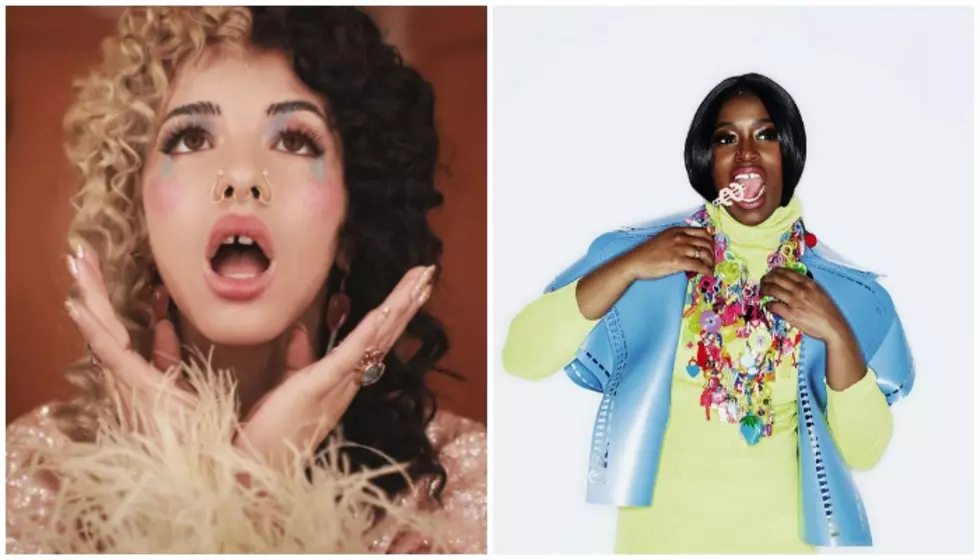 Melanie Martinez and Tierra Whack: The unpublished AltPress interview
[Photos by: Melanie Martinez/Brian Zuniga, Tierra Whack/Spotify]
You've already heard "Copy Cat," the new track featuring Melanie Martinez teaming up with the mighty Tierra Whack. Martinez and Whack's collaboration is quite cool, but then we remembered about another exclusive collaboration they worked on. Namely a previously unpublished interview for AltPress.
An explanation is in order. Last year, AltPress celebrated the release of Martinez's second album, K-12, in the best way possible: We made her guest editor of AP 375. In addition to the cover story regarding the making of the album and movie of the same name, Melanie Martinez filled our pages with features of artists she wanted to get behind. We got everybody she wanted featured in the mag, except one. Tierra Whack. 
Unfortunately, the combination of printer deadlines and Martinez's schedule (she was going on tour, bruh) meant some things had to fall by the wayside. But guess what? There are no printer schedules on the internet. So we're sharing it now! 
In this brief chat, Martinez asked Whack about the creative process, her role as a mom, the one record she loves and extracted some advice for all the creative types trying to be heard in a big world.   
Tierra, you're an incredible songwriter but also an insanely gifted freestyler. Truly one of a kind. I'm so interested in learning about your writing process for Whack World, as well as your newer records. How much do you write before going in the booth, and how much of it is written on the fly?
Thank you so much! I just wing it. I write as I go. I never wanna overthink my initial thought, so that process works so much better for me. I also record myself in a house studio. Big studios aren't my thing...I prefer a more intimate setting.
Your cover art and visuals are incredibly cohesive, and your music videos are brilliant. Which art/movies inspire you the most?
I love horror films and children's movies. The more colorful/graphic, the better!
If you had to spend a longer amount of time either performing or writing music, which one would you choose? Which do you feel most fulfilled by and why?
I love to perform. It's a chance to act out, be crazy and I love getting the opportunity to just wild out! [Laughs.]I feel most alive onstage!
Do you see yourself visually connecting your songs like you do in Whack World for future projects?

I'm honestly not sure. I feel like all of my songs are connected because they came from me. I'm the root, and my art would be considered the branches and leaves.
Are there any albums that have acted as a soundtrack to different points in your life?

The Miseducation Of Lauryn Hill. That's all me. I wish I wrote it. I feel like I did.
How would you describe your style? Who/what are some of your fashion inspirations?
I don't really think I have a "style." I think I get lucky most times: My best outfits are put together in less than 10 minutes. I love Tracee Ellis Ross, Kelis, Erykah Badu...
Your son, Boots The Turtle, seems to be incredibly ahead of his time. How is it being a mother to an old soul?
Boots is everything to me! At times, he can be a handful, but all children are. It's not easy being a single mother, but I manage. Balancing a career and a child is a great responsibility, but I love it. 
Have you ever thought about or had a desire to write music for other artists?
Not until recently. Sometimes I write songs, and in the end I'm like, "Ehhh, I don't think this song is really for me." But I have written some verses for some of the world's favorite artists. [Laughs mysteriously.]
Can you name a few rappers/artists you'd like to see receiving more recognition?
Off the top, Noname from Chicago and Omeretta from Atlanta! They both are fire and deserve all the praise and respect in the world!
What advice would you give young artists who have a strong desire to create but don't feel confident enough to be able to put themselves out there?
You gotta just do it. Don't rush, though: You'll know when it's time. Only you can feel that! You have to believe in yourself before anyone else does. You don't wanna live in regret. You'll never know if you don't try. I'm using the word "you" so much because you are what matters. You determine your destiny. Go get what you deserve.
If you missed Melanie Martinez' editorship of AP 375, no problem. You can get one below, with pieces on Lauren Ruth Ward, Oliver Tree, 12 bands she backs wholeheartedly and loads more. And if you haven't yet, check out "Copy Cat."