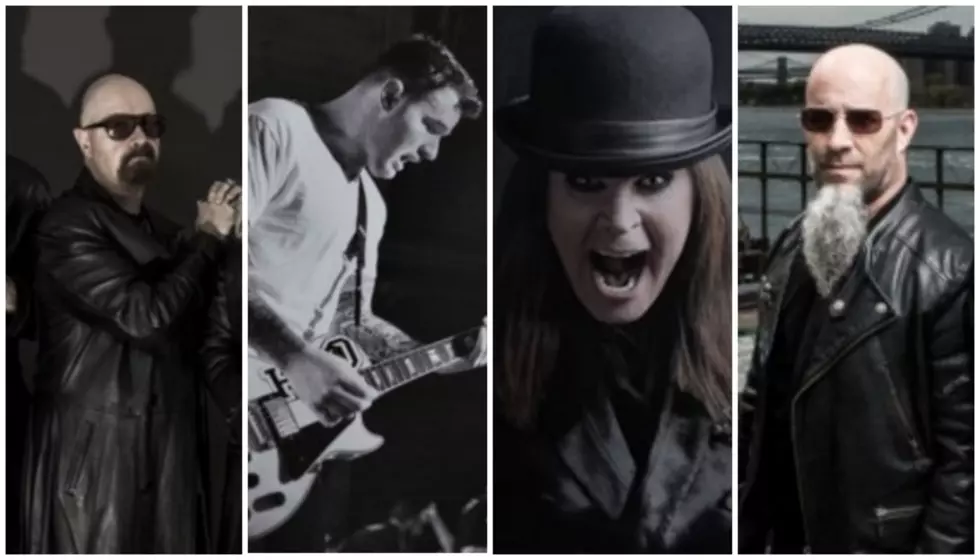 24 metal and metalcore bands who changed vocalists and then switched back
Being in a band ain't easy. You've got many creative personalities in a massive tug of war. Oh yeah, then you have to live with each other and those decisions on the road for months on end. Lineup changes aren't uncommon, though a vocalist switch-up has the possibility to be the most debilitating.
Some bands have found success with multiple front folks. It gets increasingly rare as the shifts reverse, so here's a list of metal and metalcore bands who changed vocalists, only to welcome the predecessor back. In some cases, they welcomed the replacement back after (two guys, two tours of duty) or even more.
Bloodbath – Mikael Åkerfeldt
Mikael Åkerfeldt vomited on a wall recording Bloodbath's Breeding Death EP. What a harbinger, as the Swedes helped regurgitate, errr revive, interest in then-flatlining Stockholm death metal with Resurrection Through Carnage. He'd step away, but the sabbatical was ultimately short-lived. Opeth's leader returned for their 2005 live debut, chronicled on The Wacken Carnage CD/DVD. Both the Unblessing The Purity EP and The Fathomless Mastery LP slay. Appropriately, he'd leave after another mammoth festival appearance captured on DVD: Bloodbath Over Bloodstock. He's one of death metal's best growlers, clearly annunciating through thunderous depth.
Cryptopsy – Lord Worm
Lord Worm is known for his lyrics both poetic and humorous—darkly poetic and black humor, that is. He spat all over technical death-metal landmark None So Vile (and predecessor Blasphemy Made Flesh) before slithering off. Well, he was thrown into a coffin and carried offstage, which would be reversed when he'd rejoin in 2004. He recently revealed that his return (and comeback album Once Was Not) was motivated by money. A sardonic sentence for a mysterious man who embodies that.
Spawn Of Possession – Dennis Röndum
Dennis Röndum helped form Spawn Of Possession back in 1997. As is often the case, creators have visions for their babies and carry them out—even if that means more work. In Röndum's case, that meant not just insanely technical drumming but also growling atop. A four-year "vacation" commenced after his 2006 exit, but his return must have felt relaxing for him, too, as he put down the sticks. The result, Incurso, was a tech death album for the ages.
Judas Priest – Rob Halford
As if the man known as "Metal God" wouldn't be on here. Apparently he's not omniscient, though, as Rob Halford claims miscommunication led to his 1992 exit from Judas Priest. He wanted to pursue a side project but was of the understanding that he'd have to leave to do so. Evidently that wasn't the case, but the schism would last over a decade until his 2003 return. Since then, they've managed to release some material that maintains Halford's God status—actually, all of Priest, too!
Thy Art Is Murder – CJ McMahon
Deathcore has recently seen an explosion akin to its first wave. However, the interim was more like a long fuse. Mainstays kept the flame moving along, but there was little in the way of new blood. Australia's Thy Art Is Murder were the exception, shooting to the top of the heap with The Adversary, Hate and Holy War. It wasn't enough for CJ McMahon, though, who left due to finances and family. During his triumphant return at 2017's Unify Gathering, he'd proclaim he was "back to take over the world with my fucking brothers." Everything's gone according to plan since.
Deeds Of Flesh – Jacoby Kingston
Jacoby Kingston co-founded Deeds Of Flesh with Erik Lindmark, with the pair splitting vocal duties while covering bass and guitar, respectively. The two even joined forces to form Unique Leader Records in 1999. Kingston left the defining brutal and technical death-metal label shortly thereafter and the band in 2007. As lifelong brothers, there was no one better to do vocals on Lindmark's swansong: Deeds Of Flesh's Nucleus. The posthumous monolith surrounded Kingston with death metal's best voices (Suffocation, Cannibal Corpse, Dying Fetus, Gorguts and more). R.I.P. Erik Lindmark.
Killswitch Engage – Jesse Leach
Jesse Leach left Killswitch Engage shortly after the release of metalcore defining classic Alive Or Just Breathing. The honeymoon period with the band had ended, and he wanted to go on a real one with his new wife. Blood Has Been Shed's Howard Jones joined for three albums, including 2004's The End Of Heartache—featuring duet "Take This Oath." The increasingly metal tracks there and on follow-up As Daylight Dies shot the band to superstardom. It wasn't until Leach returned in 2012 that he'd experience the full bloom of what he'd planted a decade earlier. Bringing it full circle, latest LP Atonement features another duet on "The Signal Fire."
Misery Signals – Jesse Zaraska
Like Killswitch Engage, Misery Signals are a wildly influential metalcore band whose vocalist left after an EP and LP. Unlike Killswitch Engage, the vocalist didn't leave of his own accord, instead being asked to exit after friction on tour. This must've made it extra painful for Jesse Zaraska, who'd seen the seeds of success planted. Landmark 2004 LP Of Malice And The Magnum Heart was celebrated a decade later with Zaraska on the Malice X tour. The seeds had grown, and he would officially rejoin, with Ultraviolet dropping last year.
The Crown – Johan Lindstrand
It's biblical—or at least fitting—that the band originally called Crown Of Thorns have their own prodigal son. Vocalist Johan Lindstrand's 2001 exit found Swedeath royalty Tomas Lindberg (At The Gates) keeping the throne warm on 2002's Crowned In Terror. The band unleashed two albums upon Lindstrand's return that same year, one of which was a re-recording of the aforementioned LP. The Deathrace King would take his time returning after the band regrouped from a breakup (2004-2009), yet they're about to unleash the third since his 2011 return. Royal Destroyer will prove melodic death metal can be as ferocious as its more feral predecessor, so long as it thrashes.
The Faceless – Derek Rydquist
Of all the monikers adopted by metal musicians (and there are many), few are as perfect as Demon Carcass. (Only Ringworm's Human Furnace comes close.) It serves as a hint of the sound that emits from his unholy maw. The bespeckled growler grew with the Faceless as they transitioned from technical deathcore on Akeldama to technical death metal on modern (2008) masterpiece Planetary Duality. He'd fly out of their orbit a few years later, only to return for a single demo, "The Spiraling Void." What could have been…
It Dies Today – Nick Brooks
Here's another vocalist whose return yielded only a demo and echoes of what could have been (once again). It Dies Today were one of metalcore's rising bands, thanks to an aggressive sound tempered with fashioncore—both musically and visually. That was around 2004's The Caitiff Choir. Solid as the more rock-leaning follow-up Sirens was, vocalist Nick Brooks would exit mere months after its late 2006 release. He'd return seven years later for "Son Of Dawn, Brilliant Star," meaning it's now been as long on the other side. Still, we cross our fingers for more.
Benediction – Dave Ingram
Birmingham, U.K. death-metal brutes Benediction have truly been blessed in the vocalist department. Their founding vocalist would go on to legendary status elsewhere, while replacement Dave Ingram would come to define their classic sound on Transcend The Rubicon and The Grand Leveller. His blunt bellow would find a home in similarly punk-leaning Brits Bolt Thrower, but he recently found his way home for 2020's solid Scriptures. Of course in the interim, they had the inimitable Dave Hunt (Anaal Nathrakh) and the aforementioned legend? Well, look to the next blurb.
Napalm Death – Barney Greenway
After getting his start with Benediction, Barney Greenway would find his home with grindcore trailblazers Napalm Death. His joining marked a pronounced shift toward death metal on Harmony Corruption. The battle between those two key extreme subgenres has come to define their sound. An inter-band rift would disrupt their harmony in 1996. Greenway would contribute to Damage 381 by Extreme Noise Terror, whose vocalist was his replacement. Napalm Death determined Vane couldn't deliver what they needed, so they called up Greenway to return. Distance and hindsight allowed them to patch things up and once again turn their collective crosshairs toward corruption. Twenty four years and 10 albums later, their aim has only gotten sharper.
Bury Your Dead – Mat Bruso
Bury Your Dead play the moshiest of metalcore—they've even named songs and their last LP, 2011's Mosh N' Roll. That was their first with vocalist Mat Bruso since 2006's Beauty And The Breakdown, which began trending toward nü metal. Two albums with Myke Terry (now of Volumes) embraced that shift, but they corrected course when Bruso rejoined and beyond.
For The Fallen Dreams – Chad Ruhlig
It was perhaps ironic that For The Fallen Dreams' debut was called Changes, as they'd experience some shortly thereafter. That 2008 album is remarkably tough for the scene they ran in, largely thanks to Chad Ruhlig's commanding vocals. He'd continue that in Legend, while his alma mater would drift toward the more pChad Ruhlilatable sounds of their peers. That project continues on as LGND, but Ruhlig would rejoin his previous band in 2013. The new stuff ain't as tough, but he still gets that side out. For The Fallen Dreams with Ruhlig just feels right.
Corrosion Of Conformity – Pepper Keenan
Pepper Keenan joined Corrosion Of Conformity as they transitioned from a crossover hardcore band to the Southern stoned sludge lords they'd become. A quick study, his backing vocals became lead on 1994's Deliverance. Twelve years later, they'd enter a hiatus from which Keenan wouldn't return immediately. The 2010 COC reformation was missing the guitarist/vocalist's spice, and he'd rejoin in 2014. Their first album together since 2005, No Cross No Crown, came out in 2018 to critical and fan acclaim.
Iron Maiden – Bruce Dickinson
Bruce Dickinson left Iron Maiden to focus on his solo career back in 1993. Considering he can operate a whole damn airplane, it's no wonder he felt confident going on his own. Still, lightning rarely strikes twice (and thankfully didn't while he was flying), so Dickinson returned to Iron Maiden in 1999. Sparks flew on 2000's Brave New World, and the heavy metallers continued shining on.
Anthrax – Joey Belladonna
Of thrash metal's Big Four, Anthrax are the moshiest, yet they have the most technically proficient singing via Joey Belladonna. He got the boot twice, once over the phone by management and once over the internet. That's hardly a way to thank arguably the most unique feature of the band. Still, they ponied up and called to invite Belladonna back for the Big Four shows, and it's been great ever since. John Bush just ain't it for 'thrax.
Shai Hulud – Chad Gilbert
Metalcore noodlers Shai Hulud are known for their revolving-door lineup. However, before all that, Matt Fox picked up teenage Chad Gilbert. He'd yell on 1997 mouthful of an album Hearts Once Nourished With Hope And Compassion before focusing on some band called New Found Glory. He'd be tapped to produce 2013's Reach Beyond The Sun, which evolved into him also doing vocals on it. While his original replacement Geert van der Velde also did multiple stints in the band, it's clear Gilbert is the guy.
Exodus – Paul Baloff/Steve Souza
Exodus' original vocalist and their longest-serving one have something in common: a cartoonish sneer. It brings their take on thrash to the same realm of self-awareness as a horror B-movie, and it's all the better for it. Paul Baloff's only album of original material, Bonded By Blood, could've pushed them to Metallica levels—if its release wasn't delayed. He'd return for some live activity but passed before he could record more. Steve Souza, popularly known as Zetro, took the band for a "Toxic Waltz" over his time in the band. Fabulous Disaster was rad, as were both of his return albums: 2004's Tempo Of The Damned and 2014's Blood In, Blood Out. R.I.P. Baloff.
Morbid Angel – David Vincent/Steve Tucker
A-B-C-D-E. F-G-H. I-J. K. That looks like a child reciting the alphabet, becoming increasingly unsure as they get beyond those comfortable first few letters. It's actually the alpha-sequential discography of death-metal shape-shifters Morbid Angel divided by rotating vocalist/bassists David Vincent and Steve Tucker. The first run is the stuff of legend, but Tucker's takeover has been gaining favor in recent years. This is likely due to the fact that Vincent's original return album, Illud Divinum Insanus, was, well, not so good. Meanwhile, Tucker's latest, Kingdoms Disdained, kind of rocks!
The Haunted – Peter Dolving/Marco Aro
At The Gates successor the Haunted was thrashier than the Björler brothers' previous band. Well, at first it was. The first two albums, the first with Peter Dolving on vocals and the second being Marco Aro's debut, certainly were, as was One Kill Wonder. Their mid-period, marked by Dolving's return, was more experimental and haunting—no pun intended. A couple of heavier releases later, Dolving was out and Aro back in, alongside new guitarist Ola Englund (also of Feared), really energizing the band.
Mayhem – Attila Csihar/Maniac
For laypeople, Mayhem's vocalists are overshadowed by Dead, whose suicide is immortalized on bootleg release The Dawn Of The Black Hearts. Black-metal fans know both Maniac and Attila Csihar put indelible stamps on the genre. The former fronted the legendary Deathcrush EP during his first run. The latter took the band in a more experimental direction on De Mysteriis Dom Sathanas. They'd trade spots throughout the esoteric band's career. Csihar's latest, Daemon, is top tier Mayhem.
Black Sabbath – Ozzy Osbourne/Ronnie James Dio/Tony Martin
The rare metal musician who can be identified mononymously, Ozzy's status as a living legend is impossible to deny. He came to prominence in Black Sabbath, though he's spent nearly as much time out of the band as in. Similarly striking is Ronnie James Dio, who did (many) a song and dance with Tony Iommi and co. Tony Martin is Osbourne's runner-up in terms of time spent with Black Sabbath, which earns him respect despite not achieving as much with the metal trailblazers as the others.