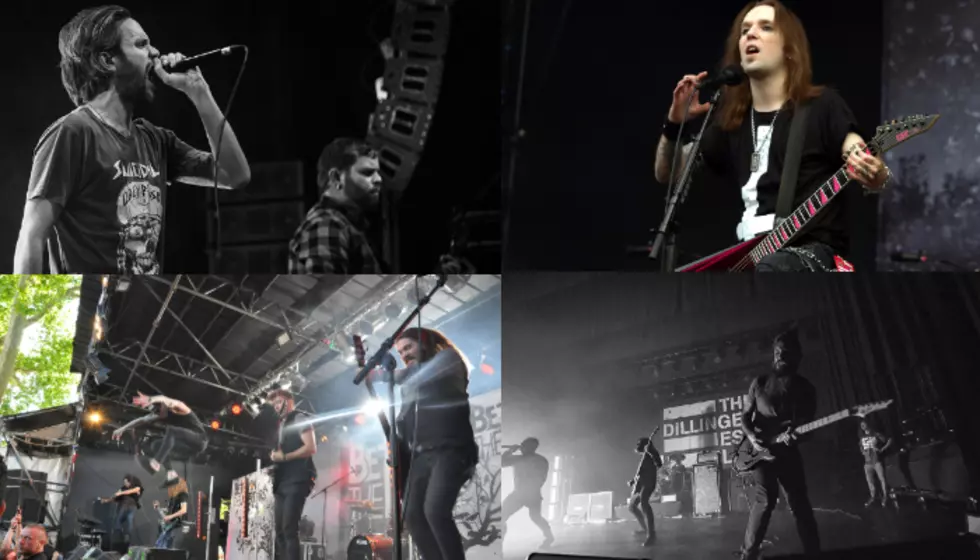 10 metal covers of pop songs that will change your mind on the genre
Metal and pop music often feel so far removed from each other. But when heavy bands give their take on mainstream hits, the results are often really fun. Most metalheads are highly opposed to the bubblegum dance beats that dominate the tracks. Slap a few breakdowns and gnarly riffs over their structure and their stances quickly change on metal-pop-covers.
Here are 10 metal covers of pop tunes that will change your mind on the genre.
1. Between The Buried And Me – "Bohemian Rhapsody"
Go figure the metal band with one of the most diverse sounds around would take a stab at covering Queen. Between The Buried And Me's cover of "Bohemian Rhapsody" manages to straddle the line between their often ridiculous sound and Queen's eclectic tone. If you're lucky, you may even get to see them perform it live if you make it out to one of their shows as they've been known to sporadically bust it out.
2. Children Of Bodom – "Oops!...I Did It Again"
Probably one of the most well-known metal covers of a pop tune, Children Of Bodom's take on Britney Spears' classic "Oops!.. I Did It Again" is necessary listening. Their cover still packs a punch and has some shredding guitar solos, but it manages to stay fairly faithful to the original.
3. Arsis – "Sunglasses At Night"
Corey Hart may have been a one-hit wonder, but "Sunglasses At Night" is undeniably awesome. Somehow, melodic death-metal band Arsis took it up a notch. They tossed in some ultra brutal blast beats and guttural shrieks over the entire thing.
4. Megadeth – "These Boots Are Made For Walkin'"
Megadeth's debut album, Killing Is My Business... And Business Is Good!, is vastly overlooked from the rest of their discography. The thrash kings included a gem of a cover that most forget about. The band's take on Nancy Sinatra's "These Boots Are Made For Walkin'" is so far from the original, but it's incredibly fun metal-pop-cover.
5. Ghost – "I'm A Marionette"
Ghost look a lot more menacing than their music actually sounds, so their cover of fellow Swedes ABBA's "I'm A Marionette" isn't entirely surprising. Nevertheless, their spooky take on the classic track is a far cry from the original and brings a truly satanic spin to the song.
6. Fear Factory – "Cars"
Industrial metal vets Fear Factory normally deliver crushing drop-tuned riffs to the table, but their cover of Gary Numan's "Cars" was a strange choice. There isn't anything particularly metal about the cover. However, it's evidence that the band are capable of more than just playing heavy music.
7. Betraying The Martyrs – "Let It Go"
Everyone surely remembers when Disney's Frozen seemed to be literally everywhere, but the movie's main song "Let It Go" even made its way into metal. French metalcore band Betraying The Martyrs brought a decidedly heavy take to the song with plenty of breakdowns and grimy vocals.
8. The Dillinger Escape Plan – "Like I Love You"
Although the Dillinger Escape Plan are more well known for their spazzy hardcore sounds and violent onstage presence, the band had a soft side to them. One listen to songs such as "Black Bubblegum" or "Unretrofied" completely justifies their decision to do a faithful cover of Justin Timberlake's "Like I Love You."
9. GWAR – "Get Into My Car"
If you aren't completely weirded out by the whole crack smoking, murderous alien schtick GWAR have going for them, you'll love their cover of Billy Ocean's "Get Into My Car." The band's thrashy take on the R&B track is hilarious, heavy and somehow captures the energy of the original.
10. Oceano – "War"
Edwin Starr's "War" is easily one of the all-time most recognizable soul songs, but deathcore act Oceano's cover of it is a beefy beatdown in comparison. Sure, it's a pretty simple take on the song, but the dense breakdowns throughout make for a fun jam.