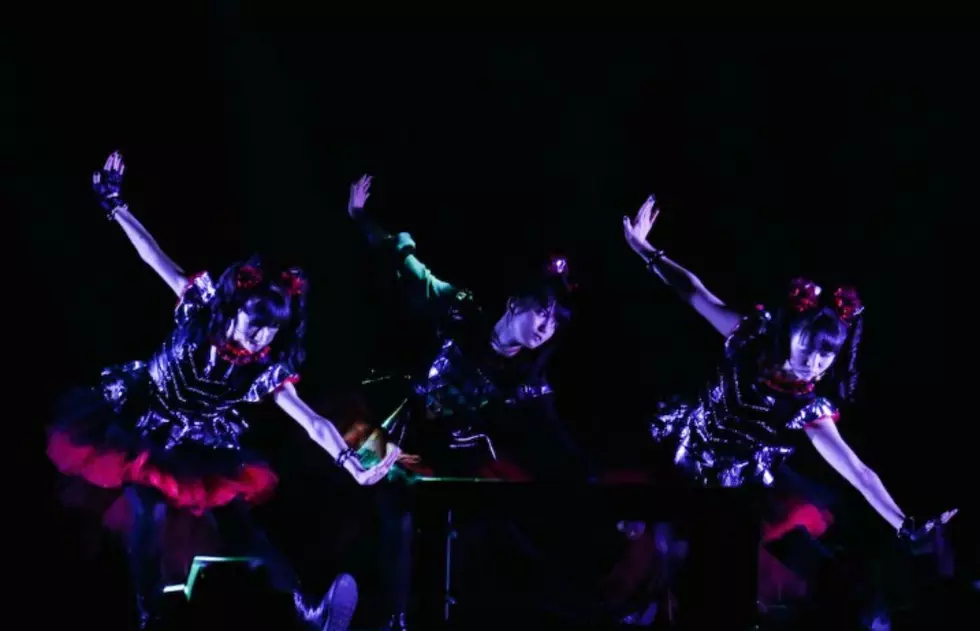 Metal influences and impressions of the US: Q&A with BABYMETAL
Most metal bands don't rock pigtails and tutus while they're head-banging, but then again: Most metal bands don't look and sound like Fifth Harmony backed by Slipknot. Japan's BABYMETAL perform choreography reminiscent of '90s girl bands in front of a four-piece band packing a heavy metal arsenal.
The heavy-metal/teen-pop hybrid group are set to release their sophomore full-length April 1 via RAL/Sony Music Entertainment. News of the album was revealed in front of BABYMETAL's hometown fans Dec. 16 during their two headlining shows at Japan's Yokohama Arena. The group also announced American tour dates. AP caught up with the trio of 17-year-old SU-METAL and 16-year-olds YUIMETAL and MOAMETAL after that performance to talk about their influences and experiences touring America.
What is your favorite part about touring America?
SU-METAL: The thing that left the biggest impression for me in America last year was being on the Lady Gaga tour and visiting Las Vegas for the first time, where I actually went to see the Cirque du Soleil show. Just being there and experiencing that show made me realize that this is what performance is all about. Of course, I also managed to go out into the city, and it felt like this is exactly what I see on TV about America. It left a very, very big impression on me.
YUIMETAL: New York left the biggest impression for me. It's a city I only ever knew about via textbooks at school and the news. The first time I went to New York was last year in May with BABYMETAL, and I saw places like the Statue Of Liberty and Times Square. Everybody in America is very friendly! It didn't matter where I was, whether I was eating or buying souvenirs, people are always coming up and saying hello.
MOAMETAL: The thing that left the biggest impression was probably going to Lady Gaga's show at Madison Square Garden. That was the first time I saw a concert all in English, so of course, it was very alien to me. But just watching Lady Gaga performing and really reaching out to every single fan in the crowd gave me a little dream of one day seeing BABYMETAL playing in such a big venue, in front of so many people, and really putting out all the emotions and expressing it to every person who comes to the show.
If you could have any dream guest join you onstage, who would it be?
SU-METAL: The artist we respect the most is Metallica, so obviously if the chance ever came, I would like for us to play with Metallica.
What metal band inspired you the most?
SU-METAL: My answer is the same here—Metallica. Because the first time we saw a metal band live was Metallica two years ago in Japan. Watching Metallica perform, and the way the fans reacted and their aura on stage, was something that I can say is very 'godly.' They were also the band that helped us learn more about metal and made us want to learn more about metal. So yes, it's Metallica.
What is something fans wouldn't know about BABYMETAL?
SU-METAL: We were trying to think of something we could actually share with our fans that they don't already know, but the fans find out at the same time we find out! So there's really nothing that the fans don't know that we know.
Do you have any special message from BABYMETAL to the readers of AP?
SU-METAL: In the past year, years actually, BABYMETAL has played some headline shows in America. The first two were in New York, L.A. We've also played some other cities and some festivals there, and we are just hoping and looking forward to coming back to meet all the fans in America when the chance comes up again. Also what I would like most to say is the biggest thing about BABYMETAL is coming to experience it live, so the next time we head over there, I hope that if you have even of the tiniest bit of interest in BABYMETAL to come to one of our shows and experience BABYMETAL with us!
Watch BABYMETAL live in Japan: