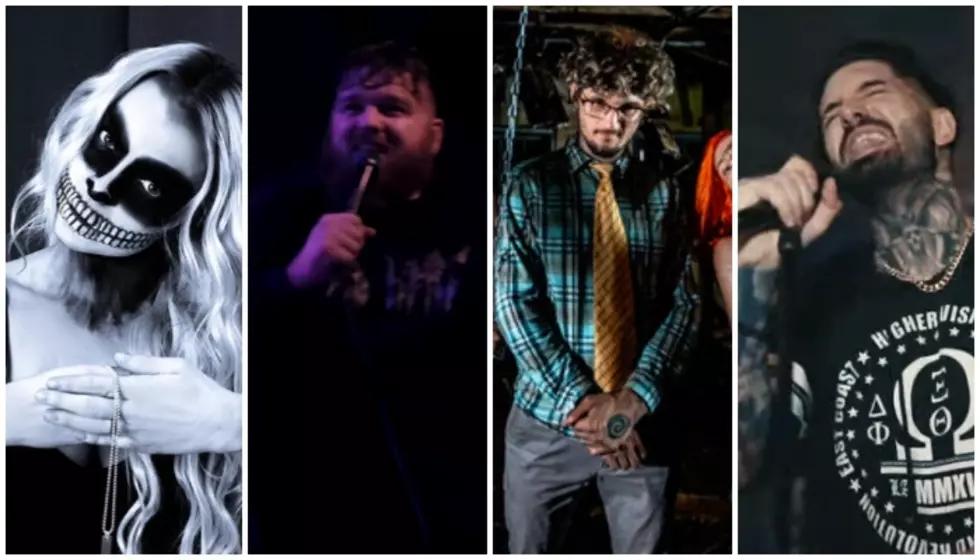 20 debut albums that took metalcore to the next level in 2020
[Photos via: Scarlet/Spotify, Dragged Under/YouTube, Tallah/Spotify, October Ends/YouTube]
This year, blessing show-deprived fans with longer releases was a much-needed effort. And metalcore bands made far-reaching full-length debuts. They opened a new era by bringing it back to hardcore punk, putting a fresh spin on the golden years or shaking it up with contemporary influences.
Here are 20 metalcore debuts from 2020 that are totally worth your time. Did any of these slip under your radar? Check out the records below and shout out your favorite in the comments!
Tallah – Matriphagy
Just a fun bedtime story about trying to put a bloody end to a childhood trauma. And it's brought to you by strategically random chaos. It stars the Slipknot Snare™, about a thousand screaming, rapping, pig-squealing and growling manic emo personalities, featuring deathcore, turntable scratching, blast beats, technical guitar solos, Korn, haunting hooks, dynamic nuance, bounce riffs and your mom (duh). Feeling lost? Confused? It's OK. Being hardworking digital-era content creators, Tallah made sure it's easy to fall down the rabbit hole of layers of Matriphagy. The concept series will help hunt down Easter eggs (or gutted bunnies) in videos. And Max Portnoy's drum playthroughs, Justin Bonitz's vocal videos, Andrew Cooper's bass and Derrick Schneider's guitar playthroughs are pretty damn awesome, too.
Hollow Front – Loose Threads
Since their inception four years ago, Hollow Front were the band everyone were rooting for to blow up. And now they officially made it by joining UNFD. But their tight melodic instrumentals, balanced out with chugging riffs and djent-y breakdowns, Tyler Tate's heartfelt screams, Dakota Alvarez's show-stopping singing parts and relatable emotional lyrics were generating millions of views and streams way before they signed the label. It's all-around dynamic metalcore perfection. And Loose Threads sets a new melodic metalcore standard for years to come.
DRAIN – California Cursed
We started thinking crossover has been played out by this point (or a couple of decades ago). But DRAIN kicked down the door of metalcore's current time capsule. They made a smashing entrance with a fresh, passionate and unexpectedly structured upgrade to the retro thrash-metalcore fusion. California Cursed's sleek production brings out the alertness in crunchy riffs, crisp snares and high-pitched scream commands. In turn, it makes the groovy lower-register action impossible to not headbang to.
Gulch – Impenetrable Cerebral Fortress
Creative ways to emulate gigs, such as livestreams and VR concerts, became an essential way for bands to connect with fans in the "new normal." Gulch geeked out with sound design. They put listeners in a raw sonic space where crunchy riffs, drum attacks and rough vocals feel almost physically real. Jack Shirley, who's known for giving life to sonic characters as diverse as Deafheaven and Remo Drive, produced Impenetrable Cerebral Fortress. And it convinces us that there is no cerebral fortress this onslaught of high-voltage hardcore punk and death-metal brutality would fail to penetrate and flood with circle-pit levels of adrenaline.
Ghøstkid – GHØSTKID
Freshly out of Eskimo Callboy, Sebastian "Sushi" Biesler made an entrance to the dark side as Ghøstkid. His hard-hitting and extremely entertaining debut LP shows that leaving the German's trancecore group was a career-defining move. Backed by his new band and radically supportive fans, Sushi dropped GHØSTKID on Friday the 13th of November. It's a dynamic, alt-metal, industrial, nü-metal and electropop-flavored take on metalcore. He's metalcore's YUNGBLUD personality-wise, a close relative of Oli Sykes and a distant cousin of the Marilyn Manson/Ghostemane family tree creatively. And Ghøstkid will be an exciting phenomenon to track in the rapidly progressing scene during a new decade.
October Ends – Zodiac
The album art screams Architects. Which is a nice reference considering U.K.'s up-and-coming metalcore unit play into a similar type of dreamy vs. extreme type of duality. October Ends' vocals are also dual. The two vocalists' range spans from dramatic reverbed screams to deep growls, raps and iridescent clean singing. Zodiac gives a kaleidoscopic view of different metalcore eras as it embraces melodic metalcore legacy with stunning lead guitar runs such as those opening "Resilience 鼡." The record takes it all the way to contemporary influences such as trap beats and freshly revived nü-metal chugs and scratches. While also going heavy on the djent-y Architects bounce, of course. The lead single "Bury Me Under 豭" says it all. And here's the reaction it deserves.
END – Splinters From An Ever-Changing Face
The debut full-length from members of Counterparts and Fit For An Autopsy is the sonic equivalent of getting your head stuck in a beehive. And then you fall down a cliff while going through all the emotional stages that would come with such experience. Gulch labelmates from Closed Casket Activities, END instantly absorb you into a claustrophobic chaos of buzzing guitars, manic drum patterns and terrorizing screams contemplating existential dread.
Dragged Under – The World Is In Your Way
If consistency between tracks and style uniformity is what you're looking for in an album, you should skip to the next one. The World Is In Your Way is a hot mess. More than anything, the full-length debut by Dragged Under sounds like a dream playlist made by a 2000s scene kid. There's some melodic deathcore, pop punk, some post-hardcore and then some nü metal and Foo Fighters to listen to when no one's around. But it's 2020, and the kid is all grown up, has a beautiful beard and a YouTube channel called Riffs, Beards & Gear. And he lowkey has a band who already toured with the Used.
Downswing – Good Intentions
Allowing New York hardcore punk to perform the lead role, Downswing also create elaborate supporting characters of crossover and progressive metal on Good Intentions. Outbursts of intensity get balanced out with melodic takes, where Brett Colvin's emotional clean vocals give an awesome contrast to his raspy shouting old-school hardcore style.
Glass Tides – In Between
Glass Tides' Spotify bio goes, "Glass Tides. Emo. Passion." And that's exactly what In Between entails. To be more specific, Glass Tides play with a bunch of different genres. They come in waves of post-hardcore, emo, metalcore, alt-rock, post-punk, pop punk and shoegaze. It makes the dynamic body of In Between a refreshing listen in between all the heavy stuff. Oh, and the lyrics and most of the vocals here are 100% emo, by the way.
SCARLET – Obey The Queen
On Obey The Queen, SCARLET spits fire on misogynist ugly fuckers. And she threatens the Zodiac killer like the "#bossbitch" she is. Metalcore isn't the first scene that comes to mind when thinking about female empowerment. But Sweden's SCARLET is a loud new (and nü) voice who makes the same point that Ashnikko, Rico Nasty, Nova Twins or the Buttress make in their genres. SCARLET's debut attacks with nü-metal-supercharged, industrialized metalcore. There are nods to Scandinavian atmospheric metal tradition. She charms with pop appeal as her chameleonic vocals scream, rap, shout, whisper in creepy baby voices. And she impresses with control and range in these anthemic rock power ballads.
Blueshift – Voyager
Members of the R/Metalcore community, the internet's best resource of the latest metalcore hype, left a generous amount of praise for this one. It's all in the discussion titled "If you like ERRA.. listen to Blueshift and their new album Voyager!" User u/Twinningspree859 is absolutely right. Even if you're not an ERRA stan, Blueshift's futuristic explorations of progressive, atmospheric and djent terrains with polished instrumentals and raw vocals on Voyager are worth checking out, both in the original and the instrumental modes. Also, both albums make a great intro for their latest single, "Rain." Yes, 2020 was extremely productive for some people.
Mikau – Phantoma
On their Phantoma, Mikau take the basic song structures of melodic metalcore. Then they build a vibrant neon city with a turbulent mix of trance/Nintendocore on top of them. But it's not the dynamic interplay of breakdowns, keyboards and synths that truly make the album stand out. It's the added dimension of raw and emotional screamo/post-hardcore-echoing vocals. They give a heart and a soul of a living creature to the mix.
Viscera – Obsidian
Like a robotic moth, a glistening guitar solo flies out of a gentle piano interlude. It dives right into dark deathcore flames and arises in the form of an atmospheric dragon with shiny metal wings. All of this drama fits into the first seconds of Obsidian, and twists and turns happen at meteoric speed in Viscera's majestic thrash-death-math-black-power metalcore realm. Also, it's laced with demonic vocals and glitchy chuggs.
Year Of The Knife – Internal Incarceration
Internal Incarceration is an ominous explosion of straight-edge hardcore laced with brutal death metal. Converge's Kurt Ballou, the mastermind behind the sound design of Code Orange and Nails, produced the project, too. A pretty decent setup for a debut LP, huh? Year Of The Knife's uncompromised and multifaceted compositions received the treatment they deserved. Also, every instrumental layer is transparent and hits in full force, from crunchy guitars to chunky bass to manic drums and infernal screams. This is a band to watch in 2021 and, hopefully, far beyond.
Omerta – Hyperviolence
The hysterical cover art of hyperpop's evil brother is a scientifically accurate depiction of Omerta's first-ever mini-LP, Hyperviolence. If this visualization raises more questions than it gives answers, picture this: a glitching lo-fi Pennywise hologram is holding a magic hat and keeps pulling out every 2000s nü-metal and deathcore cliche imaginable, in random order and 10 times faster than your brain's processing speed. As your jaw drops, a dangerous dose of down-tuned chug riffs, blast beats, panic chords, technical solos, heavy breakdowns, manic screams, melodic hooks and cringy raps get shoved right down your throat. Your common sense is telling you to stop. But you keep eating it up because it tastes so damn good. Also, it all this comes to an unexpected end in 19 minutes. You'll likely clap your hands with the excitement of a 5-year-old and shout out "Again!"
Darko US
–
Pt. 1 Dethmask
It's already apparent in the track length. But Pt. 1 Dethmask is, indeed, a 14-minute short tornado of down-tuned, intense, growling, blast-beating, screaming and pig-squealing deathcore. Still, Darko US' debut packs a more nutritious set of ingredients than your everyday lunch-break deathcore. Can it get any darker? Yes. Can it get any heavier? Yes. How? Djent. Also, nü metal. Bon appétit.
Saving Vice – Hello There
Well hello, one more freaky character in the vocal-duo game and a quality addition to the present-day melodic metalcore bunch. A little scene, a little post-hardcore, super catchy and melodic to its core, Saving Vice create a beautifully flowing dark veil with clean vocals, keyboards and symphonic samples. Before you get too caught up in it, they pierce the delicate fabric with chopped riffs on Hello There. They do the same with breakdowns and dissonant chugs. It's a simple yet effective formula to summon the ghost of a Myspace metalcore kid and make them dance.
Cadaverette – A Farewell To Earthly Existence
Cadaverette is an underground gem of sludge-metal-expanded hardcore. And they made an enchanting debut with A Farewell To Earthly Existence. It's a dark, dense and noisy horror fairy tale. And it's told by a little girl singing, a hardcore punk frontwoman shouting and a metal singer screaming. The instrumentals take her on a suspenseful trip of constantly shifting moods, pace and intensity.  
Devil In The Details – The Hell You Wanted
Devil In The Details' full-length debut is a 10-track release of passionate feel-better-core. There's the perfect dose of anthemic hooks, melodies, bounce riffs, screams and relatable rage/melancholy emotional scale for the shitshow that was 2020. Also, as DITD say, they aim to create "a safe haven" for their fans and make them feel like they're not alone. So save The Hell You Wanted as your go-to metalcore emotional support animal in quarantine when you need one.