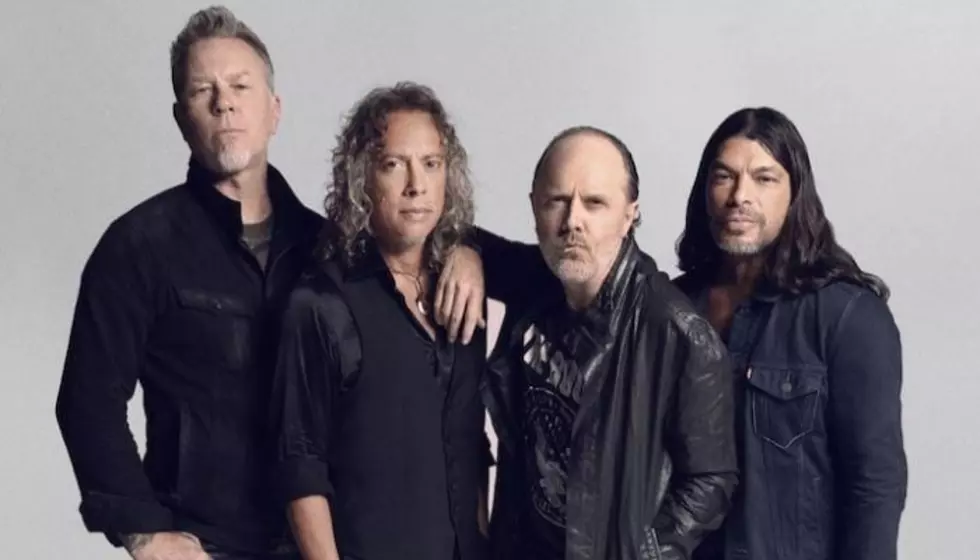 Metallica fan plays "Don't Tread on Me" to scare away wild cougar
[All photos via Spotify]
One Metallica fan used one of the band's songs to combat a wild animal and it turns out, it actually worked. 
Canadian woman Dee Gallant recently discussed an encounter she had with a cougar and how she used heavy metal to save herself. 
Gallant was on a walk in a town in British Columbia with her dog when she encountered a wild cougar. 
"I looked over to the right and there it was," she told Kelowna Now. "I couldn't make it out at first and thought, 'Oh that is a strange color, that's not a tree.'" 
She said the animal started to approach her when she took out her phone to record the moment. 
"It was crouched down, doing that kind of prowl, predator walk they do - that was when I waved my arms and yelled, 'Hey, you stop!' and it did," she said. 
You can see her video below. 
Her words of encouragement to the animal weren't enough, so she did what she had to do — started blasting "Don't Tread on Me" by Metallica. 
"I thought it was the noisiest thing on my phone that would probably scare it," she continued. "That was also the message I wanted to convey to the cougar." 
It turns out it worked as the cougar eventually left her alone and retreated into the woods. 
She said she would "love to contact (Metallica) someday and tell James Hetfield that he saved my life." 
You can listen to "Don't Tread on Me" below and save it in case you ever need to fight off a wild cougar. 
More Metallica news
A congressman has called out Metallica after it was discovered they allegedly partnered with Live Nation to sell portions of their tickets directly to resellers.
To backtrack, Billboard published the news last week about the ordeal. 
Billboard obtained a recording of an 11-minute phone call from 2017 between Live Nation's U.S. president of concerts, Bob Roux, longtime Metallica associate Tony DiCioccio and independent promoter Vaughn Millette.
The call came prior to Metallica's "WorldWired Tour" and allegedly saw DiCioccio asking Roux to set aside tickets for resellers. Apparently, 10,000 tickets were set aside for the opening show because management worried tickets were too cheap.
"After seeing the volume of secondary transactions for that show and the benefit being captured by brokers, the independent consultant [DiCioccio] worked with Live Nation on a unique distribution strategy that used the secondary market as a sales distribution channel for select high-end tickets," Live Nation said in a statement.
The parties allegedly made a deal with Metallica and Live Nation each receiving 40% of resale revenue with the remaining 20% going to DiCioccio and Millette.
The deal allegedly set aside 4,400 tickets per show, totalling 88,000 tickets.
Executives were reportedly discussing ways they could keep the partnership a secret. In the call, they discuss registering an email address to transfer tickets to so they appear to be for sponsors.
Millette eventually lost money through the deal but to make up for it, he didn't return some of the revenue. This reportedly bothered DiCioccio and Metallica. He later emailed a recording of his conversation, which leaked to Billboard.
In 2018, Metallica allegedly partnered with Live Nation again to sell tickets directly through resale markets, this time without Millette.
Representatives for Metallica told Billboard the members weren't aware of the deal. Despite their statement, DiCioccio is still working with the band as a "ticketing consultant."
Since all of that, New Jersey congressman Bill Pascrell discussed the "latest scam" involving the situation. He did so before the House Committee on Energy and Commerce. 
 "Unbeknownst to fans, apparently Ticketmaster and Live Nation were working with (Metallica's) management to hold back 88,000 tickets, and post them directly on resale sites," he said. "That's sad, but it is true." The last part was a reference to the band's 1991 track "Sad But True". 
"Live Nation admitted to the scheme last week and about a dozen artists between 2016 and 2017 could still be doing the same.  This is wrong," he continued. 
Pascrell's speech was part of his push for ticketing reform, which he's been doing for about a dozen years. He introduced the BOSS Act in response to similar allegations against Bruce Spingsteen. 
The BOSS Act is the Better Oversight of Secondary Sales and Accountability in Concert Ticketing Act. It is a reference to Spingsteen's nickname of The Boss. 
"I first introduced the bill twelve years ago, when there was a major issue with the Bruce Springsteen tour," Pascrell said.  "And these problems are not going away."
"The BOSS Act forces the disclosure of how many tickets are going on sale, how many are being held back, and where those tickets are coming from," he continued. "It will also prevent those with connections to artists and venues from knowingly reselling tickets at a jacked-up price.  For the secondary marketplace, the bill also addresses speculative ticket sales and so-called white label sites that trick consumers."
He later said Live Nation uses Ticketmaster to succeed in "ripping off regular folks, daily". 
"It's important to emphasize that the marketplace has been governed by zero federal regulation," Pascrell later said.  "Live Nation operates with impunity."
What do you think of Metallica being used to scare away a wild cougar? Sound off in the comments down below!
[envira-gallery id="186695"]