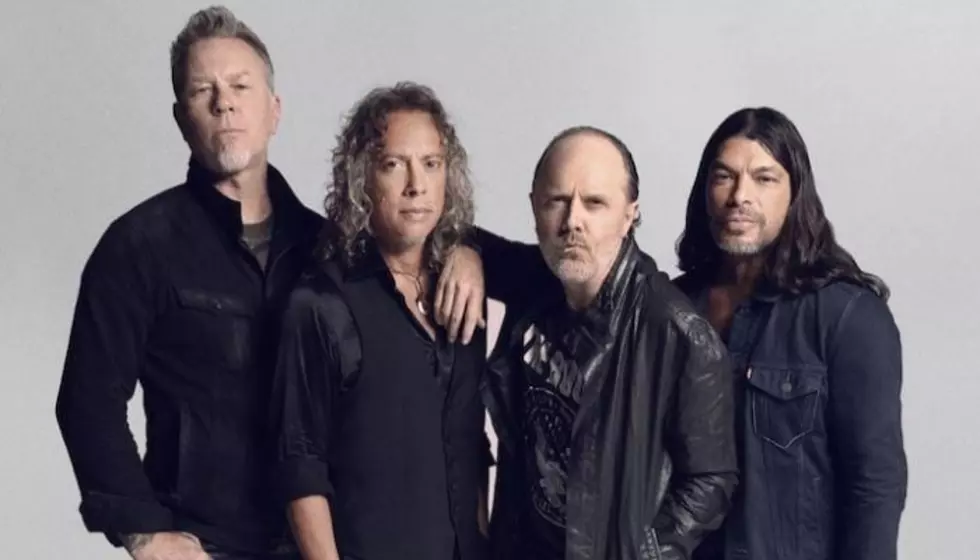 Metallica initiative gives $1 million to 10 U.S. community colleges
[All photos via Spotify]
Metallica are showing you can be rock 'n roll and care about your education with their latest move.
The band has awarded $100,000 to Lone Star College to help students find careers in healthcare, transportation, oil and gas and mechatronics.
The award is a part of the band's foundation, All Within My Hands, partnering with the American Association of Community Colleges. That partnership is part of a $1 million Metallica Scholars Grant that is distributed to 10 various community colleges.
"We are extremely grateful for Metallica's support," Linda Leto Head, Lone Star's senior associate vice chancellor of external and employer relations, said in a statement. "This grant supports job skill training that is relevant and very much needed."
The grants will help more than 1,000 students obtain job training. It will also help students with things like daycare, work uniforms and drug and alcohol testing.
"They are funding items that make it difficult for a working parent or sole family provider to attend community college for fast-track training," head said.
Last month, Metallica took part in a charity donation that involved them raffling off autographed guitars at this year's Metallica Night to raise money for charity. According to an Instagram post from the band, the proceeds go directly to Metallica's All Within My Hands Foundation.
 

View this post on Instagram

 
Other Metallica news
The Ted Bundy biopic Extremely Wicked, Shockingly Evil and Vile premiered on Netflix recently. The film stars Zac Efron as Bundy who shares nothing but praise for his fellow actor and Metallica frontman James Hetfield.
Hetfield plays Officer Bob Hayward in the upcoming film, the patrolman who arrested the real Bundy back in 1975. While the role marks Hetfield's first dramatic acting debut, it looks like he hit this one out of the park.
This isn't the first time Hetfield has worked with the film's director, Joe Berliner. As it turns out, Berliner also co-directed Metallica's Some Kind of Monster documentary.
Last night, Efron sat down for an interview on Jimmy Kimmel Live! where he revealed what it was like working with a member of Metallica.
"He comes on the set, and it's one of the more pivotal moments," Efron says. "It's the moment that Ted actually got caught for the first time—he ran a stop sign. And James Hetfield plays the policeman that picks him up."
"And James Hetfield, to his credit, and absolutely nailed the part, he just crushed it. It's like he's been acting his own life. He had no fear. He did a great job. I was ready to maybe give James Hetfield [an acting] tip, but he didn't ask for a single one. James Hetfield is the shit!"
Kimmel then cracks the joke, "Of all the stories about Ted Bundy, I never knew he was arrested by Metallica. I had no idea."
To which Efron replies, "Even though I was acting … when I got pulled over by James Hetfield, it was kinda like a dream come true. [For] a lot of dudes, it would be their dream come true."
Check out the full interview below.
What do you think about Metallica's big donation? Sound off in the comments below!
[envira-gallery id="194356"]