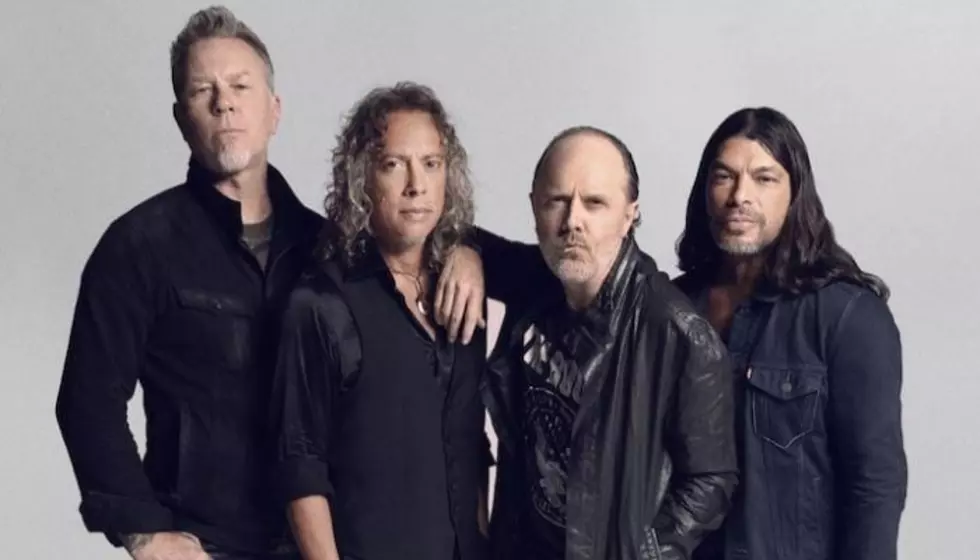 Metallica drummer gives update on James Hetfield's rehab stay
[All photos via Spotify]
Metallica drummer Lars Ulrich has given an update on James Hetfield's stay in rehab after the band canceled their planned tour for the frontman to take care of himself. 
Last month, the band postponed their upcoming Australia and New Zealand tour for Hetfield to go to rehab. 
Kirk Hammett, Lars Ulrich and Rob Trujillo penned a lengthy statement about Hetfield's addiction issues over the years on their website.
We are truly sorry to inform our fans and friends that we must postpone our upcoming tour of Australia and New Zealand.
As most of you probably know, our brother James has been struggling with addiction on and off for many years. He has now, unfortunately, had to re-enter a treatment program to work on his recovery again.
We fully intend to make our way to your part of the world as soon as health and schedule permit. We'll let you know as soon as we can. Once again, we are devastated that we have inconvenienced so many of you, especially our most loyal fans who often travel great distances to experience our shows. We appreciate your understanding and support for James and, as always, thank you for being a part of our Metallica family.
All tickets purchased to the shows in Australia and New Zealand, including Enhanced Experiences and Black Tickets, will be fully refunded. More details on how to obtain your refund are below.
The band has remained silent on Hetfield's stay in rehab, until Ulrich's new comments to USA Today. Ulrich was asked how Hetfield was doing in rehab, and Ulrich protected the singer's privacy while giving fans a brief update. 
"He's doing what he needs to; he's in the process of healing himself. I feel bad for everybody down in Australia and New Zealand, but we're excited to get back to full force and come back stronger and healthier than ever," he said. "Along the way, there's obviously an occasional bump in the road. But it's been an incredible ride, and we're looking forward to getting back down there, hopefully next year." 
He was asked about his reaction to Hetfield entering rehab, which he refused to comment on. 
"I think the biggest surprise is just how positive the feedback has been from our fans and friends and peers alike," he continued. "It's very heartwarming, and it's just blown our minds how much love and appreciation and support we've gotten in the last week since we had to postpone this. It's an incredible thing."
Earlier this week, Metallica were announced to exclusively headline all five of the Danny Wimmer Presents hard rock festivals in 2020.
These five festivals are Epicenter, Welcome To Rockville, Sonic Temple Art + Music Festival, Louder Than Life and Aftershock. Metallica will be performing two unique setlists at each event.
This is an unprecedented collaboration that has never occurred for a promoter or band. The five festival dates and locations are below.
Epicenter (May 1-3) at its new location at the Charlotte Motor Speedway in Charlotte, NC

Welcome To Rockville (May 8-10) at its new location at the Daytona International Speedway in Daytona Beach, FL

Sonic Temple Art + Music Festival (May 15-17) at MAPFRE Stadium in Columbus, OH

Louder Than Life (Sep. 18-20) at Highland Festival Grounds at KY Expo Center in Louisville, KY

Aftershock (Oct. 9-11) at Discovery Park in Sacramento, CA
These are the only festivals Metallica is performing at in the United States in 2020. Thee two unique setlists at each festival will be entirely different than the other festivals. This means that there will essentially be 10 different shows.
"Metallica isn't just another headliner. When Metallica takes the stage, it's an event. It's an experience. That's the same standard we've set for every DWP festival – from the first band to the last band, and everything that happens in between. I can't wait to bring the biggest band in the world to the biggest rock festivals in America," says Danny Wimmer, founder of Danny Wimmer Presents.
[envira-gallery id="197607"]