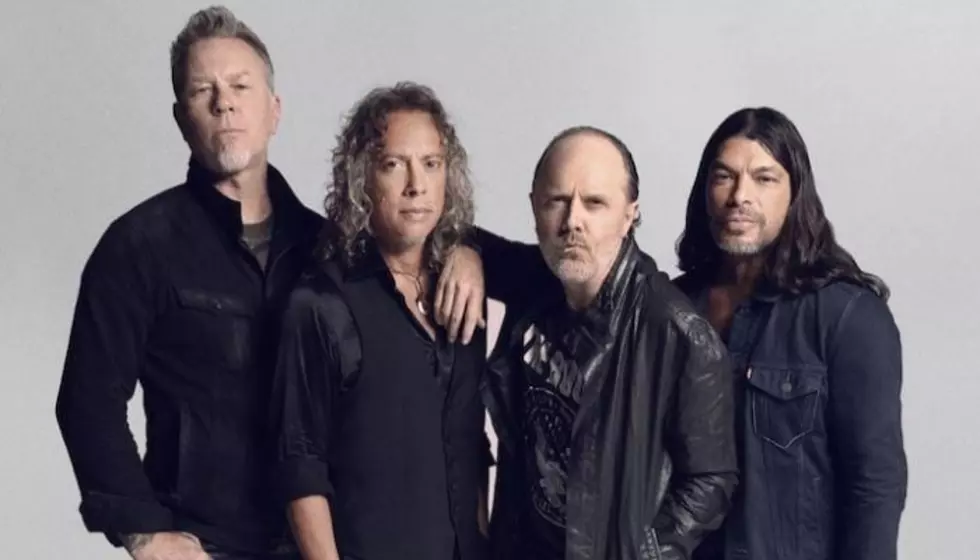 Metallica frontman James Hetfield plays first post-rehab performance
[All photos via Spotify]
Metallica's James Hetfield made his first public appearance post-rehab last month to show off his vintage car collection, and now he's played his first set since then.
Hetfield hit the stage last night (February 20) as part of a tribute night for late musician Eddie Money.
Back in September, the band postponed their Australia and New Zealand tour so Hetfield could focus on sobriety.
The band offered a lengthy statement about the issue and gave fans refunds for tickets they purchased.
Kirk Hammett, Lars Ulrich and Rob Trujillo penned a lengthy statement about Hetfield's addiction issues over the years on their website.
A month later, drummer Lars Ulrich gave an update on James Hetfield's stay in rehab with comments to USA Today. Ulrich was asked how Hetfield was doing in rehab, and Ulrich protected the singer's privacy while giving fans a brief update.
"He's doing what he needs to; he's in the process of healing himself. I feel bad for everybody down in Australia and New Zealand, but we're excited to get back to full force and come back stronger and healthier than ever," he said. "Along the way, there's obviously an occasional bump in the road. But it's been an incredible ride, and we're looking forward to getting back down there, hopefully next year."
Now though he's made his return to the stage. Hetfield performed an acoustic cover of Eddie Money's "Baby Hold On" during a benefit concert.
The show took place in Saban in Beverly Hills, California titled 'A Star-Studded Tribute To Eddie Money'. All proceeds from the event went towards USC Eddie Money Cancer Research Fund.
You can watch his performance below.
Hetfield is set to hit the stage with Metallica soon enough with a handful of dates in South America as well as all five of the Danny Wimmer Presents hard rock festivals in 2020. You can see those dates below.
Dates
04/15 Santiago, CHL – Estadio Nacional
04/18 Buenos Aires, ARRG – Camp Argentino de Polo
04/21 Porto Alegre, BRA – Arena do Gremio
04/23 Curitiba, BRA – Estadio Couto Pereira
04/25 Sao Paulo, BRA – Estadio do Morumbi
04/27 Belo Horizonte, BRA – Estadio do Mineirao
05/01-03 Concord, NC – Epicenter Festival
05/08-10 Daytona Beach, FL – Welcome To Rockville
05/15-17 Columbus, OH – Sonic Temple Art & Music Festival
09/18 Louisville, KY – Louder Than Life
09/26 TBA – Global Citizen Festival
10/09-11 Sacramento, CA – Aftershock Festival
What do you think of James Hetfield's first live performance since he entered rehab? Let us know in the comments below.
[envira-gallery id="199143"]