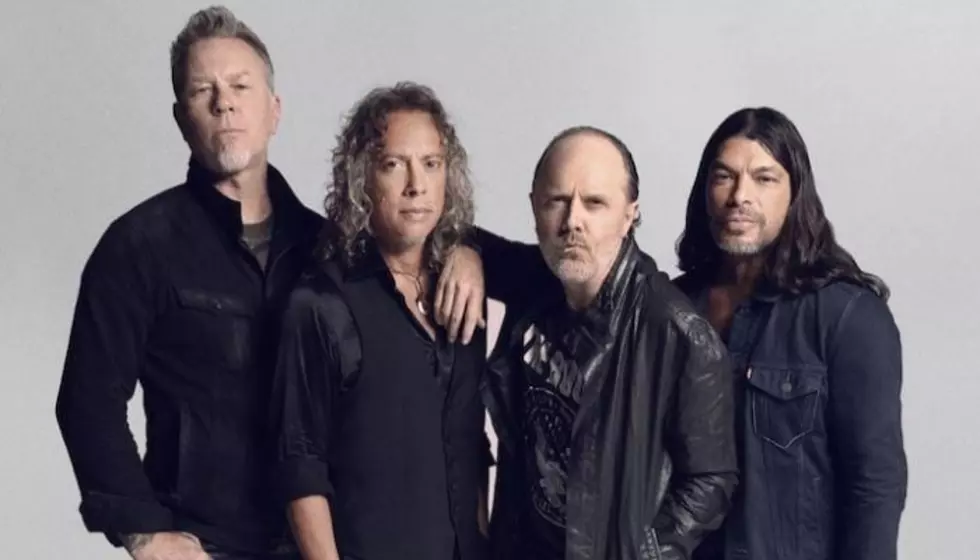 Metallica raffling off signed SF Giants guitars for charity
[All photos via Spotify]
Metallica played "The Star-Spangled Banner" before the sold-out San Francisco Giants' game against the New York Yankees at Oracle Park yesterday, April 26.
The performance marks the seventh annual Metallica Night for the San Francisco Giants. As reported by Consequence Of Sound last Feb., the band planned to play the national anthem and participate in various games between innings.
Luckily for us, that's exactly what they did. After James Hetfield and Kirk Hammett ripped through the national anthem, drummer Lars Ulrich threw out the ceremonial first pitch. According to Rolling Stone, the band also announced the teams' starting lineups.
Additionally, the autographed guitars that were used for this year's Metallica Night are currently being raffled off to raise money for charity. According to an Instagram post from the band, the proceeds will go directly to Metallica's All Within My Hands Foundation. The sweepstakes ends on May 5 at 11:59 p.m. EST. Until then, you can enter to win here. 
 

View this post on Instagram

 
"We're blessed to be doing this every year and being a part of the vibe here," James Hetfield says in a story with Blabbermouth. "You know, when times are good, when times are bad, they need the support."
"It's great. It's a lot of fun," Hammett adds. "It's a good opportunity for us to interact with our home team, hometown, and interact with the people of the Bay Area in San Francisco. And for me, it's a lot of fun to be able to play the national anthem."
You can watch the band perform "The Star-Spangled Banner" at the San Francisco Giants game below.
Additionally, you can watch Ulrich throw out the first pitch.
Unfortunately, the San Francisco Giants lost to the Yankees last evening 7 - 3. However, the teams will face off again this afternoon, sans Metallica, at Oracle Park.
What do you think of Metallica's take on the national anthem? Sound off in the comments below.
[envira-gallery id="194402"]