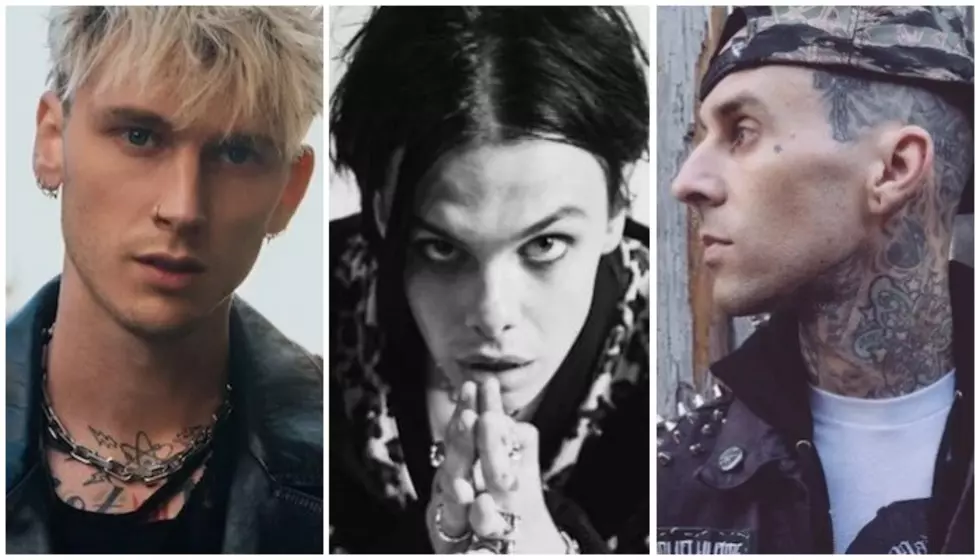 MGK, YUNGBLUD and Travis Barker have another new collab on the way
[Photos via Machine Gun Kelly/Alexandre Faraci, YUNGBLUD/Tom Pallant, Travis Barker/Jeremy Deputat]
If you thought you heard the last collaboration from Machine Gun Kelly, YUNGBLUD and Travis Barker, think again.
The trio has decided to surprise drop their new collab "Acting Like That" and it's arriving sooner than you might think.
MGK, YUNGBLUD and Travis Barker are no strangers to one another. Back in 2019, they collaborated on "I Think I'm OKAY" which was recently certified platinum in the U.S. after it surpassed 1 million sales. As well, the trio joined forces with 24kgoldn for a cover of Sublime's "What I Got" for an episode of The YUNGBLUD Show.
More recently, MGK, YUNGBLUD and Barker teamed up with the Used's Bert McCracken for the mega-hit "body bag." The song appears on MGK's new pop-punk album Tickets To My Downfall which was co-produced by Barker.
Now, it looks like the trio has even more music in store. On Monday, YUNGBLUD shared a video of him talking to MGK over video chat. Together, the duo decided to say "fuck it" and surprise drop their new collab with Barker "Acting Like That." The track arrives on Tuesday, Dec. 1 at 9 P.M. PT.
SURPRISE !!! me kells n travis just said fuck it and are dropping a song tomorrow ! "acting like that" out tomorrow night midnight (local) 9pm (PST). im so excited i dribbled! are u fuckin ready?!?
The single will arrive just days after YUNGBLUD debuted his powerful new song "mars." The track appears on his upcoming album WEIRD! which arrives on Dec. 4 after facing distribution delays.
As well, "Acting Like That" marks MGK and Barker's first musical collaboration since the release of Tickets To My Downfall. Earlier this month, Barker confirmed that he and MGK are already back in the studio working on even more new music alongside Jxdn.
Mod Sun
Downfalls High
official teaser
Tickets To My Downfall
TikTok
Chase Hudson
Euphoria
Sydney Sweeney
Downfalls High
On top of all of this, Barker is also currently working on blink-182's follow-up to NINE. The EP was originally set to arrive this summer after the debut of "Quarantine." However, those plans quickly changed.
Mark Hoppus confirmed that the new EP is set to arrive in late 2020 or early 2021. As well, blink-182 have been working so hard on the release that they may have enough material to make it into a full-length album. Matt Skiba also hinted that blink-182's new batch of songs remind him of the Enema Of The State and Take Off Your Pants and Jacket eras.
To help get you ready for "Acting Like That," "I Think I'm OKAY" is available to stream below.
What are your reactions to MGK, YUNGBLUD and Travis Barker releasing another collab? What do you think the new song will sound like? Let us know your thoughts in the comments below.