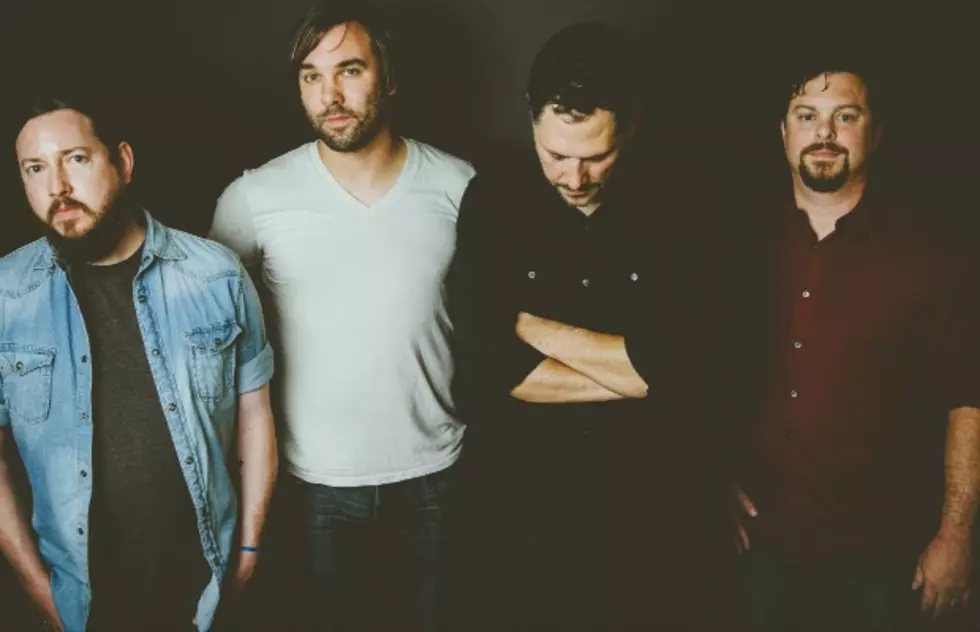 "The problem with bands ending [is] they're always just on the cusp of something"—Mineral interview
They only existed for a scant three years and their recorded output barely cracks 20 songs, but the influence of second-wave emo icons MINERAL has been far reaching. They have high-profile fans ranging from Frank Turner to New Found Glory; Balance And Composure and Into It. Over It. have both created tribute shirts to the band; and with the latest wave of young bands coming out of upstart labels like Topshelf, Run For Cover, No Sleep and Count Your Lucky Stars, the Austin, Texas-based quartet's cup has runneth over with demand for a reunion. Public demand has been answered: The band will reunite this fall for a headlining tour (as well as appearances at Riot Fest and the Fest), playing sold-out shows from coast to coast, something they were never able to achieve in their initial run. We sat down with Mineral vocalist/guitarist CHRIS SIMPSON to get all the details on Mineral's past, present and future.
INTERVIEW: Scott Heisel
At what point during the past 15 years did you realize people wanted to see Mineral reunite?

CHRIS SIMPSON: I kind of knew it all along, to a degree. I'd get random emails from people saying, "I love Mineral, I never got to see them, will you ever do a reunion show?" But I definitely don't think we had any idea how big it was to people. In the immediate aftermath of Mineral, I wanted to distance myself from it, and I think that carried on for quite a while. Just for whatever annoying reason, you don't want to be known for what you've done in the past, you want to be noticed for what you're doing in the present. So for a long time, I wasn't really interested in looking back at Mineral. But in the last year or so, I felt a change in that regard. Really realizing it had been 20 years [since the band started] made me think about it in a different way.
Mineral only existed for three years.

Yeah, it's always listed as four years, but even though the last record came out in '98, we played our last show together in '97. It was a really intense amount of time. It feels bigger than that.
That's kind of the time period, between 1994 and 1997, when the internet was just starting to figure out how to document underground culture. There are lots of things from that era that were not preserved as well as Mineral have been. For example, your final show exists on YouTube—and it only has about 2,000 views. Have you found yourself going back to relive this stuff?

It's been a real challenge to re-learn a lot of these guitar parts. It feels like another lifetime. I can listen to the recordings and recognize my parts, but translating that to muscle memory is a different thing entirely.
When were the seeds sewn for this reunion?

Jim Adkins from Jimmy Eat World was in Austin for the Austin City Limits festival back in October, and I went and had coffee with him. He was telling me how it was the 20-year anniversary of Jimmy Eat World, and how big a deal it was. I can only imagine—they've actually been working this whole time, fairly nonstop. It's definitely different than Mineral. But it just got me thinking.
Then Jim called me in January and presented an idea where he wanted to do a 20th anniversary show in LA in the summer for Jimmy Eat World and invite a bunch of bands they used to play with in the early days. Those were the seeds. He just asked, "Would you be interested in getting together to play this one show?" So I reached out to the other guys; I'm pretty close with Jeremy [Gomez, bass] still, but I hadn't been around Scott [McCarver, guitar] or Gabe [Wiley, drums] in the better part of 10 years. So we all got together and had a beer and talked about it, and committed to rehearsing once a week to see how things went. It feels good. It feels right. I don't think we could have committed to the idea before now. Playing this material we haven't played together for 17 years, there was definitely a lot of apprehension and insecurity, but it feels like something we've all been able to connect with, and we're excited to see the potential of it. I think we're gonna be able to do something really neat.
What will the reunion tour setlist include?

The second record [EndSerenading] is definitely going to be more heavily represented at the shows, because we never got to play that stuff live. We really love a lot of that material. It's really neat for us to discover these songs for a live perspective for the first time.
There are still a lot of unanswered questions regarding Mineral's existence and demise. The statement at the time cited "creative differences" for the breakup. Do you want to elaborate now that you've had the time to reflect? What brought Mineral to an end?

I think it was a number of things. One of the main things for me was I had an unrealistic idea of how easy it was to have success with music. Mineral was basically our first band out of high school, and things went really well in a short amount of time. At the time, I was interested in doing something musically that I couldn't see Mineral doing, but ultimately I thought it would be easy to start over with a new band [the Gloria Record]. But you realize as you get down the road, it's not that easy to have success or connect with people or have something catch fire the way that Mineral did.
Side question: Is it pronounced the Gloria Record, like a vinyl record, or is it the Gloria Record, like pressing the record button?

It's Record [like vinyl record], but I've never corrected anyone for saying it the other way. [Laughs.]
So half of the band went into Pop Unknown, and half the band went into the Gloria Record. In situations like that, people try to start creating drama where there might not be any. Was there tension between the two halves of the band?

Only in the sense that Jeremy and I, the ones who went on to the Gloria Record, actively decided to quit Mineral. The other two guys still very much at the time wanted to keep going. So we were split in that sense.
Why did you want to walk away? Was it something to do with Interscope's involvement with the band?

No, the deal was we had signed a three-record contract with Crank!, and when we got major-label interest, we only had one record out. What they wanted to do was buy out The Power Of Failing at that moment and take it over. At the time, there was a real sort of divide in the scene of bands we had been touring with and getting to know. There was a real distrust of major labels, and whether or not you could do that and keep some sort of integrity. We didn't want to just jump onto Interscope, so we told them that not only did we want The Power Of Failing to remain on Crank!, but we wanted our second record to remain on Crank!, and the deal we worked out was they would buy out the third record. So the third record would've come out on Interscope.
Did you know in the back of your mind the band was close to ending when you signed that contract with Interscope?

No, I definitely didn't feel that way or I wouldn't have signed it. I was actively on record as stating if it was my decision solely, I wouldn't have signed to Interscope, but we sort of had to make a decision as a band, and I wasn't willing to sacrifice the idea of the band for not signing a contract, especially one that wouldn't affect us until our third record.