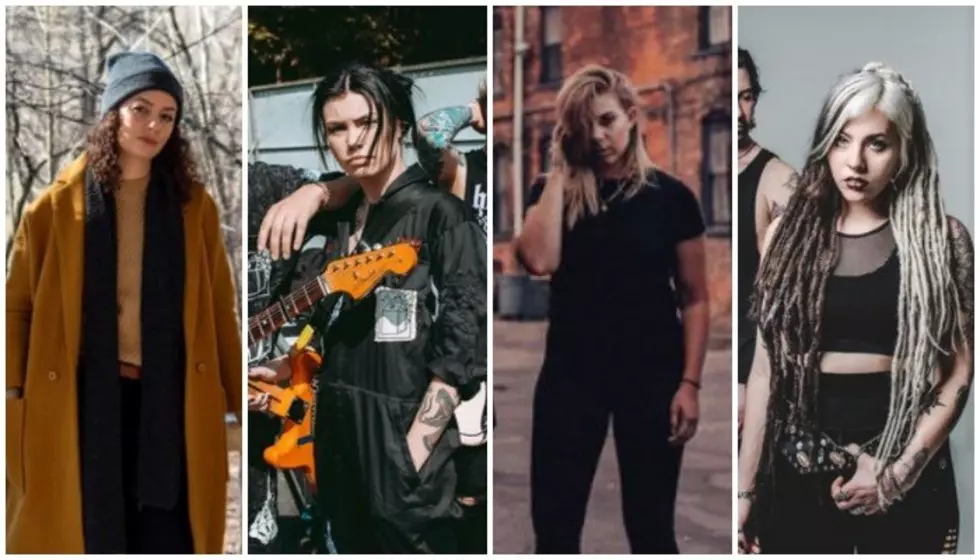 10 acts fronted by women and nonbinary musicians that emo fans need to know
[Photos via Nervous Dater/Spotify, Hot Milk/Spotify, Rivals/Spotify, Venues/Spotify,/Spotify]
How many women and nonbinary-fronted bands can you remember from the mainstream emo wave? OK, now let's subtract Paramore, Hey Monday and Automatic Loveletter. How many do you have now?
Unless you were deeply invested in the 2000s underground scene, you can probably count the remaining qualifiers on one hand. Fortunately for the scene at large, the 2010s brought us a much-needed dose of representation. While the ratio is still pretty skewed, we're definitely hearing more diverse vocals with each generation of new artists. Naturally, we've decided to highlight some of our current favorites.
Here are 10 incredibly talented modern emo bands that are fronted by women and nonbinary vocalists.
Nervous Dater
Nervous Dater are a beacon of emo modernity, infusing their sentimental indie-rock vibes with notably pop-punk energy. While all three members contribute their voices across the discography, vocalist/guitarist Rachel Lightner's gritty voice is hauntingly differential. The band just dropped their sophomore record, Call In The Mess, in February. Check it out for a brilliant showcase of their unique eclecticism.
Sincere Engineer
Deanna Belos isn't just the voice of Sincere Engineer but the creative mastermind behind it. What started as a predominantly acoustic solo project, however, has since evolved into a full-blown band. The project draws clear influence from the 2000s, emo-leaning punk wave and drives home relatable themes with raw vocals and punchy instrumentals. They just dropped their latest single, "Tourniquet," in January—their second release since signing with Hopeless Records this past fall.
The Beautiful Monument
The Beautiful Monument deliver anthemic, emo sentimentality with a post-hardcore edge. With such moshable energy, they feel right at home among the 2000s Warped Tour crowd despite only debuting in 2015. The band are fronted by Lizi Blanco, whose assertive voice cuts clear across the shredding instrumentals.
Hot Milk
If any band should serve as a paradigm of emo's far-reaching evolution, it's Hot Milk. The rapidly rising group progress the genre into the contrasting realm of power pop with their catchy, radio-ready delivery. Admittedly, the outfit aren't exclusively led by Han Mee, as they share the vocal spotlight with Jim Shaw. Nevertheless, we'd be remiss in not acknowledging this iconic source of representation in the scene. Be sure to check out their 2020 single, "Glass Spiders," for a good sample of their dark-laced vibes.
Remember Sports
Remember Sports veer off into another direction entirely with their emo experimentalism. Building on top of a pop-informed, indie-punk foundation, the band draw up compelling narratives through vivid lyricism. That said, Carmen Perry's raw, unrestrained vocals are entrancing enough that we could hear the same line 40 times over and still be sold on it. The collective just dropped two new singles in preparation for their upcoming album, Like A Stone, "Pinky Ring" and "Materialistic." We highly recommend giving them a listen.
Thank You, I'm Sorry
We're not even sure this one merits an explanation. After all, have you ever come across a band more aptly named for the modern emo genre than Thank You, I'm Sorry? Their catalog meets all expectations, too, featuring the type of emotionally gripping acoustic displays that one might expect from a collaboration between Kimya Dawson and Death Cab For Cutie. Their existential air is driven in large part by Colleen Dow's gritty, modulated vocals, which are as captivating as they are poignant. Though they sound like they should have been dominating the scene for the last decade, the band just debuted last year. Incredibly, they've already dropped two full-lengths, The Malta House and I'm Glad We're Friends.
RIVALS
RIVALS aptly classify their sound as "dark pop rock." Just give them a listen, though, and try telling us that they wouldn't feel right at home alongside our 2000s emo favorites. Vocalist Kalie Wolfe catalyzes a deeply resonating, anthemic energy through impassioned performances. Though, not without somber inflection. The band are about to drop a new full-length, Sad Looks Pretty On Me, via Smartpunk Records.
Terra
Terra may be relatively new to the alternative scene, but they're dishing out some serious nostalgia. This pop-rock outfit would have felt right at home on any 2000s iPod. Layering intricate, post-hardcore-leaning instrumentals with Cassie Sutton's pop-punk vocal quality, the band bring a mainstream-era emo sound to the modern scene.
VENUES
The lack of screamo in the modern scene is a serious problem. Fortunately, we've got bands such as VENUES rising up to change it. This up-and-coming post-hardcore outfit seamlessly blend catharsis with aggression, channeling emo trends of the mid-2000s. While their current catalog features clean vocals by former vocalist Nyves, the band are now working on their next iteration with permanent replacement Lela Gruber. Their debut single under the lineup, "Rite Of Passage," dropped March 5.
Retirement Party
Chicago bands have always seemed to be ahead of the emo curve, so we're really not surprised that they seem to be propelling the modern wave. Retirement Party put an indie-laced, pop-punk spin on the genre, pairing raw sentimentality with captivating hooks and guitar shreds. Vocalist Avery Springer puts forward a unique breed of angst, with a casual delivery that contrasts the lyrical intensity. Take a listen to their 2020 album, Runaway Dog, and you'll see exactly what we mean.
What are your favorite modern emo outfits that are fronted by women and nonbinary vocalists? Let us know in the comments!