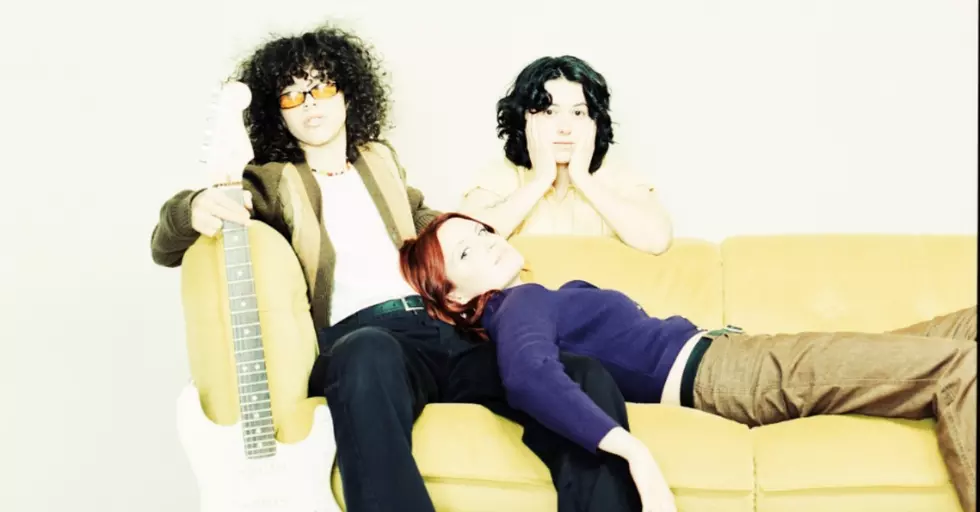 MUNA dream of a lost future in "Home By Now"
[Photo by Isaac Schneider]
MUNA have released a new single, "Home By Now" alongside a visualizer. The track arrives ahead of the band's forthcoming self-titled album.
 MUNA is set to drop June 24 via Saddest Factory Records.
"Home By Now"'s light vocals and hypnotic synths belie the weighty doubt contained in its lyrics. When decisions seem final, it's always hard not to look back and ask "what if?" MUNA's Katie Gavin finds herself in such a position on this track as she imagines a future with a past partner.
Gavin commented on the song in a press release.
"'Home By Now' is the song on the record that we feel might be closest to our first album in that it's a dance song with brutal lyrics and an emo bridge," Gavin says. "It's a breakup song that's a bit more full of longing and doubt than 'Anything But Me.' While a lot of this album does seem to be about trusting my instincts, this song acknowledges the pain of not knowing if I left a relationship that I was meant to be in."
MUNA are heading on their summer North American tour in June. Grab your tickets here and look below for a full list of tour dates.
Watch the "Home By Now" visualizer below.
MUNA 2022 tour dates
06/05 - West Hollywood, CA @ OUTLOUD Raising Voices Music Festival at WeHo Pride
06/14 - Brooklyn, NY @ Prospect Park Bandshell (supporting Phoebe Bridgers)
06/15 Brooklyn, NY @ Prospect Park Bandshell (supporting Phoebe Bridgers)
06/16 - Queens, NY @ Forest Hills Stadium (supporting Phoebe Bridgers)
07/29 - Chicago, IL @ Lollapalooza
07/30 - Cleveland, OH @ Rock & Roll Hall of Fame
08/02 - Columbus, OH @ Newport Music Hall
08/03 - Pittsburgh, PA @ Mr. Smalls Theater
08/05- Louisville, KY @ Headliners
08/06 - St. Louis, MO @ Delmar Hall
08/07 - St Charles, IA @ Hinterland Music Festival
08/08 - Minneapolis, MN @ First Ave
08/11 - Boise, ID @ Knitting Factory
08/12 - Seattle, WA @ Day In Day Out Festival
08/13 - Portland, OR @ Wonder Ballroom
08/15 - San Diego, CA @ Observatory Northpark
09/18 - Boston, MA @ Royale
09/19 - Boston, MA @ Royale
09/20 - Washington, DC @ 9:30 Club
09/23 - Nashville, TN @ Marathon Music Works
09/24 - Atlanta, GA @ Masquerade - Heaven
09/26 - Washington DC @ 9:30 Club
09/27 - Toronto, ON @ Phoenix Theater
09/28 - Philadelphia, PA @ Fillmore
09/30 - New York, NY @ Irving Plaza
10/01 - New York, NY @ Irving Plaza
10/02 - New York, NY @ Irving Plaza
10/04 - Detroit, MI @ The Majestic Theater
10/06 - Kansas City, MO @ The Truman
10/10 - Houston, TX @ House of Blues
10/11 - Dallas, TX @ The Echo Lounge & Music Hall
10/16 - Denver, CO @ Gothic Theater
10/17 - Salt Lake City, UT @ The Depot
10/19 - Phoenix, AZ @ The Van Buren
10/23 - San Francisco, CA @ The Fillmore
10/24 - San Francisco, CA @ The Fillmore
10/25 - Los Angeles, CA @ The Wiltern
10/26 - Los Angeles, CA @ The Wiltern
11/10 - London, UK @ Roundhouse
11/11 - Brighton, UK @ Chalk
11/13 - Bristol, UK @ O2 Academy
11/15 - Glasgow, UK @ SWG3 TV Studio
11/16 - Edinburgh, UK @ Liquid Room
11/17 - Newcastle, UK @ University Union
11/18 - Leeds, UK @ Stylus
11/20 - Birmingham, UK @ O2 Institute 2
11/21 - Manchester, UK @ Albert Hall