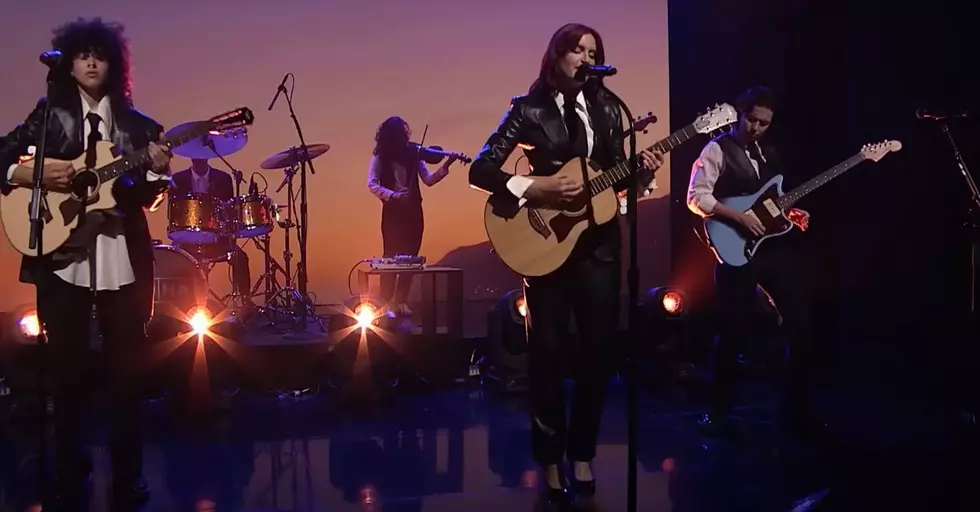 Watch MUNA perform "Kind Of Girl" on The Tonight Show
[Photo via YouTube]
MUNA recently appeared on The Tonight Show Starring Jimmy Fallon, performing their single "Kind Of Girl." The track comes from their self-titled third album.
MUNA drops June 24 via Saddest Factory Records.
MUNA took to the stage, clad in suits before giving a comforting, understated performance. The three bandmates swayed and smiled softly as they were lit from behind with deep purple and orange-hued lights.
This week, MUNA will play three nights in New York City with Phoebe Bridgers before leaving for their North American tour. Look below for a list of tour dates.
MUNA are also the cover stars of Alternative Press' June issue, where they detail the creation of their latest album and celebrate queer joy in the process.
Check out MUNA on The Tonight Show Starring Jimmy Fallon below.
MUNA 2022 tour dates
06/14 - Brooklyn, NY @ Prospect Park Bandshell (supporting Phoebe Bridgers)
06/15 Brooklyn, NY @ Prospect Park Bandshell (supporting Phoebe Bridgers)
06/16 - Queens, NY @ Forest Hills Stadium (supporting Phoebe Bridgers)
07/28 - Chicago, IL @ Thalia Hall - Lollapalooza Aftershow (SOLD OUT)
07/29 - Chicago, IL @ Lollapalooza
07/30 - Cleveland, OH @ Rock & Roll Hall of Fame
08/02 - Columbus, OH @ Newport Music Hall
08/03 - Pittsburgh, PA @ Mr. Smalls Theater
08/05 - Louisville, KY @ Headliners
08/06 - St. Louis, MO @ Delmar Hall
08/07 - St Charles, IA @ Hinterland Music Festival
08/08 - Minneapolis, MN @ First Ave (UPSIZED FROM FINE LINE DUE TO DEMAND)
08/11 - Boise, ID @ Knitting Factory
08/12 - Seattle, WA @ Day In Day Out Festival
08/13 - Portland, OR @ Wonder Ballroom (SOLD OUT)
08/11 - San Diego, CA @ Observatory Northpark (SOLD OUT)
09/18 - Boston, MA @ Royale (2nd SHOW ADDED - SOLD OUT)
09/19 - Boston, MA @ Royale (SOLD OUT)
09/20 - Washington, DC @ 9:30 Club (SOLD OUT)
09/23 - Nashville, TN @ Marathon Music Works
09/24 - Atlanta, GA @ Masquerade - Heaven
09/26 - Washington DC @ 9:30 Club (2nd SHOW ADDED - SOLD OUT)
09/27 - Toronto, ON @ Phoenix Theater (SOLD OUT)
09/28 - Philadelphia, PA @ Fillmore (UPSIZED FROM THE FOUNDRY DUE TO DEMAND)
09/30 - New York, NY @ Irving Plaza (SOLD OUT)
10/01 - New York, NY @ Irving Plaza (2nd SHOW ADDED - SOLD OUT)
10/02 - New York, NY @ Irving Plaza (3rd SHOW ADDED - SOLD OUT)
10/04 - Detroit, MI @ The Majestic Theater
10/06 - Kansas City, MO @ The Truman
10/10 - Houston, TX @ House of Blues
10/11 - Dallas, TX @ The Echo Lounge & Music Hall
10/16 - Denver, CO @ Gothic Theater
10/17 - Salt Lake City, UT @ The Depo
10/19 - Phoenix, AZ @ The Van Buren
10/23 - San Francisco, CA @ The Fillmore (SOLD OUT)
10/24 - San Francisco, CA @ The Fillmore (2ND SHOW ADDED- SOLD OUT)
10/25 - Los Angeles, CA @ The Wiltern (SOLD OUT)
10/26 - Los Angeles, CA @ The Wiltern (2nd SHOW ADDED)
11/10 - London, UK @ Roundhouse
11/11 - Brighton, UK @ Chalk
11/13 - Bristol, UK @ O2 Academy
11/15 - Glasgow, UK @ SWG3 TV Studio
11/16 - Edinburgh, UK @ Liquid Room
11/17 - Newcastle, UK @ University Union
11/18 - Leeds, UK @ Stylus
11/20 - Birmingham, UK @ O2 Institute 2
11/21 - Manchester, UK @ Albert Hall