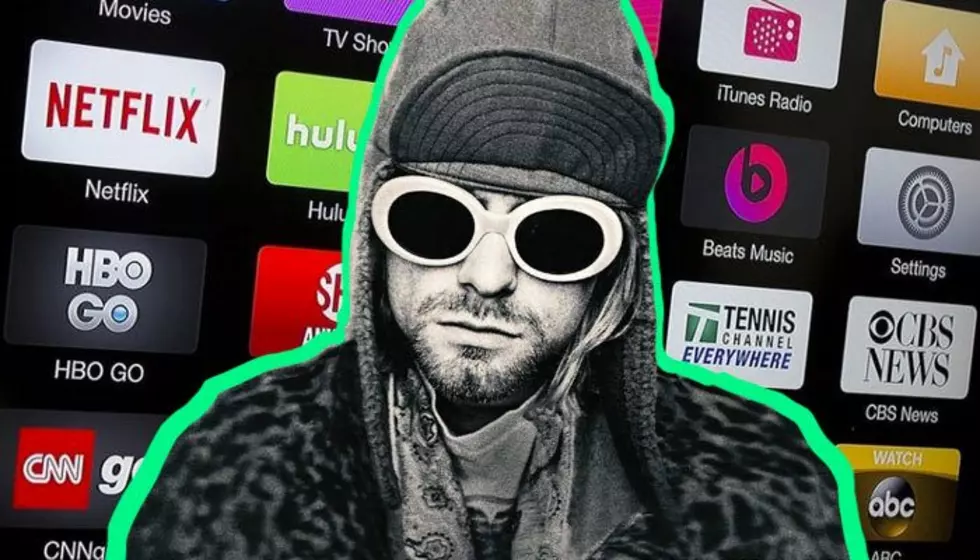 Here are the 20 best music documentaries you can stream right now
Streaming numbers have surged because people have been spending more time at home. Many are bingeing their way through shows they've already watched or are consumed with the ridiculous Tiger King series. Why not break away from that and learn something about music instead?
Netflix, Hulu or Amazon Prime have plenty of documentaries offering information about different genres, artists and movements that are available. Take a look below for 20 music documentaries you can stream right now. 
Manson: Music From An Unsound Mind
Charles Manson will go down in history as one of the most notorious cult leaders. But a somewhat lost aspect of his life was his passion for music. Manson's career didn't take off, but he had a drive for the rock star life. One of his tracks, "Cease To Exist," was even altered and transformed into "Never Learn Not To Love" by the Beach Boys.
Kurt Cobain: Montage Of Heck
Available on:
Amazon Prime
Many documentaries and books have been made about the life of Nirvana frontman Kurt Cobain. Montage Of Heck gives a more in-depth look at his life as a human rather than a musical icon. The documentary follows his upbringing all the way to his death but was riddled with criticism from musicians close to Cobain for inaccuracies while receiving overwhelmingly positive reviews. 
Wu-Tang Clan: Of Mics And Men
Available on:
Amazon Prime
Few groups have been as integral to the history of hip-hop as Wu-Tang Clan. What better time is there than now to learn about their history? This documentary series gives a good overview of their career and the massive influence their music has had on both fans and the industry as a whole. 
Elton John: Music Man
Available on:
Amazon Prime
As one of the most prolific artists, Elton John holds a special place in the hearts of music fans worldwide. Even if you're not fond of his songs, understanding the greater significance of his career and involvement in the industry is something every music lover should do to see how he managed to bring people together. 
The Great Masterpieces Of Art & Music
Available on:
Amazon Prime
While not quite a documentary in telling stories, The Great Masterpieces Of Art & Music is a great way to experience classical music alongside some of the most historically significant pieces of art to ever exist. With museums closed to the public for the foreseeable future, why not get a digital experience in your living room?
SYD: Dark Side Of The Music
Available on:
Amazon Prime
Pink Floyd's Dark Side Of The Moon is one of the best-selling albums of all time. Its effect on society has a lot to do with the culture of the times. This documentary looks at the larger context of the world's counterculture movement and drug culture around when the record arrived while giving fun bits of info about the band. 
Leaving Neverland
Available on:
HBO
A lot of controversy was caused by the release of Leaving Neverland. However, its a captivating and sad story looking into the past sexual abuse allegations surrounding Michael Jackson. Many know something about it given its highly publicized presence, but discovering the full account makes this a worthwhile watch. 
Surviving R. Kelly
The #MeToo movement became one of the most discussed topics of the past several years. However, few stories from the outing of abusive celebrities were as large as R. Kelly's. The documentary series looks at the full story of Kelly's allegations and the effect on his victims, while its release saw real-life changes in the music industry. 
A Band Called Death
Available on:
Amazon Prime
Punk band Death were pioneers of the movement and helped shift the views of black artists in rock music forever. This documentary explores their career and how they influenced the history of music as a whole, making it a worthwhile watch for any fan of punk and its origins. 
Fyre Fraud
Available on: Hulu
Fyre Fraud exposes many of the issues revolving around the infamous Fyre Festival. It goes beyond criticizing the main faces behind the event and looks at the circumstances that made it possible. The result is a refreshing view beyond making fun of the ridiculousness of the festival founder's actions. 
Woodstock: Three Days That Defined A Generation
Available on:
Netflix
Few festivals have been as important to music culture as Woodstock.This documentary explores the inaugural '69 event, which caused a revolutionary shift in world politics and subcultures as a whole.It has plenty of never-before-seen footage while discussing the event's backdrop involving the civil rights movement, sexual politics and war. 
Taylor Swift: Reputation Stadium Tour
Available on:
Netflix
Even if you're not a Taylor Swift fan, she's managed to cull a massive career and shatter industry records. This documentary follows along with her first-ever stadium tour and all of the things it took to pull it off, giving a more in-depth look at how mass productions come together.
ZZ Top: That Little Ol' Band From Texas
Available on:
Netflix
ZZ Top's career spans over five decades and encapsulates so many different shifts in culture all while they kept a mystique that fans still relate to today. The documentary shows how they went from virtually unknown to rock giants. It's loaded with tons of archival footage, intimate performances and interviews with insiders who explain their importance to the music industry and their far-reaching effect. 
Rolling Stones: Olé Olé Olé! A Trip Across Latin America
Available on:
Netflix
The Rolling Stones are one of the biggest bands to ever exist, and their music sees no borders as proven through their tour documentary exploring a 2016 trip across Latin America. The doc gives concert footage from across the tour while showing how the band live today while out on the road. While the individual members act a little differently now than they did when they were young, the fans largely remain the same. 
Gaga: Five Foot Two
Available on:
Netflix
Lady Gaga has managed to create a career unlike anyone else with a world entirely her own, and the vast range of skills she has to offer are put on full display in Gaga: Five Foot Two. Her 2016 album, Joanne, may not have been nearly as successful, but it threw back to her roots before becoming a pop megastar and shows a different side than most of the world really knows her for. 
Bad Rap
Available on:
Netflix
Bad Rap explores the growing hip-hop culture in the lives of Korean artists trying to gain respect within the American music scene. The film focuses on four specific Asian-American artists at different points in their careers, showing the varying levels they're all at and the problems they each face.
Who Shot The Sheriff?: A Bob Marley Story
Available on:
Netflix
The attempted assassination of Bob Marley was a massive historic event, and this documentary gives an in-depth look at all of the various pieces of that puzzle. The story goes far beyond the world of music, though, and involves the political push and pull Marley was experiencing at the time, giving an added layer of complexity to intrigue viewers. 
Hip-Hop Evolution
Available on:
Netflix
Hip-Hop Evolution is easily one of the greatest pieces of cinema revolving around the genre. It explores how the music came to be prior to the first hip-hop recordings and gives a closer look at select movements that have developed over the years through interviews with artists, producers, vital figures within the genre and more. 
Amy
Available on:
Netflix
Amy Winehouse's influence on music is far reaching and goes beyond what most artists are capable of achieving in their career. The documentary looks at her life, from her massive accomplishments to her substance misuse and eventual death at 27, while speaking with the musicians, family and friends who surrounded her on a daily basis. 
Tricky Dick And The Man In Black: A Johnny Cash Story
Available on:
Netflix
Everyone knows Johnny Cash, even if it's just by name, but what's often forgotten by modern fans is how much of an effect he had outside of music. This doc spotlights Cash's 1970 White House performance and the huge issue his liberal-leaning fanbase proposed to President Nixon's administration.